Where to Eat and Drink before Red Tape Theatre's "The Life and Death of Madam Barker"
BY: Catherine Bullard |
Oct 17, 2013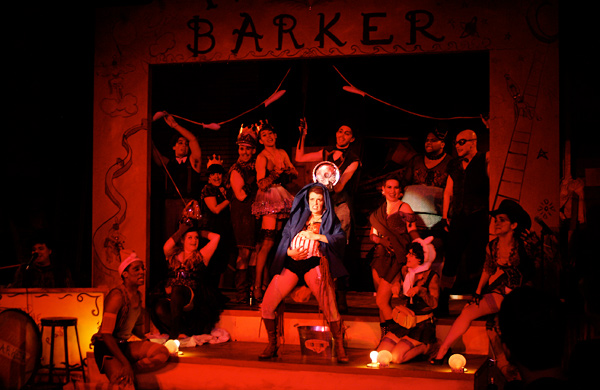 Red Tape Theatre
(621 W. Belmont Ave.) isn't where you'd think a theater would be. For one thing, it's on the third floor of St. Peter's Episcopal Church, and the performances frequently take place in what was once an indoor basketball court. For another, interesting pre- and post-show meal options aren't obvious. But playwright Brooke Allen, whose Jeff-Recommended world-premiere cabaret
The Life and Death of Madam Barker
runs through November 10, has spent enough time around the theater to find some hidden gems.
For a Quick Bite: Nhu Lan Saigon
| 602 W. Belmont Ave. This Vietnamese sandwich shop is right across the street from Red Tape, and it's a quick and exotic alternative to other nearby fast-food places. Each sub contains layers of spiced meat, chilis, and sprigs of cilantro inside french-style bread—plus, each sandwich costs less than a craft beer. "I've had like 17 subs there in the past week," Brooke confessed. "I went in there the other day and they were like 'Hi, same thing you always get?' and I was like, 'Uh oh.'"
Date-Night Dinner: Frog n Snail
| 3124 N. Broadway Frog n Snail, sister restaurant to Sprout, courts couples with ambient lighting and dangling Edison-bulb chandeliers. More than 30 wines, including six sparkling vintages, and cocktails accompany French-inspired dishes such as mussels with absinthe or steak frites with an 8-ounce hanger steak. When describing her Lyonnaise salad, Brooke had a sudden memory burst. "Oh! There [were] french fries on it…every salad should have french fries on it. We'd be a way healthier country. Everyone would eat salad."
Sushi You Can Count On: New Tokyo
| 3139 N. Broadway Brooke was quick to note that New Tokyo is "like a going-out-to-dinner experience" without a hefty check, but her love for the restaurant's philly rolls and super-fresh sashimi has gotten her carried away in the past. "It's actually not that expensive of a place," Brooke said. "Unless you are me." Plus, unlike other nearby sushi places (like Toro Sushi), New Tokyo takes reservations, so you're sure to get to the show on time.
Post-Show Smorgasbord: Melrose Restaurant
| 3233 N. Broadway At Melrose Restaurant, "you can get breakfast, you can get a pie…[you can get] literally anything you can think of," Brooke said. "Their menu is outrageous." Plus, the privately owned restaurant is open later than other local diners (Stella's Diner closes at 10 p.m.), so it attracts a crowd of theater-goers and bar-expats from nearby Friar Tuck's.
Photo: © Bridget Schultz
BY: Catherine Bullard
Guide Staff Writer
Here are some of Catherine's favorite Chicago things: hole-in-the-wall theaters, taquerias, bike lanes, live blues, neighborhood bars, and that it smells like chocolate downtown. When she's not enjoying these things, Catherine can be found acting, cooking, and shamelessly self-promoting.