GROUPON GUIDE TO WASHINGTON-DC
Seven White Pieces to Wear Before Labor Day
BY: Favin the Maven |
Aug 25, 2014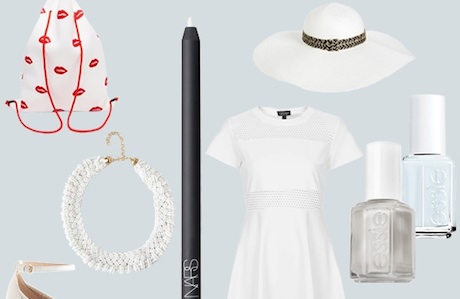 As far as taboos go, wearing white after Labor Day always seemed like a weird one to me. According to the
Boston Globe
, the tradition started because white clothing was, historically, symbolic of summer and vacation—people (usually wealthy ones) would wear their whites during leisure activities, like trips to the beach or the countryside. Labor Day marked the end of the season, so it also marked the end of white summer clothes. But I refuse to believe that summer is winding down. So I've picked out seven white items to wear in the week leading up to September 1st, hoping that these breezy looks will inspire the sun to stick around. If it doesn't … well, I'll probably just keep wearing them anyway. (Don't tell the fashion police.)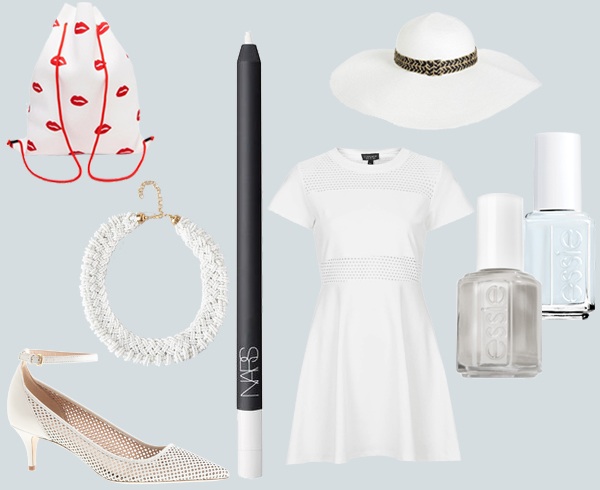 Lip-print drawstring backpack; American Retro ($167)
I didn't even know there
were
designer drawstring bags until I saw this one. Okay, so it isn't entirely white—how adorable is that lipstick print?—but that just means you can wear it year-round, guilt-free!
Lanikai Beach beaded necklace; Francesca's ($22)
Here's another piece you could technically wear year-round—it might be inspired by a Hawaiian beach, but these woven white seed beads would be equally elegant on a snowy night.
Dulci perforated kitten heels; J.Crew ($268)
Sometimes heels scare me, but this kitten heel is only a little over 2 inches. So I probably hopefully maybe wouldn't trip in them.
Read about the trick I learned for wearing stilettos (nearly) pain-free.
Larger Than Life long-wear eyeliner in Santa Monica Blvd; Nars Cosmetics ($24)
White eyeliner is an easy way to brighten up your face. Putting it on the lower waterline can even make your eyes seem wider (and more awake, if you're heading into an important meeting).
Drama floppy hat; Nordstrom ($78)
In pristine white, this hat is less "gardening accessory" and more "derby chic." Just make sure not to get dirt on it, wherever you are. Unless where you are is in a room full of people shorter than you. In which case they can't see the top of your hat anyway.
Airtex Panel skater dress; Topshop ($68)
This dress has a sweet silhouette, but gets some edge from the jersey panels. So I'd feel comfortable wearing it with almost any shoe—a studded flat, stilettos, or even white sneakers.
Nail polish in Pearly White and Find Me an Oasis; Essie ($8.50 each)
As it turns out, there are
many
shades of white nail polish. I couldn't choose just one! Pearly White has a shimmery, metallic finish, and Find Me an Oasis is a whitish blue—the perfect reminder of beach trips past.
Looking for more fashion inspiration? Check out ideel for the latest in designer styles.