Four Beauty Tricks I Tried in May
BY: Favin the Maven |
Jun 5, 2014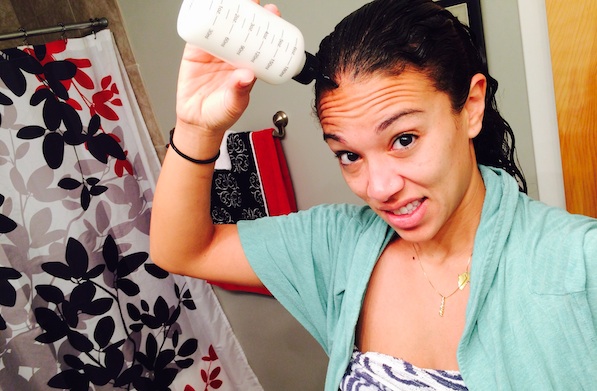 This month's highlight: Putting Monistat on my head. I promise I had a good reason, though.
Why yes, I
did
put Monistat on my head. But before I tell you about it, I'm going to build suspense and talk about some other beauty tricks I tried out this month. Don't worry—they're plenty weird, too! One of them made my feet into
bionic
feet.
1. Dr. Bronner's Magic Soap
For those of you who haven't heard of this stuff before, it's marketed as an
18-in-1
soap, which seems crazy. If I can use it to clean my bathroom, I shouldn't be able to put it on my face, right? Wrong! Last month, I started washing my face every other day with the
tea-tree version
—supposedly daily use can dry out your skin—and I liked the squeaky-clean feeling so much, I soon began using it daily. On my face
and
my body. Tea-tree oil is great for acne, and I haven't had a single breakout since I started. The whole cleans-your-bathroom thing is still weird, but keep in mind that Dr. Bronner's is olive-oil based, and almost all the ingredients are natural. It's 100% not like Windex, although it's almost that cheap—my 16-ounce bottle was around $11, and I only need three drops to clean my entire body. This baby's going to last forever!
2. Still Standing spray
I love heels, so when I heard about this foot-numbing spray in passing, I was immediately its #1 fan. No research necessary! I went online and ordered the
Total Comfort kit
($27.99), which included a 6-ounce spray bottle and a 15-mL travel bottle. Had I done my homework, I would have learned that "numbing" isn't the perfect word for what it does. Really, it naturally reduces inflammation and pain with arnica and aloe, and the menthol in it adds a cool, tingly feeling. But that's still a
huge
improvement, and the reason I survived a graduation party last weekend. I wore my least comfortable heels, and stood in a gravel lot for three hours—and it was a piece of cake!
3. Cod liver oil for clear skin
Supposedly, you can adapt to any gross smell after 12 minutes—so cod liver oil is a miracle, I guess! My first night trying it, I punctured a capsule, put the oil on my face, and didn't stop smelling like fish guts until I got out of bed at 3 a.m. to shower. And change my sheets. It turns out the key with these is to never, ever open them. They're sort of like Pandora's Box. I've been taking two capsules each day (orally!) since the fish guts catastrophe, though, and as I said earlier, I haven't had a breakout since April. The same capsules have helped clear up my boyfriend's skin, too. Seems promising!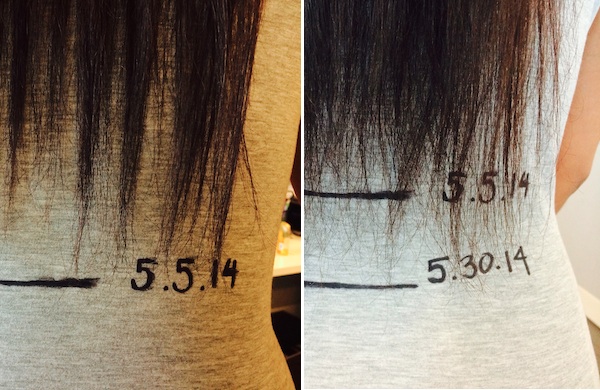 4. Monistat for hair growth
Yes, you read that right. For the past month, I've been putting Monistat on my head! Supposedly, its antifungal ingredients deep-clean the scalp, clearing buildup from follicles so hair can grow faster. It sounded so crazy, I had to try it. First, though, I did a little research. I definitely saw some YouTube videos of people complaining of headaches, hair loss, and creepy-crawly scalp, but I also heard that diluting the cream eliminates these side effects. I decided to go for it. So, I bought a week's supply of Monistat and
a bottle for dispensing hair color
. Every three days, I put two squirts of cream and some water in the bottle, shook it into a paste, and massaged it evenly into my scalp. I did it right after I showered, while my hair was still wet, so that it had time to set before my next shampoo. And now, the million-dollar question: Did it work? According to Oprah's experts,
hair grows an average of one-quarter inch per month
. Over the course of 25 days, my hair grew nearly 2 inches. Could be my hair just grows fast, but I like to think my hard work paid off!
For more beauty tricks I've experimented with, see what I tried in April and March.
Visit Groupon to find beauty and spa deals in your city.
BY: Favin the Maven
For me, both beauty and fashion need to be accessible and not intimidating. I love a great deal and a good DIY beauty treatment. I pride myself on trying new trends, being open minded and getting a great treatment without breaking the bank. In the name of beauty I will try anything once.