This Fish Could Kill You, If You're Brave Enough to Eat It
BY: AIMEE ALGAS ALKER | 12.5.2014 |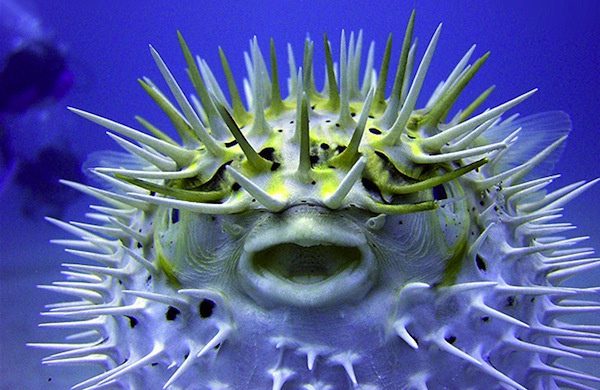 Eating seafood isn't usually an adrenaline rush—unless, that is, you're dining on fugu. Considered a delicacy in Japanese cuisine, the poisonous puffer fish is deadly when prepared improperly. Around five people per year die from eating fugu sushi and other dishes made with the deadly fish.
None of that has ever stopped people from trying it—or restaurants from serving it.
Recently, the chefs at Chicago's Japonais by Morimoto achieved an honor so rare that only a handful of U.S. restaurants have attained it. Without so much as a ripple, the high-end Japanese eatery earned its certification to serve fugu to its customers.
Certification can only be obtained from the Torafugu Buyers Association. And it lasts only three months. And so Japonais has released the fish onto its menu quietly, letting its patrons discover for themselves that it's there. Dozens of people have already enjoyed the delicacy, which chefs prepare three ways in a fugu-centered omakase special: in a salad with smoked salmon skin, in a hot pot with spicy ponzu, and alongside yaki onigiri, grilled rice balls.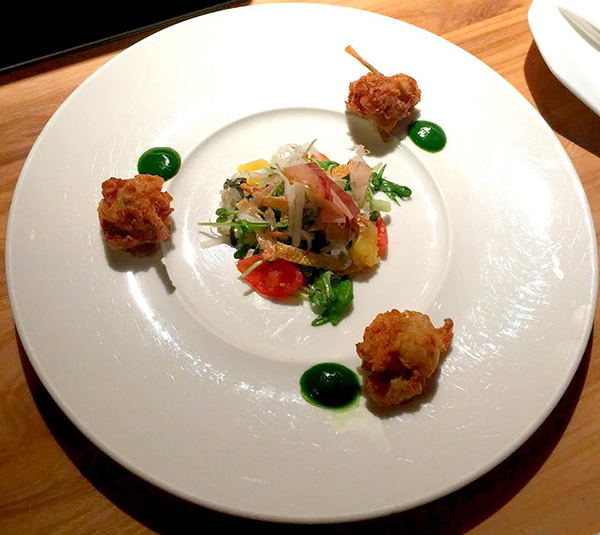 The fugu trio at Japonais by Morimoto
There have been no casualties—yet.
Japonais staff don't seem too worried about the possibility of any, either. Instead of dwelling on the danger, office manager Devin Lovell raves about texture: "[Fugu] is a lighter, more porous fish, so it attracts the flavors it's cooked or dipped in." But he also concedes that that's not the reason most diners place their orders for the dangerous dish.
"It's the novelty. Crossing something off your bucket list—or maybe the chance to kick the actual bucket," he says with a wry laugh. Eating fugu might be the culinary equivalent of bungee jumping—a thrill that's most likely perfectly safe, with just a miniscule chance of tragedy.

Photo of fish via Wiki Commons; photo of fugu courtesy of Japonais by Morimoto
BY: Aimee Algas Alker
Guide Staff Writer
Though Aimee stays up to date on the latest food trends for the Guide, most of her meals are served cold and cut into tiny, toddler-sized bites.