Wild Child Is Less Wild (and More Grown-Up) Than Their Name Suggests
BY: Kelly MacDowell |
Mar 14, 2014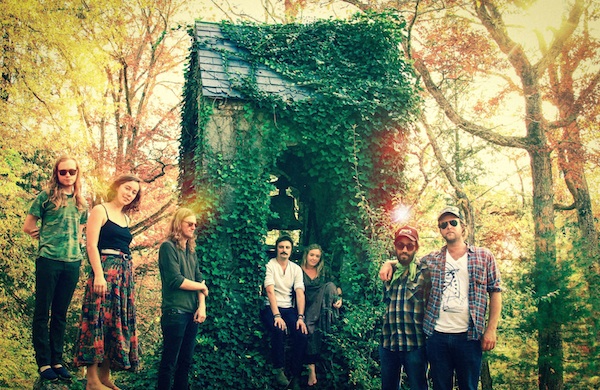 The band's sugary brand of folk pop is made even sweeter by string arrangements and warm, nostalgia-tinged vocals.
Wild Child is still a misnomer, though less so now than it was when the Austin-based band released their debut album,
Pillow Talk
. That record's 15 love songs always teetered on the verge of sounding too sweet, even when the subject matter wasn't (like the couple contemplating suicide in
"The Tale of You & Me"
). Founding members Kelsey Wilson and Alexander Beggins cowrote
Pillow Talk
's folk-pop tunes at home over bottles of wine, and the album's cover even depicts the duo perched comfortably on a couch. Sure, Beggins proudly flaunts his bare feet, but that's about as wild as the band's debut gets. The cover of Wild Child's latest effort,
The Runaround
, promises something a bit less domesticated. It features a pair of children who resemble Wilson and Beggins posing in a forest with wolves. Now that's more like it. The Ben Kweller–produced songs are similarly bolstered by a heightened sense of urgency, particularly the title track. "I curse the way I let you stay another day," Wilson croons with a voice that sounds like it was plucked from a turn-of-the-century cabaret. Last year was good to Wild Child. Their single "Living Tree" was named to an
NPR year-end list
, and their SXSW performance even garnered some local love from the
Austin Chronicle
. Now that they're backed by a full band that includes strings, keys, banjo, and percussion, it seems likely their show will hold up on the road.
Wild Child plays Lincoln Hall on Thursday, March 20, at 9 p.m.  Tickets are $14 and can be purchased here.
Listen to "Living Tree" from Wild Child's new album,
The Runaround.
Photo courtesy of Magen Buse and All Eyes Media
BY: Kelly MacDowell
Kelly's first concert was Fleetwood Mac and her first career was in the beauty industry. Now a style and music writer, she loves Project Runway and her dog, Watson.