Which Winter Hat Is Right for You?
BY: Michelle Schuman |
Dec 16, 2015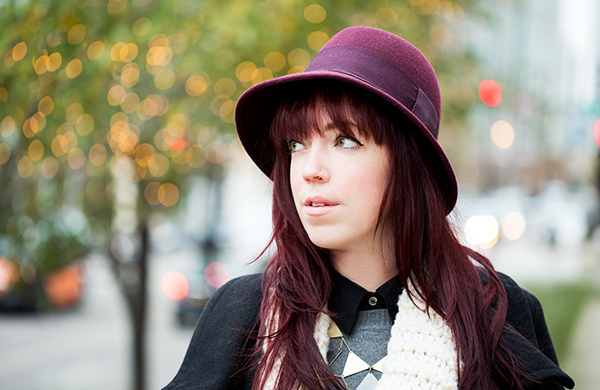 "Hats have power," said American writer Catherynne Valente. "Hats can change you into someone else." This especially applies to winter hats for women, when that someone else could be a cowboy, a newsie, or even a fashion-forward Oddjob. Cold-weather chapeaus—most notably cool hats of the brimmed variety—have crept back into vogue the past few years, dominating the fall 2014 runways in shows by design houses such as Tibi and Dion Lee.
While more casual knitted hats are still on trend, they're far from your only option this winter. Below, we've rounded up some of the season's most popular styles to help you choose the best hat for your winter wardrobe.
The Cowboy Hat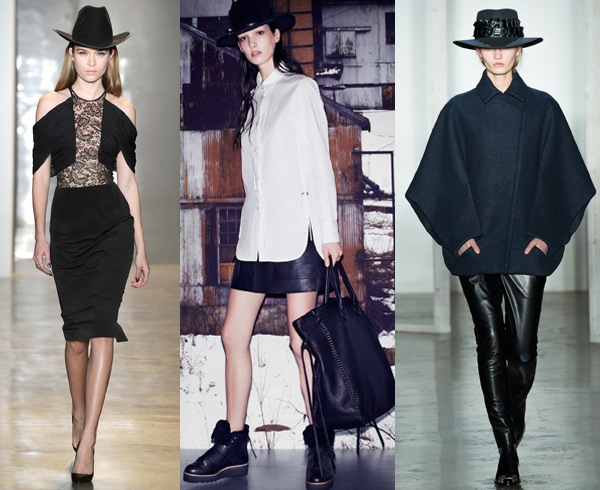 As seen at: Cushnie et Ochs, Coach, Dion Lee
The style: While most designers aren't referring to them as cowboy hats (probably to avoid conjuring images of Tombstone), the wide brims and tall, soft crowns with deep indentations are unmistakably Western.
How to wear it: To ensure you look more haute couture than huckleberry, look for sleek shapes in sophisticated hues like black, cream, and charcoal.
The Bowler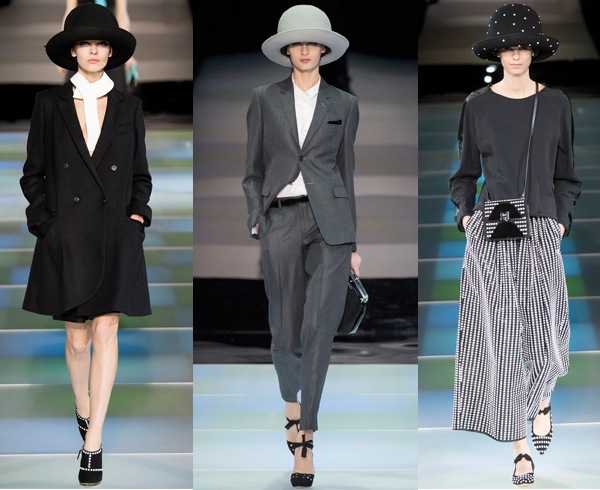 As seen at: Emporio Armani
The style: The bowler also got its start in the American West. It eventually proved to be more popular with frontiersman than the cowboy hat and earned the nickname "the hat that won the West." The hard, felted design, with its rounded crown and upturned brim, became even more fashionable in the early 20th century thanks to comedians Charlie Chaplin and Lou Costello.
How to wear it: Modernize the look by experimenting with scale (as Armani has done) or with color. Bordeaux, for example, is a beautiful hue for fall and winter.
The Amish Hat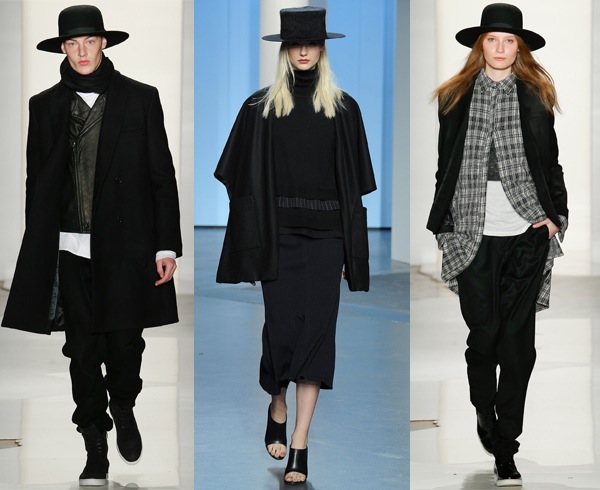 As seen at: Tibi, Public School
The style: One of the odder styles of the season, these traditionally masculine hats feature a wide, flat brim and a squared or rounded crown. Amish hats aren't as commonplace yet, but you can easily mimic the style with any design that has a large, sturdy brim.
How to wear it: Take a nod from the Amish and wear these with minimalist, menswear-inspired designs. A long car coat, perhaps?
The Gaucho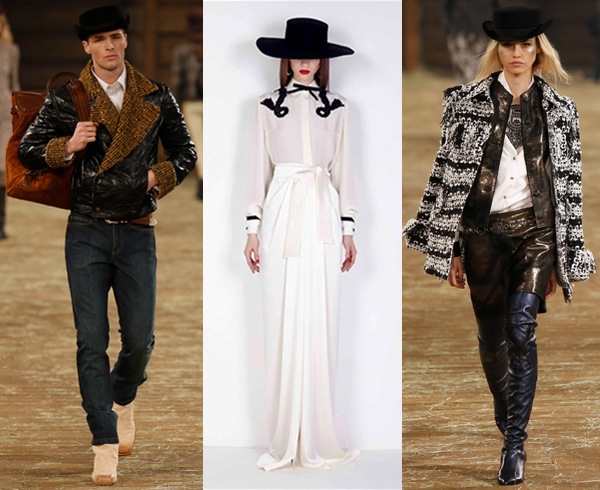 As seen at: Daniele Carlotta, Chanel pre-fall
The style: This South American style features a wide, flat brim like the Amish hat, but it has a shallower crown. These traditionally black headpieces were created in the 19th century to protect Argentine cowhands from harsh winds.
How to wear it: Embrace the gaucho's rural roots and pair it with boho-style pieces like flowy dresses, which will also balance its angular shape.
The Newsboy Cap
As seen at: A.F. Vandevorst, Moncler Gamme Rouge, Custo Barcelona
The style: Once popular among men and newsboys in the late 1800s to early 1900s, women adopted this hat as almost exclusively their own by the 2000s. (Thanks, Veronica Mars!) This cap features a short-front bill and a rounded, slouchy body that's sometimes topped with a button.
How to wear it: Newsboy caps aren't as much of a statement piece as some of these other designs, so they can really work with most any ensemble.
The Beret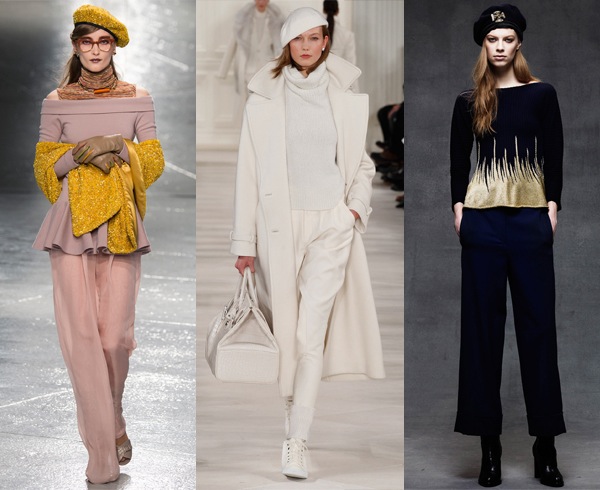 As seen at: Rodarte, Ralph Lauren, Alberta Ferretti pre-fall
The style: This round, flat-crowned hat is usually made from soft materials like cotton and wool felt, though it can be more structured. While the beret's history dates back to the Bronze Age, modern iterations first appeared in southern France in the early 19th century and were adopted by the Beats in the mid-20th century.
How to wear it: Berets have always derived their charm from being worn at a jaunty angle. No need to fix what isn't broken.
The Tuque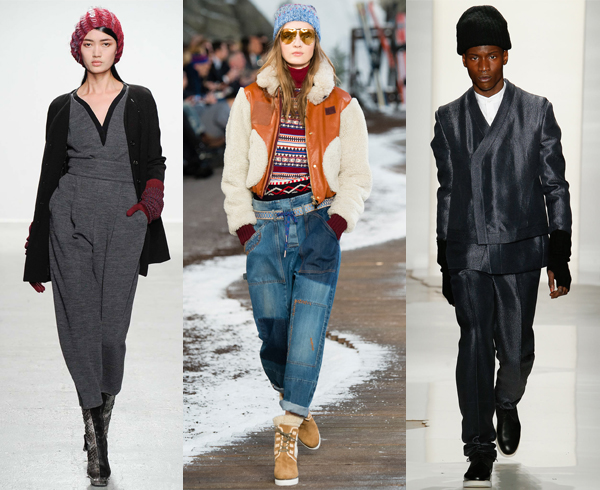 As seen at: John Galliano, Tommy Hilfiger, Public School
The style: Like we said, knitted hats are still on trend. In fact, tuques (or "beanies") are probably the most popular style of hat in America, as they lend outfits an artful disheveledness.
How to wear it: Any way you like! These still look chic after you take your coat off, which is great when chilling (literally) in a frigid office, bar, or movie theater.
Runway photos courtesy of Style.com
---
Shop hats and other cold-weather accessories at ideel:

BY: Michelle Schuman
Michelle is a freelance fashion designer and dancer from Detroit. She has traveled the US extensively (and loves it!), but her biggest goal is to travel abroad.