GROUPON GUIDE TO WASHINGTON-DC
How to Winterize Your Skincare and Beauty Routine
BY: Favin the Maven |
Oct 30, 2014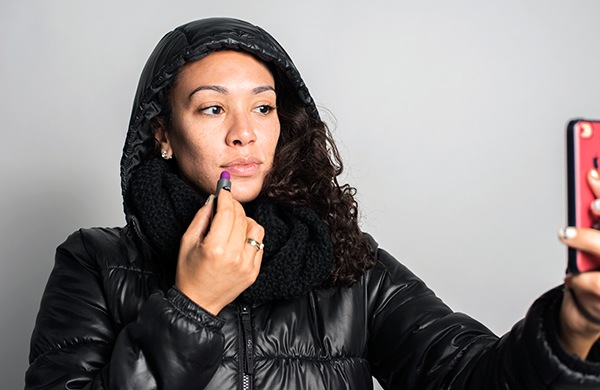 I'm from Tucson, which averages less than an inch of snow per year, so I'm still not totally used to this whole Midwestern winter thing. So far, I know that neon lipstick looks a little weird with a duffel coat, and that my tan will fade once I have to start hibernating. Overall, though, I definitely have more questions than answers about my seasonal beauty routine. So I decided to ask a pro: Kat DeJesus, a Chicago resident and makeup artist with Factor Artists Chicago. She knew basically everything about wintertime skincare and makeup—I think I found my Chicago beauty mentor! Here are her tips for adjusting your skincare and makeup for the upcoming season.

SKINCARE
Should I change up my moisturizer? Yes. "People think moisturizer is oil, but it's not," Kat said. You can totally go richer without going greasier. She recommended Embryolisse Lait-Crème Concentrè, which works as a moisturizer, a primer, and a makeup remover. Three in one! Plus, it works just as well on dry skin as it does on oily skin.
What's a common winter skincare flub? Moisturizing without exfoliating. She recommended gentle scrubs to counteract winter's most common side effect: "Everybody gets some type of weird dry-skin ailment." Kat loves her Clarisonic brush but noted that you can also get good results in the shower by using a washcloth with your face wash.
Are there any other ways to beat ashy winter skin? A humidifier. "I have a humidifier in my bedroom, and you have to keep it on all winter or the dryness from the central air will wreak havoc on your skin and your throat." She likes Vicks humidifiers—if you're getting a sore throat, you can slot in some liquid and fill your room with a therapeutic, mentholated aroma.
Anything new I should throw in my purse? It helps to carry a tin of all-purpose balm—Kat likes Smith's Rosebud Salve. "Not only can you put that on your lips, you can put it on your elbows, [and] you can put it on your cuticles."
Shop Goods for health-care products:
MAKEUP
My winter foundation should be a different color than my summer one, right? Yes. Even if you're the queen of sunscreen (which I might be), you get at least half a shade lighter in the winter—probably closer to two. In terms of matching, Kat had a tip: "If you don't want to match [foundation] to your face [because] you still have a little color, match it to the inside of your wrist."
Can I still wear bronzer in winter? "You don't have to bathe in bronzer in the wintertime," Kat said. Though she likes a full face of makeup, she recommended just a dusting of bronzer on the high planes of the face—the forehead, the bridge of the nose, and the top of the cheeks. "Just something to warm the skin up, not to compensate for [a lighter] skin tone." Also, just because you won't get tan, that doesn't mean you can't get burnt! The sun is still, you know, there. Keep wearing at least SPF 15, Kat said.
Can I winterize summery lipstick colors? Like coral? Yes! "You can try a really sheer brown lip gloss on top," Kat said. Or, if you want a bolder look, get a lip liner that's a couple shades darker than your favorite summer lipstick. Line and fill in your lips—"so you don't have the ring around the mouth"—then apply the lipstick on top.
What's a makeup trend I should try this winter? Kat loves really deep, dark lipstick. "That oxblood, that burgundy, that wine color." Her two favorite shades: Urban Decay Revolution Lipstick in Shame (a deep purple) and MAC Lipstick in Sin (a velvety oxblood). For a sheerer finish on intense color, you can always blot after applying.
Shop Goods for cosmetics:
BY: Favin the Maven
For me, both beauty and fashion need to be accessible and not intimidating. I love a great deal and a good DIY beauty treatment. I pride myself on trying new trends, being open minded and getting a great treatment without breaking the bank. In the name of beauty I will try anything once.