Heat Up Your Winter Workout with This Playlist
BY: Mae Rice |
Jan 9, 2015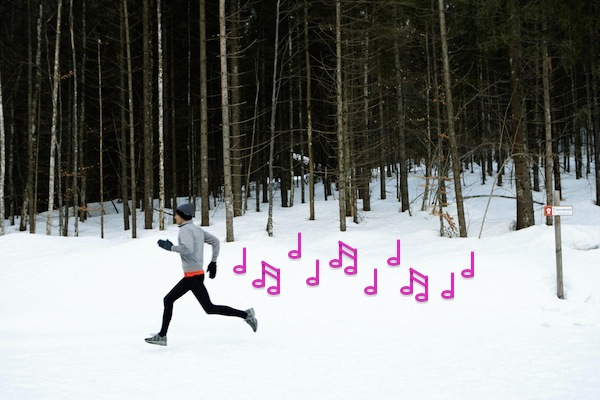 On any given day, it's hard enough to get excited to work out. But in winter—when changing into gym clothes can leave your pants, scarf, and shirt knotted together in a terrible daisy-chain—it's even harder. Luckily, the The Guide editors put together a playlist of great workout songs that'll keep your blood pumping until it finally gets warm again, sometime in late July.
Tom Waits, "Goin' Out West"
"Nothing helps push me that extra mile at the end of a run than a guy with a voice like furnace singin' about getting the hell out of town." —Sarah Gorr
Tori Amos, "Happy Phantom"
"The angst, the sassy lyrics, the piano: it's a surefire way to get me to cry sweat out of my pores." —Lisa Farver
Beyoncé feat. Jay-Z, "Upgrade U"
"This song has the same level of majesty as the Chariots of Fire theme song, but it's way more energizing. It also makes me semi-believe that if I run far enough, I will arrive at a pile of diamonds." —Mae Rice

Technotronic, "Pump up the Jam"
"Always and forever." —Emily Donelan
The Strokes, "Hard to Explain"
"Every time the chorus comes around, the beat kicks up a notch. If I'm running, that's when I start sprinting. Then you can slow down again afterward, catch your breath, and do it again." —Sandy Kofler
Lil Jon, "Get Low"
"Lil Jon takes the most overlooked part of speech—the interjection—and uses it almost exclusively, inducing a state of focus and determination not attainable through conventional exercise methods." —Charles Austin
Robyn, "Call Your Girlfriend"
"This upbeat dance gem says you just won at life. It makes winning your workout a piece of cake." —Jenn Fenske
Norin & Rad vs. Recurve, "The Gift"
"In these dark days of rushed buildups and squandered beat drops, this is a genuinely satisfying trance track that sets a good pace for running. It's about seven minutes long, so it's fun to see if you can run a mile before it's over." —Molly Metzig
Bonnie Tyler, "Holding Out for a Hero"
"The pulsing beat and positive message keep me moving." —Stephanie McDaniel
Mastodon, "Curl of the Burl"
"The title refers to the knot of a tree, but I like to think it refers to bicep curls or something. More importantly, Brann Dailor's drum fills push you to add more weight, and the lyrics about a man getting revenge on another man for killing his goat feel oddly motivational!" —Dan Caffrey
Jeff Beck Group, "Plynth (Water Down the Drain)"
"This one will fuel miles of running with its existential rage, and the band (led by Jeff Beck) is savagely rhythmic, so wild it's all about to come off the rails." —Catherine Bullard
Listen to the entire playlist here: