Your Bejeweled Smartphone Case May Be in the Field Museum Someday
BY: Michelle Schuman |
Feb 20, 2014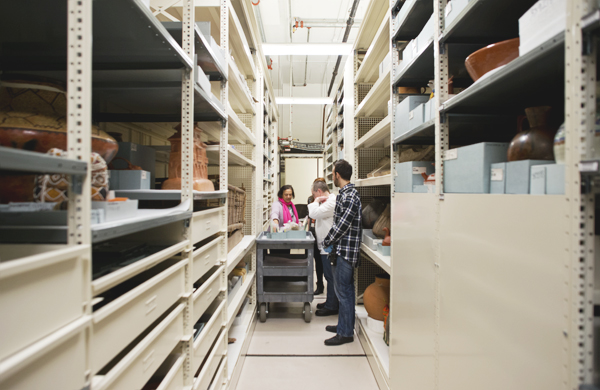 My first introduction to the Field Museum's urban-anthropology collection is a gloved hand carefully lifting some earplugs from a shelf while avoiding a sturdy pair of boots. I wonder how these common objects—objects you might find in anyone's closet or nightstand—could possibly belong in a prestigious museum.
The answer depends on how you look at history. To the Field Museum's curators, history isn't something that stopped several hundred years ago. It's an ongoing series of small events, which explains why the team is collecting hundreds of modern objects in a groundbreaking effort to document our way of life for future generations. In essence, they're getting a head start.
The gloved hand belongs to Alaka Wali, PhD, an anthropologist and curator for the North American Anthropology Collections. As if reading my thoughts, she says, "You wouldn't think about that with a pair of earplugs—not touching them with your hands. But once it's in our collection, we want to make sure it stays here forever."
In a time when most consumer goods are mass-produced, it's tough to decide what's worthy of admission. "There's a lot of dilemma as to what to collect," Wali says. "We could collect thousands of articles, so what makes this one special?"
"It's definitely a continuing conversation in anthropology right now," interjects her colleague, Andrew Leith. Leith is the collections management assistant for the museum's anthropology collections, and right now he's lifting a large display box so we can see the men's work pants carefully mounted within.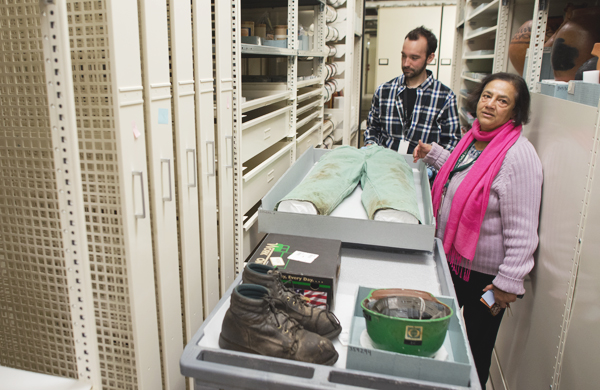 No matter how hard I squint, it's hard to see something of cultural import in the box. To me, they're just pants. But then it must have felt just as strange for the natives of Fiji when anthropologist A.B. Lewis—who collected much of the Field Museum's Pacific islands collection—sailed back to the United States with their everyday clothes and spoons.
Much like Lewis's Fiji expedition, the urban-anthropology collection explores largely uncharted territory. Other museums across the country are starting up similar initiatives, but it's a very new field of study. Wali asks me if I'd like a tour of the collection's three largest factions—urban steel heritage, urban healing, and the North American Native collection—and I accept, eager to see earplugs as something that will one day make history.
The Urban Steel Heritage Collection
"Why do people feel proud of their heritage as steelworkers, and how does that feed into their pride in Calumet?" Wali asks. It's clear that, to her, Calumet is much more than an industrial town. She sees a complex relationship between industry and environment in the collection of worker's uniforms, steel molds, and slag that lies before us.
Her sentiment is shared by Thomas Frank, an environmental activist who worked as an engineer in the Calumet region. One of his abstract paintings—an artifact in this collection—illustrates how the area has been affected by industrialization. Despite their pride in the region's near-unanimous vocation, the people of Calumet also care deeply for their local environment, which has one of the country's highest rates of biodiversity. It's Wali's job to document Calumet—both the region's natural environment and the factors that are causing it to disappear.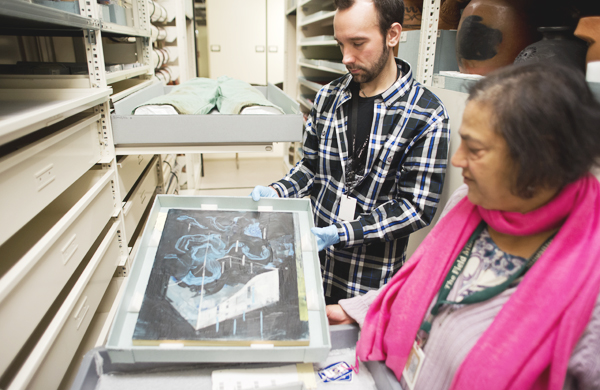 But she's not just reporting from the sidelines. The Field Museum has partnered with Chicago Wilderness to preserve this diverse ecosystem without compromising its people's way of life. Wali and her team are also working with the community to designate a heritage corridor that would help heighten awareness of local environmental issues.
The Urban Healing Collection
"Anthropologists take superstitions seriously," says Wali as she leads me into the urban healing collection. "Sometimes they're real belief systems that have a reason, and we want to understand why." For those practicing herbal medicine in the backrooms of Chinatown, some superstitions are very real. And they have little to do with the stereotypes of the snake-oil salesman.
"The Chinese belief system about the body is so different from [the Western perspective] in their depth of knowledge," Wali explains. "It's a very different worldview." Much of her research in Chinese herbal medicine seems to ask the same question: "If you just buy the remedy in the store, is it as efficacious if you don't believe in the whole perspective, philosophy, and worldview?"
This question has some interesting implications, as Wali's team has observed that many healers' customers are not, in fact, Chinese. These healers sell remedies to treat a variety of issues often ignored by Western medicine, including stress and spiritual cleansing. Such remedies are growing in popularity, and pharmaceutical companies are starting to take note.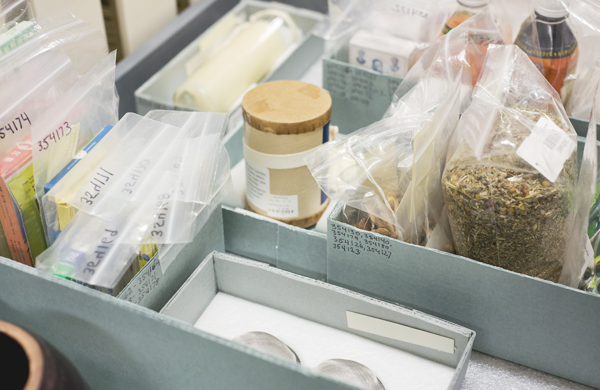 "Herbal medicines are being branded and packaged and commoditized, which is different in urban settings from how you'd see them in rural China," explains Wali, motioning toward a display of prepackaged herbs and tea strainers. Furthermore, stateside healers have had to tweak the recipes behind many of these treatments due to restrictions on imports. Wali is studying the other ways in which immigration has altered these practices.
But the team hasn't limited themselves to Traditional Chinese medicine. "We've looked at some African stores and Eastern European apothecaries, like Merz," she says. "Are there similarities [between these cultures]? Are there differences? What's the pattern?"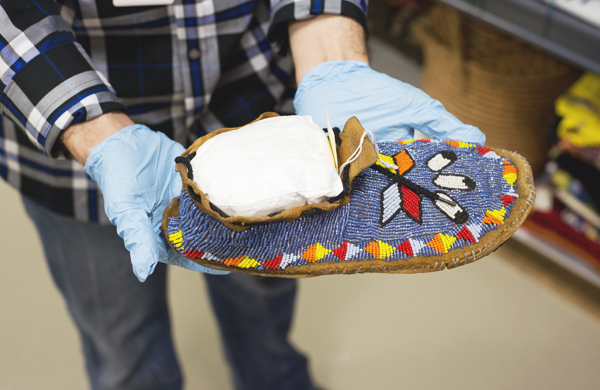 The North American Native Collection
"Most people think that Native American artisans are only out on the reservations," Wali says. "But there's a really vibrant community here in Chicago making powwow regalia." She leads me through a collection that contains artifacts made by local artisans and others from urban areas across the country. Few of these items ever go to market. Those that haven't ended up in museums are worn in powwow ceremonies like the ones held at the American Indian Center of Chicago.
This collection includes ceremonial garb as well as quilts and accessories worn in Native American ceremonies. One item that catches my eye is a belt that was handmade by the mother of celebrated Native American artist Bunky Echo-Hawk, who is currently showing an art collection in the Field Museum. His father wore this belt to ceremonial dances on the Pawnee Reservation, and its intricate design tells the story of the Pawnees' cosmological beliefs.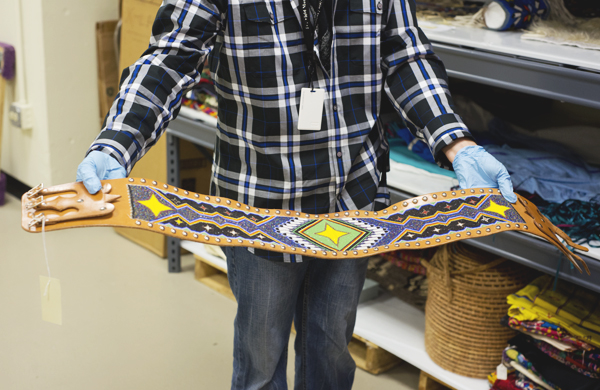 As Wali explains how all of the stars represent different beliefs from their mythology, I'm reminded of those tiny earplugs she first pulled out of the display case. They may not look like much right now, but maybe, in some distant future, they'll offer a glimpse into the world we live in today. It's a loud world, filled with noises we sometimes like to tune out or ignore. But if we pay more attention to what's going on around us, we might just notice history being made.
Photos: Tim Burkhart, Groupon.
Discover more museums: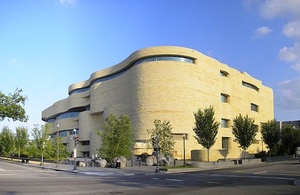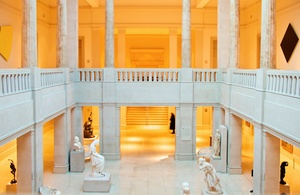 BY: Michelle Schuman
Michelle is a freelance fashion designer and dancer from Detroit. She has traveled the US extensively (and loves it!), but her biggest goal is to travel abroad.