GROUPON GUIDE TO WASHINGTON-DC
The "Cake Boss" Guide to Fondant
BY: Halley Lawrence |
Oct 18, 2022
There's hardly a more perfect-looking dessert than a cake with fondant stretched smoothly across its surface. So it's easy to see why the technique has become a mainstay at some of the poshest weddings, one that seems best reserved for expert pastry chefs. But when we talked to master cake decorator Gabby Parisi, she assured us that even a beginner can create a fondant masterpiece. And she should know—Parisi has honed her skills working and teaching hands-on classes at Cake Boss star Buddy Valastro's New Jersey bakeries. Here's what she had to say about why everyone should experiment with fondant (and, for the true novice, what exactly fondant is).
Fondant is more like dough than icing. "Fondant is like sugar dough. It comes in all colors, or you can dye it," Gabby said. "We actually sell the same fondant we use [at Carlo's Bakery]. You can also order it online, or get it at basically any craft store, or make it at home."

It's easy to work with … "People find fondant intimidating because the tools and know-how aren't readily available, but when you come to the class, you realize it's even easier than working with buttercream [icing]," she said. "It's super-easy once you know all the tricks. You can do almost anything—it's really kind of magical. Buddy likes to describe it as 'the Houdini of cake decorating.'"
… partly because it's so stretchy … Kind of like Play-Doh. "It's easy to work with because the texture is so familiar—it does feel like you're playing with a childhood [toy]."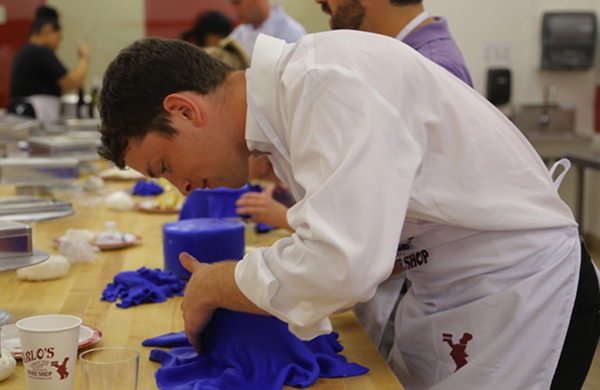 … and partly because you don't need fancy tools. "We use water and a paintbrush to apply flowers, fall leaves, bows, and other shapes. … For the most part, we like to use tools that make it easy to redo at home," Gabby said. "We make it easily accessible—we don't use any crazy tools that you would only find in a bakery, but ones you could easily find in a craft store."
It's not just for big cakes. "It definitely works [for cupcakes]. We usually put buttercream on top of the cupcake, then fondant on top [of that]. It's a really easy way to make a cupcake look super-professional."
You can be as creative as you wish. Because it stretches and molds so easily, you can use fondant to decorate more unconventional shapes, like the Cake Boss crew so famously does on their show. "Buddy always says the craziest cake we've ever made [with fondant] was the Transformer or the life-size NASCAR cake," Gabby said.
Shop for a cake-decorating class at Carlo's, or deals on kitchenware:
Read more about desserts on the Guide:
| | |
| --- | --- |
| | |
| Top-Secret Whiskey Soft-Serve Ice Cream | Roasted Marshmallows Can Do Better Than S'mores |