A Hamburger at The Choo-Choo in Des Plaines
BY: Liz Juranek |
Sep 30, 2013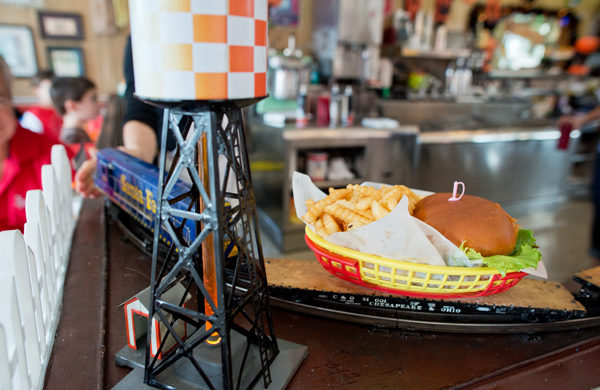 The last time I stepped into The Choo-Choo (600 Lee St., Des Plaines), I walked right back out again. Fifty years' worth of grease hung in the air, and the shouts of excitable children drowned out all other sound. I was 17 and eager to revisit my childhood favorites one last time before I left for college. But even the prospect of having my burger delivered by a model train, just like when I was 8, couldn't induce me to endure the chaotic atmosphere.
Fast-forward a decade, and I was ready to give The Choo-Choo a second shot. As more of my friends have kids, I've been on the lookout for child-friendly spots that pack in more charm than soulless chain restaurants. I also have an increased respect for institutions that have withstood the test of time. And The Choo-Choo has gotten through its fair share of scrapes over the years—it's the little engine-themed restaurant that could.
A few years ago, the city of Des Plaines threatened to exert eminent domain over the small property to build a new police station, but those plans have stalled and The Choo-Choo's kept chugging along. That wasn't the first time the eatery had overcome adversity. Just four years after The Choo-Choo opened in 1951, the master of all hamburger competitors, McDonald's, opened its first location just a block away.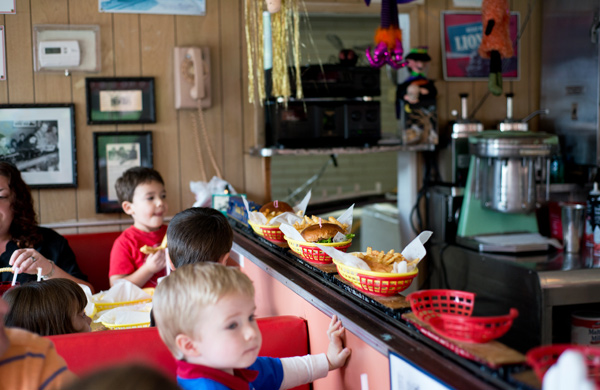 I reappeared at The Choo-Choo not expecting much. When you come as a kid, the best thing is the train. Who can remember the food? I assumed I would be getting an average-at-best burger. So as I waited for my friend Julianna and her kids to arrive, I was surprised to see a few adults sans offspring eating there. Maybe something about this place still made the trip worth it after you hit double digits.
We ate an early dinner, which meant we skipped the crowds and got a great seat at the counter, right where the train tracks run by. I went classic, ordering a hamburger and a chocolate shake. Seven-year-old Graham had a cheeseburger—his mom described him as a "cheeseburger connoisseur"—and 3-year-old Violet had a hot dog. Julianna, to her surprise, found a veggie burger on the menu, which seemingly hadn't changed since the Eisenhower administration. Every item came with fries.
Soon after we ordered, a bright-yellow model locomotive rumbled out of the kitchen trailing four flatbed cars filled with our food. I was surprised at how delicious my burger was. The patty was freshly cooked, not just reheated. Although it was thin, it retained both its juiciness and shape; there were no dry tidbits crumbling out of the bun. While I spent a few moments snapping pictures of my food, Graham snarfed his cheeseburger in about two bites. He impressed me as a thoughtful child—for instance, he told me he wears a gray T-shirt to school to avoid standing out while playing tag. So I trusted his judgment when he compared his cheeseburger to Culver's, giving it an 8 out of 10.
Little Violet was so enamored with her hot dog that she even ate the poppy-seed-covered bun—a rare occurrence, her mom said. More fanciful than her brother, Violet described her hot dog as tasting like cotton candy "because I liked it, and I like cotton candy."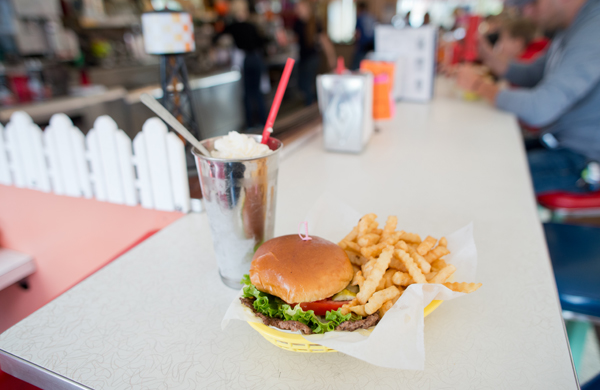 You can't argue with that logic. And if the bun eating wasn't enough, she flabbergasted her mom by eating her fries without ketchup. I agreed they didn't need it. These crinkle-cut taters were crispy without being burned, and had been seasoned with just the right amount of salt, eliminating the need for any extra adornment. Violet finished her meal sipping on a root beer that she said tasted "spicy"—and I agreed since it was a Barq's root beer, which I've found has a bit more bite than others.
As for the black-bean veggie burger, Julianna said the slightly spicy vegetarian dish was so good, she meant to ask if it was homemade. But there was no time for that—we'd ordered cupcakes topped with train-shaped plastic whistles, and they were just then rumbling down the tracks. When we left, we were full of good food and only $40 lighter.
I'm glad I came back to The Choo-Choo, and I'd return again, even without kids. It's got an ambiance that mass chains just can't achieve. Behind the counter, an old-timey machine shakes up milk shakes made with real ice cream, and in a corner, an old-timey train ride shakes up kids—but only if you whack the machine hard enough to make it accept your quarter. All those quarters pumped into the ride must have gone to buy The Choo-Choo a new air-filtration system; the place smells fresh and clean, without a sign that 50 years' worth of burgers had been cooked there.
Photo: © Timothy Burkhart, Groupon
BY: Liz Juranek
Liz is a beauty writer whose two greatest joys are red lipstick and her pet dwarf hamster.