A Maitre D' Offers Fine-Dining Tips, Including Bribery Advice
BY: Kevin Moore |
Nov 7, 2014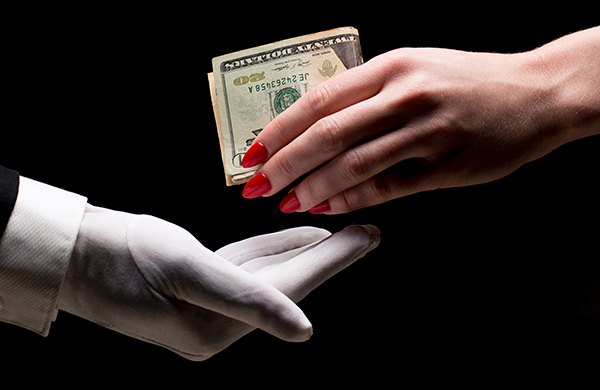 Ben Siegel has spent 18 years immersed in fine-dining restaurants, working in everything from operations to consulting. This experience serves him well in his current capacity as a maitre d' at Joe's Seafood, Prime Steak & Stone Crab, an upscale steak house and seafood restaurant in Chicago's River North neighborhood.
We asked Siegel for some insider's advice on how to enjoy a faux-pas-free meal while still managing to have a comfortable, relaxing night out.
"We're very fortunate to have people coming into our restaurants," he first stated. "We're happy to serve people. After all, we're in the service industry."
Service can't be bought, though it can be rewarded. Siegel recounted an apt saying: "Money on the way in is a bribe. Money on the way out is a gratuity." While a restaurant's staff will do its best to accommodate requests, diners can help by doing their part to make sure evenings run smoothly.

Exactly how important is it to be on time for my reservation?
Siegel had one important piece of advice on this issue: "Treat a reservation like an airline flight."
Arrive a bit early to check in and be willing to wait for a bit if necessary. Unfortunately, delays do happen sometimes. These are inconvenient for everyone, including the front-of-house staff. Pass the time by chatting with your party or grabbing a drink if there's a bar. Patience is a virtue.
Showing up late for a reservation and hoping to be seated immediately isn't a realistic expectation. Siegel continued his metaphor by saying that, while the staff will do everything to help, you can't exactly chase a plane as it taxis down the runway.
What should I mention when making a reservation?
Number of diners. Date. Time. Providing basic details is almost a reflex.
To help facilitate the entire dining experience, Siegel strongly recommended thinking about everything else the restaurant may need to know in advance. If you would mention it as soon as you arrive or sit down at the table, it can't hurt to mention it when making a reservation.
Does anyone in the party have specific food allergies? Will there be any children? Will the group need a table that is easily accessible for people using wheelchairs or walkers?
Siegel noted that, at fine-dining establishments in particular, front-of-house staff members design game plans in anticipation of each meal service. Reservation details play a crucial part in the development of those plans. The more the the staff members know beforehand, the better prepared they will be—and the smoother the entire dining experience will be.
How do I ask questions about the menu without embarrassing myself?
The possibility of eliciting a condescendingly raised eyebrow may deter some diners from asking about an unfamiliar word, ingredient, or wine varietal on a menu. Siegel reassured us that that trepidation is entirely unwarranted. Simply do the most obvious thing and ask a server.
"Don't sugarcoat it," he advised. "There's nothing wrong with saying, 'I've never heard of this. Please explain it to me.'"
Siegel emphasized that servers tend to be passionate about food and sharing their knowledge. Above all, they want you to enjoy your dining experience, which means eyebrow acrobatics should never factor.
What if I use the wrong piece of silverware?
Fortunately, this shouldn't be an issue at present-day fine-dining establishments. Organized restaurants will only place silverware before serving the accompanying course, according to Siegel. Remembering old tricks such as "start outside and work in" won't be necessary.
This means that there's no risk of accidentally using a salad fork to try and finish a bowl of soup. Siegel did note that diners tend to be reluctant with two particular utensils, though.
When enjoying dishes such as fried chicken or shellfish, he said, "it's OK to use your hands."
But what about messy hands afterward? Try asking your server if the restaurant offers hot-towel service, as Siegel's does.
My meal arrived and I have no clue how to eat it. What do I do?
First off, Siegel applauds diners for expanding their culinary horizons by ordering an unfamiliar dish instead of sticking with a classic standby. He encourages people to branch out and try something entirely new to them, like whole fish, raw oysters, bone marrow, or sweetbreads.
What if you have no idea how to even start with a particular dish? Fortunately, Siegel has a clever trick for dealing with this situation.
"Ask the server how they like to eat it," he said.

Our guides to the other tricky situations you may run into at a restaurant:
| | |
| --- | --- |
| | |
| Who Should Pick Up the Check on a First Date? | When Is It OK to Send Your Food Back? |
BY: Kevin Moore
Iowa-born, Arizona-raised, and Illinois-tax-paying writer who can answer any Trivial Pursuit question about wine or snakes.