A Summery Short-Ribs Recipe from The Nourished Kitchen
BY: Alison Hamm |
Jun 24, 2014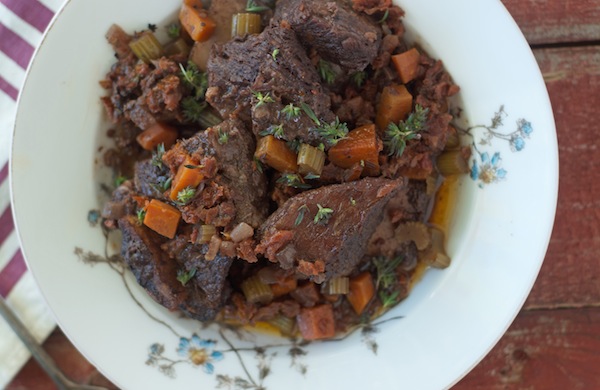 Read our full interview with McGruther here.
Braised Short Ribs with Sun-Dried Tomatoes and Herbs
Serves: 4
What you need:
8 bone-in beef short ribs (about 7 ½ pounds ) ½ teaspoon finely ground unrefined sea salt ½ teaspoon freshly ground black pepper 1 tablespoon unsalted butter or lard, plus more if needed 4 ounces bacon, finely chopped 4 carrots, peeled and diced 6 ribs celery, diced 1 yellow onion, diced 2 cloves garlic, minced ¼ cup sun-dried tomatoes packed in oil 1 tablespoon chopped fresh rosemary needles 1 tablespoon fresh thyme leaves 2 cups dry red wine, plus more if needed 2 cups beef bone broth (
see recipe below
), plus more if needed 2 bay leaves Preheat the oven to 250°F. Trim the ribs of any sinew or silver skin with a sharp knife, then rinse them and pat them dry. Sprinkle the ribs with the salt and pepper and set them on a plate. Melt the butter in a dutch oven over medium heat. When it froths, stir in the bacon and fry it until it releases its fat and turns brown and crispy, about 6 minutes. Remove the bacon with a slotted spoon and set aside in a bowl. Increase the heat to high and, working in batches to avoid crowding, place the short ribs in the pot. Brown them for 1 minute on each side, then return them to the plate. When all the ribs have been browned, decrease the heat to medium and add the carrots, celery, onion, and garlic to the pot. Fry the vegetables, adding more butter if necessary, until softened and fragrant, about 5 minutes. While the vegetables cook, combine the sun-dried tomatoes, rosemary, and thyme in a mortar and pound them with a pestle until they form a uniform paste. Alternatively, process the tomatoes and herbs in a food processor until they form a paste. Stir the tomato and herb paste into the dutch oven, then return the short ribs and bacon to the pan. Stir in the wine and broth. Drop in the bay leaves, then cover the pot and transfer it to the oven. Leave the pot in the oven for 6 hours, until the meat falls off the bone under the firm pressure of a fork. Check on the contents from time to time and add more wine or broth as necessary to keep the ribs covered. Remove the bay leaves and serve.
Beef Bone Broth
Makes about 4 quarts
What you need:
5 pounds beef soup bones 2 bay leaves 4 sprigs thyme 3 tablespoons whole black peppercorns 2 large yellow onions, quartered 3 carrots, chopped 2 celeriac, peeled and chopped 4 cloves garlic, smashed 1 cup red wine 2 gallons water, plus more as needed Preheat the oven to 425°F. Arrange the bones in a roasting pan in a single layer and roast for 45 minutes. Transfer the bones to a heavy stockpot. Toss in the bay leaves, thyme, peppercorns, onions, carrots, celeriac, and garlic. Pour in the red wine and water. Bring the liquid to a boil over high heat, then immediately lower the heat to medium-low, cover, and simmer for at least 12 and up to 18 hours, adding water as necessary to keep the bones submerged.
Reprinted with permission from
The Nourished Kitchen
written and photographed by Jennifer McGruther (Ten Speed Press, © 2014).
Hungry for more? Check out these articles on cooking with locally sourced whole foods from ground cherries to ground beef.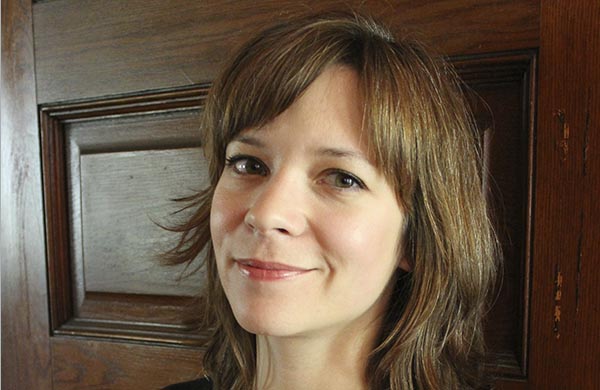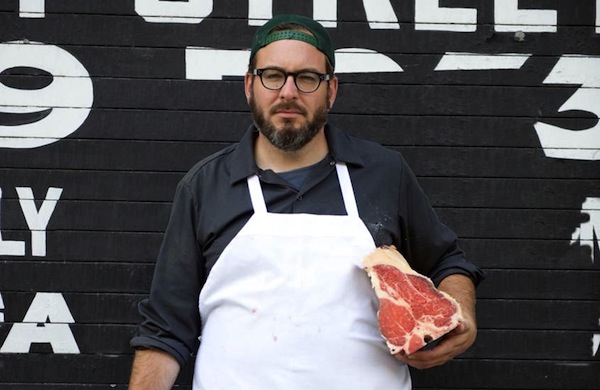 BY: Alison Hamm
Guide Staff Writer
Alison would rather interview a chef or food blogger than actually cook. She never says no to a Hamm's Beer on special.