A Tale of Two Nihonmachi: Japantown Then and Now
BY: Naomi Bishop |
Apr 28, 2014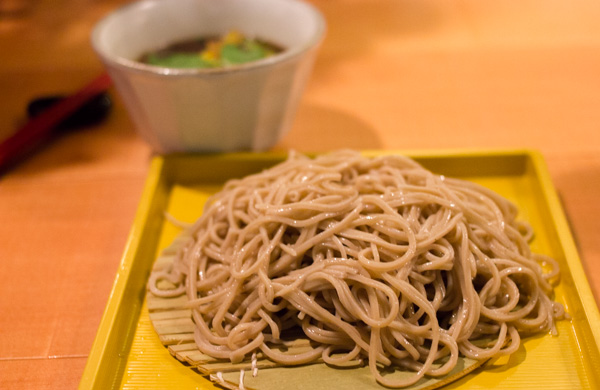 The Japanese population of Seattle is about what it was in the early 1930s, even though the overall population has almost doubled. Segregationist policies forced immigrant enclaves, and—before the Depression chased away immigrant jobs, and deportations to wartime internment camps, emptied the neighborhood—this was the heyday of Seattle's first Nihonmachi, or Japantown.
Today in Wallingford, miles north of the original Nihonmachi (a 15-block area on the north side of today's International District), there is something of a new Nihonmachi forming with the opening of a number of Japanese restaurants. They stretch from the western edge, where an un-named window on Stone Way sells udon noodle soup, straight up 45th to the eastern edge, where Mutsuko Soma crafts quite a name for herself with handmade soba noodles. In between are the old—Musashi's has been serving sushi since the '80s—and the new—Ramen Man just opened in late 2013. While the full spectrum of Japanese cuisine is too much to ask from one city, let alone one neighborhood, Wallingford's selection is vast. There is robata (grilled food) and izakaya food (small plates) at Issian and 4649 Yoroshiku, udon noodles at the un-named stand, ramen noodle soups at Ramen Man and 4649 Yoroshiku, soba and elegant appetizers (as well as a killer cocktail selection) at Miyabi 45th, and affordable sushi at Musashi's and Kozue.
Further south, Seattle's original Nihonmachi tries to keep up with the array and quality of Japanese cuisine in Wallingford. When it formed, 2.3% of Seattle's population was Japanese. Today, the area is sprinkled with remnants of that time: Maneki serves the same high-quality sushi it has for over a century; the Panama Hotel (made famous by The Hotel at the Corner of Bitter and Sweet) remains, its current teahouse as much a staple of the neighborhood as the original, pre-World War II version pictured on its walls. As Japanese food has gained in popularity throughout the last few decades, newer restaurants in the area carry on the tradition with an izakaya (Kaname), sushi spots (Fuji Sushi and Tsukushinbo), and further afield, a bakery (Fuji), a ramen shop (Samurai Noodle), and even a giant grocery store (Uwajimaya).
The 2010 census says that only 1.3% of Seattleites today are Japanese, but that does not hinder the popularity of the cuisine. The Nihonmachi north of Jackson Street was born of racial segregation, the forcing of all Japanese people and businesses into a single area. The new Nihonmachi on 45th, more food focused than cultural or demographic, is born out of the opposite—the spreading of a cuisine to wherever restaurants are able to find happy customers of all ethnicities. A quick glance at the line outside Musashi's on a weekday evening indicates that place is very much Wallingford.
BY: Naomi Bishop
In need of an outlet for her effervescent enthusiasm for all things edible, Naomi Bishop started sharing her thoughts on food at her blog, TheGastroGnome, in 2006. Her lack of fear—she'll eat anything and go anywhere—lead her to discover restaurants hidden in plain sight or find the most delicious needle in the haystack of a menu. Her writing appears on Serious Eats, Eat Your World, and in the Seattle Weekly. Download her app, Unique Eats of the Northwest to find the best restaurants you've never tried.