A Tuna Pasta Recipe from Beth Moncel of Budget Bytes
BY: Rachel Matuch |
Jan 22, 2015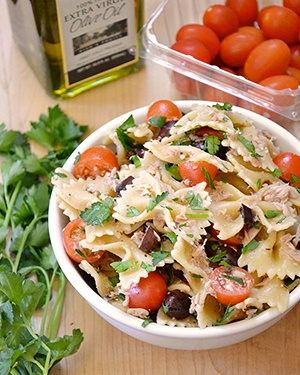 Beth Moncel, the blogger behind Budget Bytes, has a ton of tips for how to save money on food. Her expertise doesn't end at the grocery store, though—she's also a mean, money-saving machine in the kitchen. She shared this recipe from her cookbook, Budget Bytes: Over 100 Easy, Delicious Recipes to Slash Your Grocery Bill in Half, to show at-home chefs how to combine their cooking and budgeting skills.
"Both tuna and Kalamata olives are pricier ingredients, but because they are so potently flavored, you can use a small amount and stretch their flavor over eight servings." she says. "Pairing them with inexpensive pasta to bulk out the recipe keeps the overall cost per serving low."
Pasta with Tuna and Olives
From Budget Bytes: Over 100 Easy, Delicious Recipes to Slash Your Grocery Bill in Half, by Beth Moncel
Ingredients (Serves 8)

1 pound bow-tie pasta




1 pint cherry tomatoes




2 5-ounce cans chunk light tuna in water




1 cup pitted kalamata olives




2 tablespoons olive oil




1 tablespoon red wine vinegar




1/2 teaspoon dried basil




Freshly cracked pepper to taste




1/4 cup grated parmesan cheese




1/4 bunch fresh parsley



Instructions

Bring a large pot of water to a boil then add the pasta. Boil the pasta for 7-10 minutes, or until tender. Drain the pasta in a colander and allow it to cool slightly.

While the pasta is cooking, cut each cherry tomato in half and place them in a bowl. Drain the tuna and add it to the bowl as well. Roughly chop the olives and parsley, then add them to the bowl.

Make the dressing by whisking together the olive oil, red wine vinegar, dried basil, and some freshly cracked pepper.

Add the pasta, dressing, and parmesan cheese to the bowl. Stir until everything is well mixed.



Budget Bytes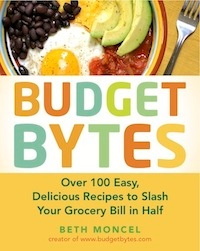 Cherry tomatoes can be quite expensive, but can be substituted with chopped Roma tomatoes. Roma tomatoes are usually less expensive, but are not quite as sweet and do not look quite as nice as cherry tomatoes in the salad.





It may be more economical to buy one larger can of tuna instead of two smaller cans, but be sure to check the price as this is not always the case.







Check out more recipes on the The Guide: