Act One—Dinner: Six Restaurants to Visit Before Curtain
BY: Catherine Bullard |
Oct 19, 2022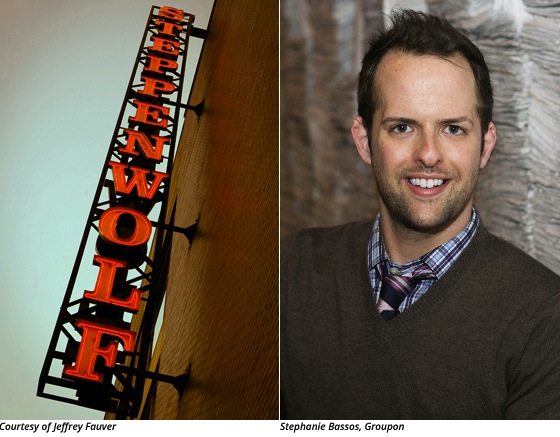 "What I appreciate about [Chicago theater] is the support network and the community aspect," said Jeffrey Fauver, Steppenwolf Theatre Company's director of communications. The big-name theaters and smaller storefront venues tend to support one another, not compete. "It's not an us versus them, it's a 'we' situation."
The iconic Steppenwolf sign on Halsted Street. // Jeffrey Fauver smiling in front of the Steppenwolf Garage theater's equally iconic but substantially more fibrous wall of scripts.
His appreciation for community isn't limited to theater—it also covers another of Chicago's most famous specialties: food. Jeffrey said he grew up in a household that had family dinner almost every night. Now, he and his partner have "created a family of foodies" in Chicago that he calls "a throwback to that family mealtime thing." "As far as going out and eating, that's sort of my hobby," he said. As a regular theatergoer, Jeffrey has combed the neighborhoods around his favorite venues for the best preshow bites. Here are some of his favorite spots.
Steppenwolf Theatre Company | 1650 N. Halsted St. 
"
I feel like the work that Steppenwolf does typifies what Chicago theater is.
It's about that ensemble ethic. They pick new work, they pick daring work, and they're not afraid to push the envelope."
ACT ONE
Scene 1
Balena:
"It's sort of like Italian meets small plates," Jeffrey said. He touts Balena's classic Italian cocktails, beautiful atmosphere, and impeccable service. "Because it's a neighborhood restaurant, they're really great about accommodating curtain times."
Scene 2
Burger Bar:
"Burger Bar is, obviously, burgers—really fantastic burgers with really great beer." They also have "gargantuan" specials, such as a burger with bratwurst on top, served with sides of chili and buffalo wings, Jeffrey recalled. "Every gluttonous side dish you can think of was in that."
Goodman Theatre | 170 N. Dearborn St. 
"
They're the longest-standing regional theater in town
, and they do really solid productions with fantastic acting and a really strong directorial hand and beautiful designs. You know you're going to go there and see something that's unparalleled in quality."
ACT ONE
Scene 1
Avec:
"It's narrow, and it's packed, and it's just got this great vibe to it," Jeffrey said. "They're not the only place in town to do family-style seating, but it's the place I've been to that did it best. It felt special. It felt like an experience."
Lifeline Theatre | 6912 N. Glenwood Ave.
"
What [Lifeline] specializes in is literary adaptation
. It's a really great niche because so much great literature is very dramatic and lends itself to the stage. They do really solid storefront work. I feel like they were ... important in the revitalization of Rogers Park."
ACT ONE
Scene 1
morseL:
morseL does what Jeffrey calls good gastropub-style food. "Part of what makes it special is they serve these morsels—it's like an amuse-bouche. They don't charge you for it; it's just part of the experience."
Scene 2
Act One Pub:
"They also have gastropub food there, too, and beer. Their flatbreads are really, really, crazy delicious."
iO Theater | 3541 N. Clark St.
"
Chicago has such a fantastic improv scene.
It's not like going to the theater like many people think about it. These venues are smaller. They have bars built into the theater spaces. It's about having more of a [raucous] good time."
ACT ONE
Scene 1
D.S. Tequila Company:
"My partner and I love tacos and margaritas, and D.S. Tequila is just fantastic," Jeffrey said. "They have this great outdoor patio and a ridiculous dessert that's served in a beer stein. It's chocolate and fudge and marshmallows, and they put two—wait for it—
sparklers
in the marshmallows."