Airline Food Doesn't Have to Be Terrible—If You're Flying Internationally
BY: Nathalie Lagerfeld |
Nov 24, 2014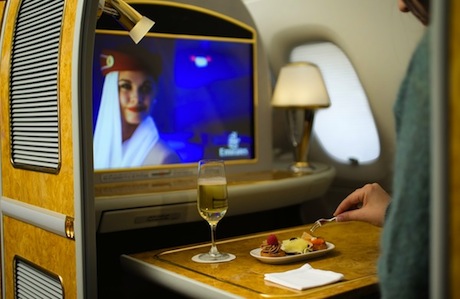 America may be the land of the free, but it's also the home of awful airline food. While our domestic travelers snack on sad bags of peanuts and rubbery chicken breasts, other nations' frequent fliers get to feast—even when they're seated in coach. I learned this unhappy truth mostly secondhand. When my friends who live and work abroad describe their in-flight meals, they use unfamiliar words like "awesome" and "sublime" and "the third-best meal I've had in my life." So, in advance of the holiday travel season, I subjected them to an informal poll to find out what, exactly, I was missing out on. Which foreign airlines have food that's not just edible but straight-up
tasty
?

Though all the responses I got sounded good, my stomach didn't really start to rumble till I started looking up photos of the meals on
AirlineMeals.net
, a forum dedicated to high-flying gustation. (I've included some of the links below.) It might be too late to plan Thanksgiving in Dubai, but at least you can join me in drooling over these descriptions of these in-flight feasts.
Emirates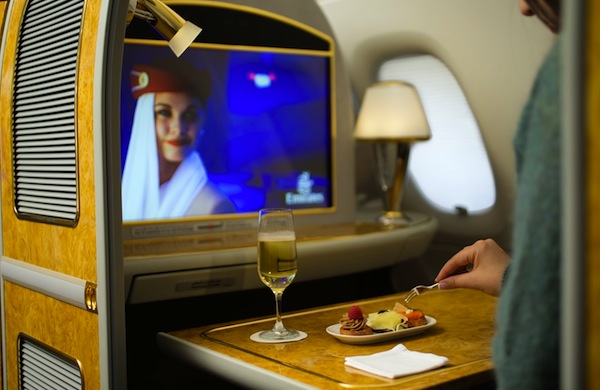 A first-class private suite on Emirates. Photo courtesy of Emirates.
With five-course menus that include
roast lamb loin
and
delicate chocolate pastries
, the food in Emirates' business class is so good "you regret sleeping on the flight," said one poll respondent. But this airline—based in Dubai, United Arab Emirates—got high marks even from those who flew coach, where dishes like
chili-lime chicken with garlic sauce
come in sleek aerodynamic containers seemingly designed to promote high-altitude games of Frisbee.
Qantas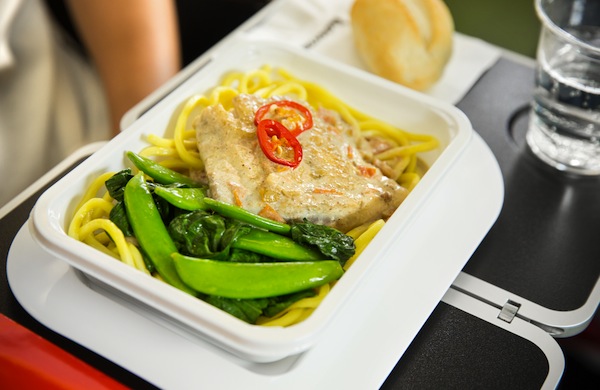 An economy-class meal on Qantas. Photo courtesy of Qantas.
Australia's flagship airline earned accolades like "awesome" for its internationally inspired food, which in economy class can mean meals like
braised lamb with eggplant and couscous
or
Thai green curry with barramundi
, or Asian sea bass. You'd be remiss not to pair that with a glass of vino: Qantas' extensive in-flight wine list earned it
Best In-Flight Wine Program
honors from
Saveur
's 2014 Culinary Travel Awards.
Air France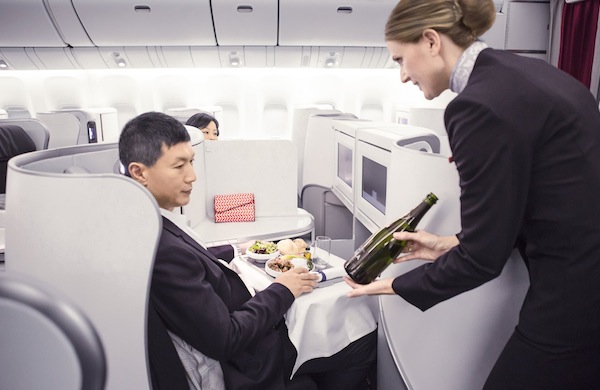 Photo courtesy of Air France's Facebook.
One poll respondent recommended France's famous airline but with the caveat that "it's been years" since they last dined
en l'air
. Well, here's an unsurprising update: the nation that basically invented food snobbery still makes some of the best airline food. Economy-class guests can tuck into fresh
grain salads
or spread wedges of creamy brie on
loaves of real french bread
as fluffy as the clouds outside.
Singapore Airlines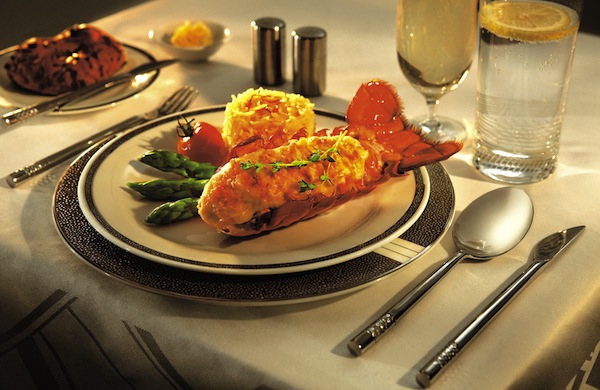 Lobster thermidor served in first class on Singapore Airlines. Photo courtesy of Singapore Airlines.
You'll have to be in first or business class to take advantage of its
Book the Cook
program, which lets passengers pick delicately plated, made-to-order meals in advance. But even in economy class, you'll taste the benefits of Singapore Airlines' commitment to its food in dishes like
seafood noodles with fresh chilies
and
pasta salad with tender smoked salmon
.
Porter Airlines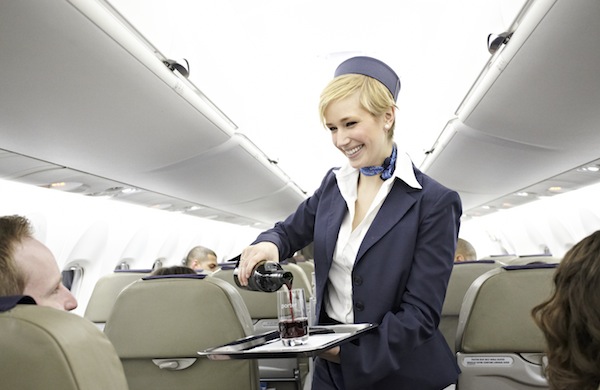 Photo courtesy of Porter.
Though respondents spoke highly of Canadian airlines in general, this tiny Toronto-based carrier narrowly edged out Air Canada in passengers' hearts (and stomachs). "I think I keep going to Canada just so I can fly Porter more," said one respondent. The biggest draw: gourmet sandwiches and "lovely" snacks like cookies and almonds, which pair with complimentary wine and beer on all flights. If you have a layover in Toronto, you'll also get to hang out in a lounge with more free snacks and drinks.
HONORABLE MENTIONS
Ethiopian Airlines:
A friend of mine claims to have had the "third-best meal of her life" on an Ethiopian flight to Rwanda. The meal of "white fish with green and black olives and a red sauce" was followed by a cup of tea and hot-towel service.
Japan Airlines:
I will never forget the meal of grilled eel, white rice, and pickled enoki mushrooms I ate on this carrier's Shanghai-to-Tokyo flight.
Delta Air Lines:
This airline got the most love of US carriers, with several people insisting that they had better-than-average food on domestic flights.
Scandinavian Airlines:
Said one respondent: "Their warm dinner rolls were sublime
and
they were able to accommodate my (probably obnoxious) last-minute request for a vegetarian entree."
---
Here's what you need to know for a happier plane trip:
| | |
| --- | --- |
| | |
| Our 15 Favorite Airport Restaurants | A Flight Attendant Dishes on Flying Etiquette and the Safest Seat on the Plane |
BY: Nathalie Lagerfeld
Guide Staff Writer
Nathalie is a writer and editor on the Guide's food team. Originally from Virginia, she now lives in Chicago, where she regularly indulges her love of tortas, bibimbap, and Cheez-Its. Follow her on Twitter @maviswillsaveus.