All-Ages Skill Sharing at Logan Square's Learnapalooza
BY: Daphne Sidor |
Oct 19, 2022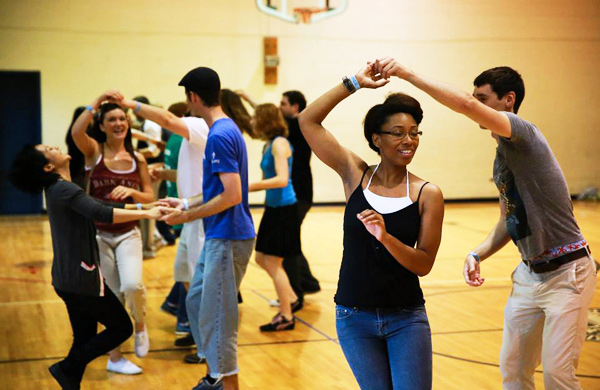 How hard can you strum a ukulele before snapping its strings? How could anybody improve your grandmother's time-tested jam recipes? Just who is the Deodorant King of Chicago? These are just a few of the questions that will be tackled this Sunday, September 22, at Logan Square's
Learnapalooza
. This daylong festival of learning is hosted by various local businesses and experts, who will share their eclectic skills in the neighborhood's art galleries, shops, and cafés. (And yes, the Deodorant King of Chicago,
Nathan Morin
of vegan beauty line
North Coast Organics
, will be there.) All of the classes are free and one hour long, and almost all of them are open to all ages. If it seems like the child in your life would be even remotely interested in a class topic, feel free to bring them. Some classes are specially designed for kids, and all dance classes will be kid-friendly. But how to narrow it down, with more than 50 classes on the lineup? With coordinator Stephen Barker's help, we've collected a few especially intriguing suggestions below. It's best to register online, but if you don't make it in, don't stress out: "There are always no-shows," Barker assures prospective students. "So if there's a class you're really excited about attending, I would just show up."
To see the world in black and white (and red and yellow), try: Painting with Just Four Colors with Julie Sulzen
11:30 a.m. at SulzenZamudio (2720 W. Saint Georges Ct.)
Julie Sulzen
and her husband, Dan Zamudio, regularly open their loft/apartment/gallery space to the public for exhibitions, and at Learnapalooza, they extend the same hospitality to budding painters. In this session, Sulzen, who specializes in oil paintings of Chicago landscapes, softens the intimidation factor of the art form by limiting the palette to a quartet of versatile hues. During the class, students will discover how to render a surprisingly realistic world through use of blending, form, and edges.
To progress beyond barre chords, try: Learn to Play a Guitar Solo with Brian Riggs
1 p.m. at Hairpin Arts Center – Room A (2800 N. Milwaukee Ave.)
Logan Square musician and teacher Brian Riggs—who specializes in Spanish guitar—starts his class where many campfire guitarists stop: beginning to solo. Riggs uses the pentatonic scale to guide strategies for improvising easy lead lines. Students should have at least a little experience playing guitar, and need to bring their own instrument.
For the rare kid who enjoys bouncy balls and ice cream, try: At-Home Science Fun with Rebecca Pointe
2:30 p.m. at Beauty and Brawn Art Gallery & Think Space (3501 W. Fullerton Ave.)
Early-childhood educator Rebecca Pointe makes science viscerally entertaining for kids aged 2–8 and their guardians. She accomplishes this through two projects, both of which can be replicated at home on a rainy day: making bouncy balls out of a rubbery plastic, and shaking up homemade ice cream in a ziploc bag.
For an excuse to dust off your cowboy boots, try: Beginner Line Dancing with Country Bernie
2:30 p.m. at Hairpin Arts Center – Large Room (2800 N. Milwaukee Ave.)
Somehow appearing effortlessly cool as he glides across the dance floor in specs, a five-gallon hat, and bolo tie, the man known as Country Bernie gets dancers shuffling, boogieing, and box-stepping within minutes. Despite his name, Bernie's music collection includes more than just country; he can just as easily show off choreography to a swing or Latin tune.
To bond with your pet rock, try: The Story of Rocks with Asa Kaplan
4 p.m. at Beauty and Brawn Art Gallery & Think Space (3501 W. Fullerton Ave.)
Trained as a geologist and paleontologist, Asa Kaplan digs deep into the bedrock of the city's ancient history by leading fossil-finding tours on the Magnificent Mile. (Hint: instead of grabbing a shovel, check out the foundation stones of older buildings.) During this class, he encourages people to grab a rock—any rock!—and bring it in for a look at how it came to be. Kaplan approaches his events as "geological storytelling," which makes the whole thing much more exciting than just talking about dirt.
Photo: © Zhinan Wang