GROUPON GUIDE TO WASHINGTON-DC
Six Ways Teens and Parents Can Capture the Most Awkward Prom Photos
BY: Kelly MacDowell |
Sep 9, 2015
Prom pose. It's something that's universally understood, like gravity, or not posting Game of Thrones spoilers on Facebook. Yet somehow, even with that understanding, the awkward prom pose has become the status quo for all prom photos, despite the fact that nothing is more awkward than making two nervous, probably-not-dating teens embrace in public, in front of their parents.
But maybe prom photos are just, like, meant to be awkward. Maybe it's a rite of passage. Like the prom pose, there are certain horrors that plague everyone's pics. After talking to Groupon employees about their own prom photos, we found that awkwardness was ubiquitous. But also constructive.
From our very careful analysis, we now present the six things you need to do to capture gloriously awkward prom photos that can be laughed at for generations. And if you want to rebel against tradition, there are also some tips for getting genuinely nice pictures.
(Editor's note: To protect the identities of those who do not work here and did not sign up for prom-pic-shaming, their faces have been disguised by emojis that represent their actual expressions as closely as possible.)
1. GET TAN, even if you physically can't.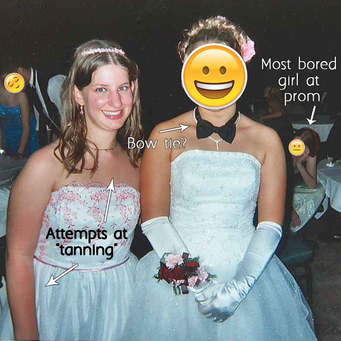 "I went tanning so much in 2002, George W. probably should have issued an executive order against it. I am Scotch-Irish. It was unnatural." – Kelly MacDowell
"You can see that I attempted to tan, but only the day before prom. I laid out in my backyard and proceeded to only get red, so in all my photos it looks like I've been dancing really hard … I basically haven't been out in daylight for more than 20 minutes since 2004." – Liz Juranek, pictured right
Actual tip: Don't feel compelled to go tanning. Pasty people have their place in the world. Nicole Kidman is porcelain as heck and she is a boss. If you'd like to be tan in your pics, though, make sure to give yourself at least a few weeks to build up color.
2. Stand in direct sunlight for every. single. picture.
"There are [some] shots of just the guys. In one, I am pretty sure I am the only one wearing sunglasses." – John Flaherty
"I remember the sun was in my eyes the entire time. Plus, it was glinting hard off the rhinestones on my dress. People probably shouldn't look directly at the pictures without one of those solar-eclipse-pinhole things." – Kelly MacDowell
Actual tip: Take pictures during the golden hour, which occurs just before sunset. The light is more diffused, and you should be able to avoid blinding anyone.
3. Make sure every shot is 10000% posed.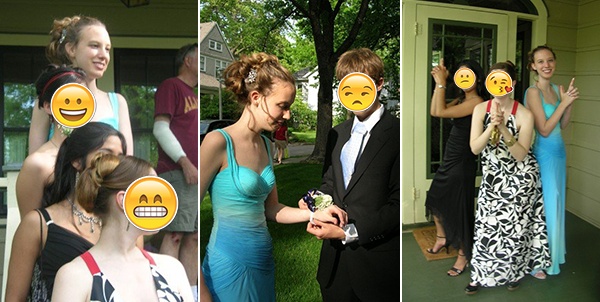 "Perhaps the most embarrassing part of the whole to-do was how many parents were there, and how many photos were taken… The photo on the stairs [above, left] went completely wrong. My date looks very disdainful of his corsage-pinning abilities [above, center]. The Charlie's Angels pose [above, right] was outdated even then." – Mel Kassel
"Because there was a lack of actual couples [in our group] it looks like everyone is trying desperately not to touch so they don't imply some sort of romantic connection." – Kate Raftery
Actual tips: First of all, don't force "romantic" poses on pairs if they aren't dating. Also, try to capture candid moments. Teens hate posing for their parents. Being more candid will produce more flattering, natural shots.
4. Wear the most baller prom gear you can find.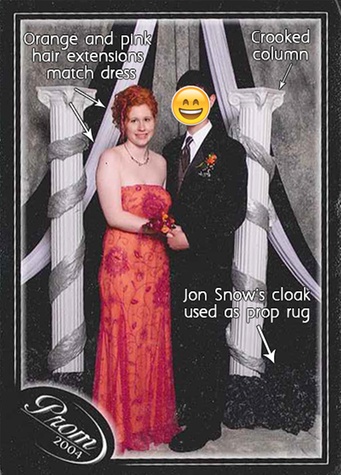 "I was crazy about the 1940s at the time and dressed in a red-velvet peplum with a black satin mermaid skirt and a BOUFFANT. WHY. I thought I was hot s**t until I entered the dance and everyone looked at me really strangely." – Ashley Hamer
"My main takeaway from this photo is that 18-year-old me did not know how to shop for a strapless bra. I should probably be laughing at the fact that my hair and dress match, but I'm actually rather impressed with my ability to match them so well. Frankly, I wish I were as good at matching now as I was on prom night." – Shannon Jewitt, pictured right
Actual tip: There's no real rule here. This one all depends on your teen's personality. If they want to go big, let 'em. If they don't, then opt for classic formalwear, hair, and makeup. Either way, knowing which colors look best on you will help get the most flattering photos possible.
5. Pick the smallest and/or most banal place to take pictures.
"My mom's weird knickknacks and the vast, featureless expanse of our front yard have been preserved for posterity. (Why was my house chosen again?)" – Kate Raftery
"There is one ridiculous shot with, like, a dozen couples [squeezed] in front of a fireplace. We were all positioned in the classic prom pose." – John Flaherty
Actual tip: If you're gonna have 52 people getting together for this, you might as well chose a spacious, more picturesque location, like a town square or a dang park.
6. Make your body look as awkward as possible.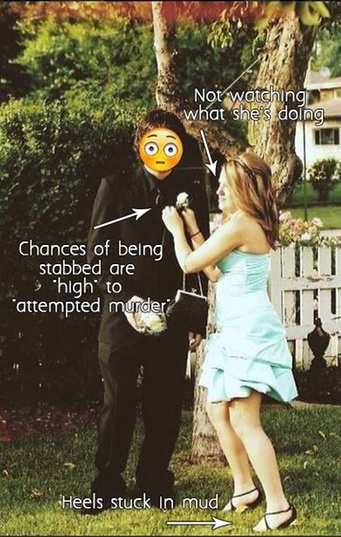 "While taking pictures in my mom's backyard, the stilettos I wore punctured the soft sod and sunk deep into the earth. You couldn't see my heels and I couldn't move. I had to manually lift my legs one after the other to change poses." – Stephanie Anderson, pictured left
"I am slouched over like the Hunchback of Notre Dame… [it] should have taught me to stand up straight (it did not)." – Liz Juranek
Actual tip: Sorry kids, but we've gotta echo Mom on this one. Stand up straight. Preferably on solid ground.
Perhaps the most important thing to remember is this: just because your photos are awkward, that doesn't meant the night will be.
"Though we were all bumbling about like the insufferable teens we were, we made no bad memories that night," Mel said. "Truly, a feat."
Hero image adapted from: Prom 1983 by Andrew Kitzmiller under CC by 2.0
Get picture-perfect with these other photography tips: