GROUPON GUIDE TO WASHINGTON-DC
Which Colors Look Best on You?
BY: Kelly MacDowell |
Oct 1, 2014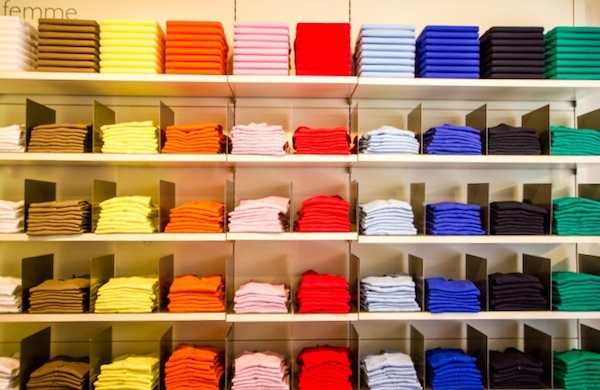 As we've learned from countless red-carpet fashion stumbles, just because you like a color doesn't necessarily mean you look good in it. But as trends and seasons change, the urge to try out new hues is always there. So we talked color with Colleen Keilty, a personal stylist for Trunk Club. Here's her advice on finding the colors that work best for you.
First things first: figure out your skin's undertone.
This is often the key factor in determining whether or not a color will look good on you, because your face will reflect whatever color is put next to it. So if you have fair skin with yellow undertones and you wear a light yellow shirt, your face will be saturated in that hue. This is what's commonly known as "looking washed out."
With that in mind, Colleen recommends choosing apparel that will contrast with your undertone. "Pink undertones are going to look really great in softer colors: blues, greens, grays," she said. "Whereas olive skin can work with [colors that are] a little bit brighter: yellows, oranges, vibrant reds, pinks. For darker skin, clothing can also get brighter." Use the chart below to figure out your undertone.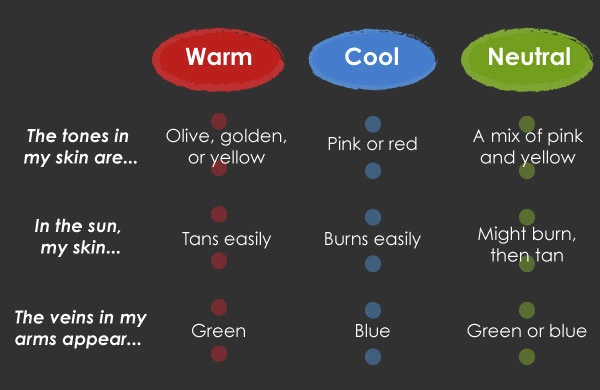 Of course, no rule is without its exceptions. Colleen cites herself as an example: "I'm a pink undertone, and I look good in pinks and reds," she said, going on to explain that's probably because the pink is "broken up" by her dark hair and green eyes.
Which brings us to our next point: use your other features as cues, too.
Your skin's undertone is important, but hair color plays a role as well. "There are certain colors that are generally going to work well for a blond," Colleen explained. "Blonds tend to have a little bit of a lighter skin tone, so they can pull off those really soft colors. … As opposed to someone with dark hair, you'd want to go with deeper hues [in clothing] as well."
Eye color has a similar effect. Lighter eyes (green, blue, hazel) tend to pop against lighter-colored clothing, like purples and pinks. Brown eyes find their complement in darker earth tones, like navy blue and deep oranges. Matching clothing to eye color is usually a foolproof approach, as well.

Makeup is another great barometer of color. "If you've met with a makeup artist who has told you what colors look really great on you, even if [you were talking about] eye shadow, that's going to translate to your clothing," Colleen said.
There are some colors that look good on everyone.
Colleen's prime example: red. "It looks awesome on almost every skin type." She said that's because it has so many other colors blended into it—reds can be orange-y, purplish, or pinkish, and some are even blue-based.
Perhaps not surprisingly, she also finds blue to be universally flattering, as there are so many different tones of it. Pulling off true orange is not quite as foolproof, but Colleen thinks it works for a lot of different people as well.
And you can even look deeper into the color wheel to find good, less common fallbacks. When we talked about hues that are trending for the upcoming fall/winter season—oxblood, burgundy, army green—Colleen said they're all versatile enough to work with most any skin tone.
Don't look great in your favorite color? Get creative.
This one's pretty simple: wear that color on the bottom or as a small accessory. Love bright yellow? Get a chartreuse skirt. Obsessed with neon green? Try a bold necktie. Trousers, jewelry, handbags, shoes, pocket squares—the options for incorporating pops of color are endless.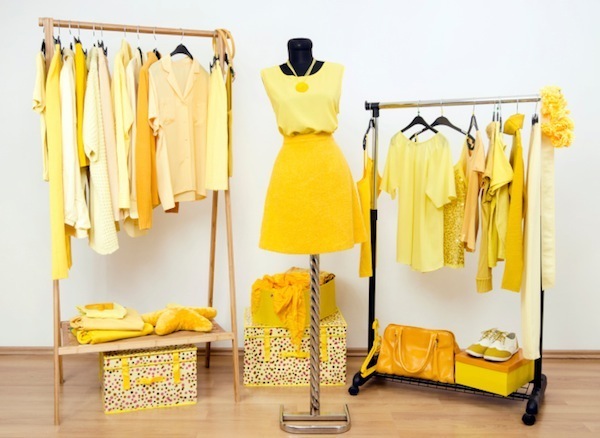 Of course, you can always find ways to wear tops in bold hues. "It's all about breaking [the color] up," Colleen said. "Anything that breaks it up a little is going to be better for the eye to look at." That might mean finding a print that incorporates your favorite color or layering a bright top under a neutral sweater.
If you're still not sure about a particular hue, then consider Colleen's final piece of advice: "Go with your gut. If you feel like it doesn't look good on you, it probably doesn't."
Illustration by Jen Jackson, Groupon
Shop Goods for colorful women's accessories:
Trunk Club stylists offer the Guide more fashion advice:
| | |
| --- | --- |
| | |
| Trunk Club's Favorite Stylish Gifts for Dads | I Have a Wedding in Vegas and Nothing to Wear. Trunk Club, Help. |
BY: Kelly MacDowell
Kelly's first concert was Fleetwood Mac and her first career was in the beauty industry. Now a style and music writer, she loves Project Runway and her dog, Watson.