The Looks Our Moms Have (Rightly) Disapproved Of
BY: Mae Rice |
May 6, 2015
"Kid-tested, mother-approved" is an advertising slogan so ubiquitous, you might have forgotten what it's for. (It's for Kix cereal.) The phrase is everywhere, in part, because it describes cross-generation agreement that is rare and special. A lot of things are kid-tested, mother-sighed-at, especially when it comes to fashion. Weirding out your mom with your clothes is pretty much a rite of passage. Many of us editors have done it, some of us spectacularly.
In honor of Mother's Day, six of us looked back on the bad trends that our moms gave the Official Mom Side-Eye to. We hate to say it, but on average, our moms were right.

My sophomore year of college, I got a seagull silhouette tattooed on my right shoulder. It was inspired by Jonathan Livingston Seagull, the book that re-convinced me that learning was fun when college was wearing me out.
I told my mom I was going to get it. My copy of JLS was on loan from her. Also, I was 20 and we lived in different cities; legally and physically, she couldn't stop me. She just asked for a picture. Her official mom reaction: "I think it's very stupid, and I love you anyway."
I disagreed. It was clearly very punk rock (it bled!), but, in hindsight, she was right. If it wasn't stupid, it was at least corny and predictable. A few months later, Justin Bieber got the same tattoo (although tiny and not filled in) on his hip. We are now forever bonded, against my will.

– Mae Rice

In seventh grade, I went with my school's theater department on a field trip to London. There was a massive Dr. Martens store there, and to fit in with some of the older kids, I bought a pair of bright orange ones. They earned me the (I think) affectionate nickname of Ronald McCaffrey from my peers.
My parents had given me an allotted amount of money to spend in London, and when I told my mom over the phone that I had blown most of it on a pair of cartoonish boots, she refused to give me any more. This meant that for the second half of the trip, I had enough scratch to eat but not enough to see plays and go on other educational outings with the other kids.
Even at the time, I felt my mom was being fair—we've always been close, and those boots really did make me look like a doofus. Also, my feet grew two sizes when I entered eighth grade, so I really only got to wear the Doc Martens for a couple months. Lesson learned.

– Dan Caffrey

When I was 10, I wore a gray T-shirt to school picture day, and selected a slate-gray background. In the picture, I looked like a chubby floating head. My mom was so mad—when I brought the pictures home, there was a lot of hand waving and pointing. (My mom is Cuban so she gesticulates a lot.) She thought I looked beautiful in bright colors, but I just wanted to fade into the background—literally.
So I kept up my daily uniform of XL tees and low ponytails. I guess I'd describe my style back then as "middle-aged guitar teacher gone to seed" or "preteen with body-image issues," if that counts as a style. Wow, this got sad!

– Jen Jackson

When I was about 13, I started to wear heavy—not goth-heavy, but heavy—black eyeliner. My mom hated it and made a few comments about what an overdone look it was. Luckily, my grandma (who always gave me her Lancôme and Estée Lauder gift-with-purchases and therefore was the source of my eyeliner) told her to leave me alone. It worked! Thanks, Grandma!
Nowadays, I've stopped wearing such heavy eyeliner, but I think that's a trend that practically every American girl goes through in her teens. Now I obsessively collect every shade of red lipstick, and my mom's more likely to comment on the number of lipsticks I own than my eye makeup.

– Liz Juranek

In high school, I liked to wear jeans that were essentially threadbare—giant holes in the knees, thighs, and butt—with a men's Guns N' Roses T-shirt that I had cut up and shoddily sewed into a torn-up-looking halter top. (I also did this with men's sports jerseys. Sigh.)
My mom made it very clear that she hated this look by calling me hilarious words like "trollop." She especially despised the jeans and threw them away multiple times. I just retrieved them from the garbage. She succeeded in throwing them away eventually, but then I ripped holes in more jeans.
Now, I totally understand why she didn't want me going to school looking like that! You could see my underwear through the holes in the jeans. That's a problem.

– Jess Snively

When I was in high school, my clothing of choice was oversize carpenter jeans and oversize T-shirts. Didn't matter what kind of T-shirt; if I got it for free, all the better. I ended up being a walking billboard for everything from Nike to my cousin's sorority.
My mom didn't love this look and showed it by comparing me to the anonymous entity "all the girls." As in, "All the girls are wearing tights right now, why aren't you?" "All the girls wear their hair short, why don't you?"
Now, even I make fun of the way I dressed. But it was so comfortable!

– Sandy Kofler

Images by Mark Mills, Groupon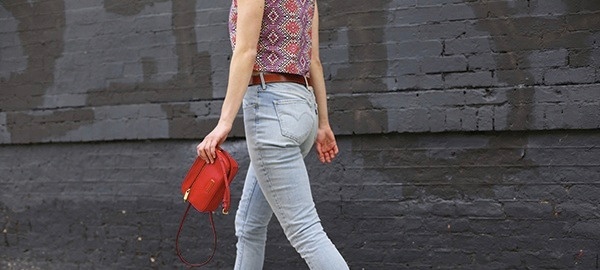 No, really. Read on for two ways to rock the high-waisted trend: one casual, one dressed up.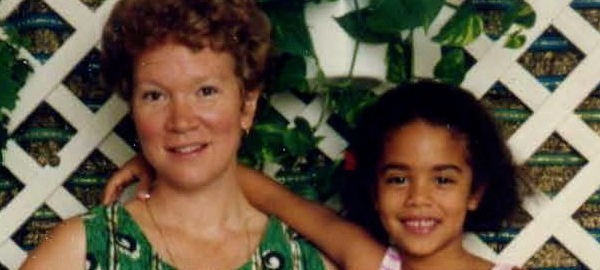 My mom loves Birkenstocks. I love heels. For Mother's Day, I interviewed her about her style, and what it was like to parent the tiny, girly edition of Groupon's beauty blogger.