Barbecue Ribs, Chicago Style
BY: Aimee Algas Alker |
Jun 10, 2013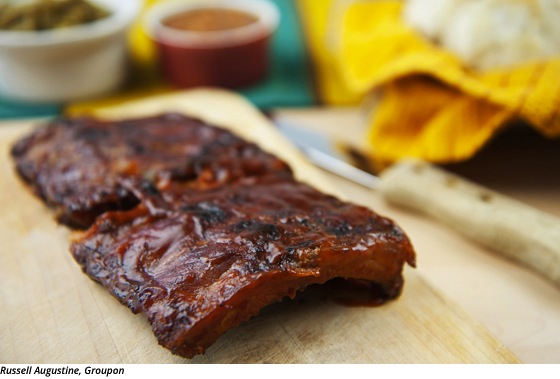 During my trip to Memphis a few years ago, I paid homage to the king at Graceland, nodded my head to the blues on Beale Street, and devoured virtually every rib I could get my hands on. My verdict: delicious, as far as ribs go, but not good enough to have traveled so far. That Chicago's barbecue far surpasses that of Memphis may seem to be a bold claim, but former
Chicago Sun-Times
food critic Michael Nagrant wholeheartedly agrees. I spoke to him to get the low-down on just what makes Chicago-style ribs so good.
It's all about texture
According to Nagrant, Memphis's dry rub "is like eating a rib covered in sandpaper. You're tasting aromatics, like cumin and coriander and pepper, but it's like eating a box of kitty litter sometimes." Chicago's well-sauced rib options, by contrast, offer more in the way of juice. Still, you don't want your 'cue too tender. "There's ... this myth that you want the rib to be suitable for a baby to eat," he said. "Pitmasters refer to [that] as 'meat jello.' A
good
rib has a little bit of tooth to it." For him, contrast in textures is key: he looks for "softness in the interior; outside, a crisp bark that crackles with the caramelized sugars of the sauce."
"The Yo-Yo Ma of barbecue"
Memphis and Kansas City pitmasters usually use metal-box smokers, which produce very consistent results with relatively little attention, Nagrant said. By contrast, chefs at Chicago's South Side 'cue joints often use an aquarium smoker, named for the big glass box that sits atop the wood pit. Anyone who cooks on one of these, he said, "is like the Yo-Yo Ma of barbecue." They know their tool inside and out—down to the number of logs to use and what size the flame should be—and must constantly tend to it while the ribs are smoking. This attention to detail shows in the plates served at South Side institutions such as
Lem's Bar-B-Que House
,
The Original Leon's
,
Uncle John's BBQ
, and Barbara Ann's BBQ. Another signature of Chicago barbecue is the rib tip. "It's more cartilage and bone—anything near connective tissue or bone is more flavorful," Nagrant said. While most chefs get rid of this cut of meat, "the rib tip is ... a hallmark of Chicago's style."
Mixing it up
But the best thing about Chicago barbecue is the variety, Nagrant said. Chefs from outside Chicago bring a blend of regional styles, so there are often good examples of any style you want. For instance, Irving Park's
Smoque
, like many other North Side establishments, uses a Southern Pride metal-box smoker in the Memphis tradition. And the resulting consistency isn't necessarily a bad thing. "They've really fine-tuned their setup," Nagrant said, "and they're able to produce [quality ribs] over and over." Other restaurants mix up the usual white bread and french fries with more inventive sides, such as the jalapeño corn muffins at
Fat Willy's
or the "killer" housemade bread-and-butter pickles at
Chicago Q
.