Beauty Arsenal: Audrey Olenick's Must-Have Beauty Products
BY: Jasmine Feldmann |
Mar 17, 2016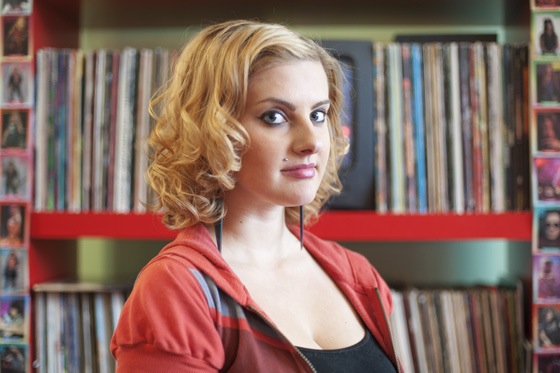 As the owner of Ukrainian Village salon Strange Beauty Show, Audrey Olenick knows that every customer who walks in her door has a different personal style. With that in mind, the makeup artist—who describes her own aesthetic as "Marilyn Monroe's kinda skanky kid sister"—works with each of her clients to find a wedding or special event look they can feel good about. Of course, while individuality is key, even Audrey admits that there are some universals in the world of beauty. Here, she shares her top five makeup and hair staples.
Eyebrow Pencil
For Audrey, one of the most underused makeup items is the eyebrow pencil. She uses a TIGI pencil a shade or two darker than her bleach-blond hair to create a fuller, more defined brow. She first carefully outlines the brow, then fills it in with hairline strokes for a natural look that orients her face and emphasizes her best features.
Foundation
Audrey suggests picking a foundation to balance out your skin's natural texture. For clients with oily skin, she uses a TIGI powder that blots oil and creates a soft, lustrous glow. For clients with dry or winter-chapped skin, she applies a liquid.
Eyeliner and Mascara
Eyes are always the focal point of Audrey's makeovers, so she uses a dramatic black eyeliner to create a sultry, smoky look. To thicken lashes, a generous coating of high-end or drugstore mascara will do: Audrey likes both Lancôme and CoverGirl.
Lipstick
Special occasions call for a bright lipstick. Audrey says orange and bright pink shades and even black lip gloss have been popular in recent seasons, but fire-engine red is always a classic.
Good Hair
For hair advice, Audrey turns to her sister Virginia, co-owner of Strange Beauty. Virginia's number-one hair product is Kevin Murphy volumizing powder, which she sprinkles onto hair to quickly create a big, sexy style. To moisturize color-treated hair, she relies on Moroccanoil leave-in treatments that smooth the hair shaft and create a luxurious shine that lasts for days.
BY: Jasmine Feldmann
Guide Staff Writer
Jasmine is a small-town Iowa girl makin' it in the biggish city. She loves thrifted dresses, pretending to be Mata Hari, Halloween, making her own extra-greasy lotions, sensible shoes, picnics in cemeteries, jet-setting around the world in coach class, and finding ways to incorporate more chilis into her life.