Old World Meets New: Where to Find European Architecture and Cuisine in the United States
BY: Rashawn Mitchner |
May 19, 2015
America is a melting pot of cultures, as the saying goes, and the ingredients in that big cultural stew stand out in some places more than others. You can find a replica of the Eiffel Tower in Texas or a Leaning Tower of Pisa tribute in Niles, Illinois, for one. These four US locales, though, are entirely made up of European architecture and cuisine, due either to their immigrant roots or clever tourism marketing.
Solvang, California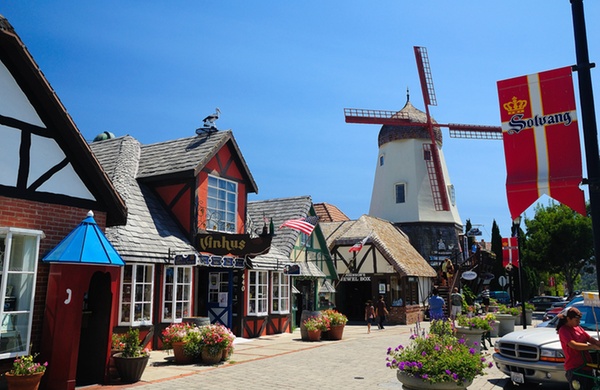 Origins: Solvang—Danish for sunny field—was settled by Danish Americans from the Midwest in 1911. Billed as California's "Little Denmark," the city features four large windmills and replicas of several Copenhagen landmarks, including Rundetaarn.

Best spot for architecture: Alisal Road, where wide brick sidewalks lead to shops and restaurants housed in brightly hued, half-timbered buildings

Where to eat: The family-run Danish Mill Bakery was founded by a Copenhagen native who moved to Solvang in 1957. Nibble danish butter cookies or a kringle—a pretzel-shaped pastry covered in almonds.
Leavenworth, Washington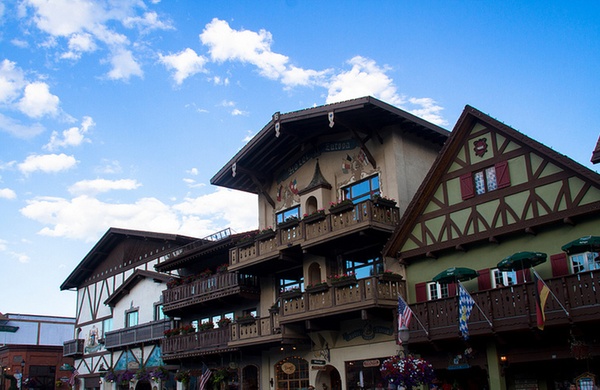 Origins: In the 1960s, after the Great Northern Railway Company left town and the logging industry collapsed, Leavenworth community members had a solution: wienerschnitzel and lederhosen. Downtown buildings were redesigned to resemble those of a Bavarian village, which went on to house German bakeries and restaurants and Oktoberfest events.

Best spot for architecture: Stand amid the half-timbered buildings on Front Street; with the Cascades in the distance, you could easily mistake it for the Bavarian Alps.

Where to eat: Fill up on Schweinshaxe (roasted hock) and imported German beers at King Ludwig's Restaurant as a polka band plays.
St. Augustine, Florida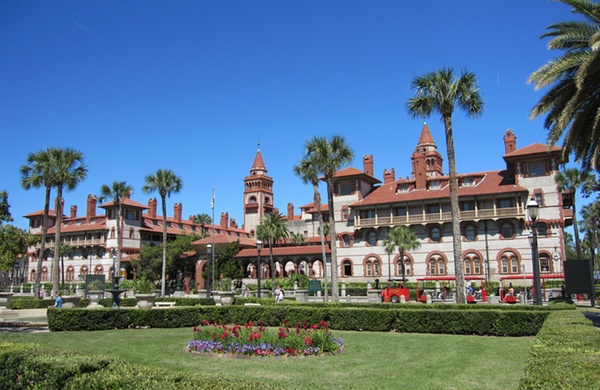 Origins: Established by the Spanish in 1565, St. Augustine is the oldest European outpost in the United States. It spent more than 200 years under Spanish rule, and many of its buildings, both historical and contemporary, emulate the style of Old-World Spain.

Best spot for architecture: The Plaza de la Constitución. The Government House and the Cathedral Basilica of St. Augustine here date back to the 18th century. Don't miss the nearby campus of Flagler College, with its red-tiled roofs and manicured gardens.

Where to eat: If you don't mind sharing, split a pot of paella or make a meal of some of the nearly two dozen tapas at Columbia Restaurant. Wash it down with sangria made with Spanish wine.
New Orleans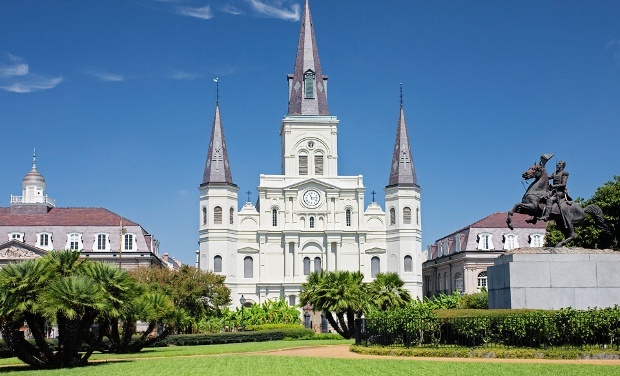 Origins: New Orleans has changed hands a number of times—it was founded by the French in 1718, ruled by the Spanish from 1762 to 1801, and bought by the United States in 1803. Its multicultural past—along with fires in 1788 and 1794 that burned more than 1,000 buildings (many of them French)—has given the city a look unlike anywhere else in the country.

Best spot for architecture: The French Quarter has a mix of home styles with French, Spanish, and Creole influences (check out a few of the available architecture walking tours). Creole cottages feature steep pitched roofs and dormer windows reminiscent of French architecture. Creole townhouses, which were built after the fires, have Spanish-style arched windows and brick or stucco façades.

Where to eat: Indulge in garlic-herb escargots and crème brûlée at the nearly century-old Arnaud's Restaurant.

Photos: Solvang 082 by Ming-yen Hsu under CC BY-ND 2.0; Leavenworth, WA by Razvan Orendovici under CC BY 2.0; Flagler College by Chris M Morris under CC BY 2.0
Take a look at related reads from the The Guide: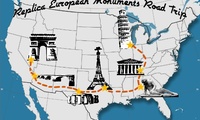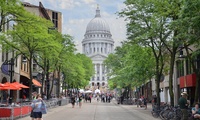 BY: Rashawn Mitchner
Rashawn hopes to eventually pack her Kindle and trail mix for a trip that requires a passport. For now, she visits US cities with microbreweries and nice views.