The 9 Best Main Streets in America
BY: Editors |
May 8, 2015
New York has Fifth Avenue; Las Vegas, the Strip. But towns across America have their own centers of commerce and culture, and they're practically bursting with local color. From Maine to California, here's our roundup of the best main streets in America.
Madison, Wisconsin | State Street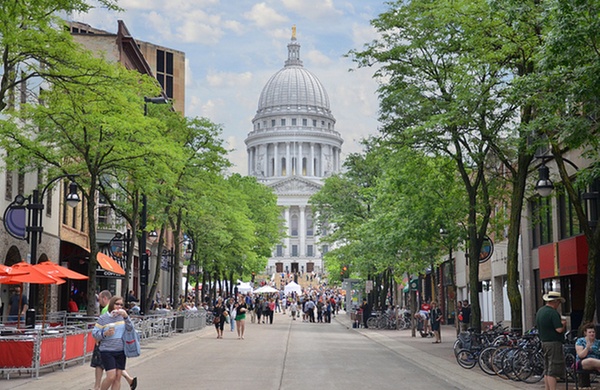 State Street is a microcosm of Madison: sports bars stand next to head shops and exotic eateries. It's mostly closed to cars, so pedestrians amble freely. The majestic state capitol looms over the street's east end.

What to buy: Wisconsin Badger gear at the university bookstore and handmade bath products at The Soap Opera. You'll also find Urban Outfitters and American Apparel.
Where to eat: Mediterranean Cafe. It's a hole in the wall, but the shawarma plate is out of this world.
Don't miss: People watching on Capitol Square. This spot also holds a massive farmer's market on Saturdays between April and November.
Mackinac Island, Michigan | Main Street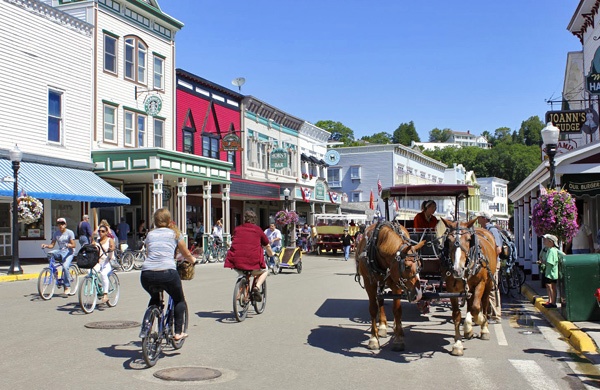 Cars aren't allowed on Mackinac Island, located in the straits between Michigan's Lower and Upper Peninsulas. Most people get around via bicycle; pedal down Main Street and along the 8-mile lakefront path.

What to buy: Fudge—just follow your nose to the nearest shop. Murdick's is the island's oldest fudge shop, dating back to 1887.
Where to eat: Sit on Pink Pony's outdoor patio and enjoy fresh fish with a lakefront view.
Don't miss: Laze about in Marquette Park, listening for cannon booms during Fort Mackinac's historical reenactments.

For more sightseeing recommendations, check out our 48-hour Mackinac Island itinerary.
Santa Barbara, California | State Street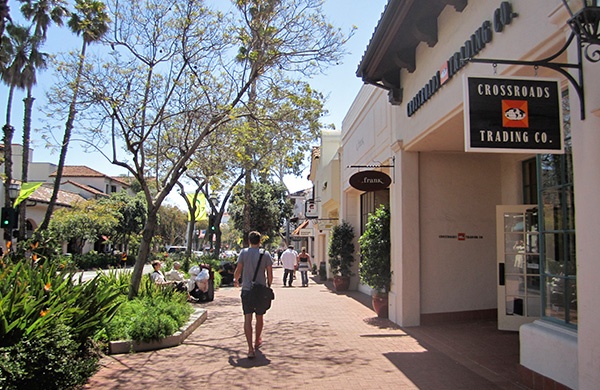 Palm trees, stucco, sea breezes, and shopping: it doesn't get much more California than this. State Street leads to the beach and Stearns Wharf, where you can refuel with fresh oysters and crisp white wine.

What to buy: Clothes. You'll find everything from affordable vintage garments to high-end designer bags and jeans.
Where to eat: Persona Wood Fired Pizzeria's Neapolitan pies are cooked to chewy goodness, with 30 available toppings (plus gelato).
Don't miss: The labyrinthine La Arcada mall. Sculptures, fountains, and sidewalk cafés make it feel like a Mediterranean village.
Eureka Springs, Arkansas | Main Street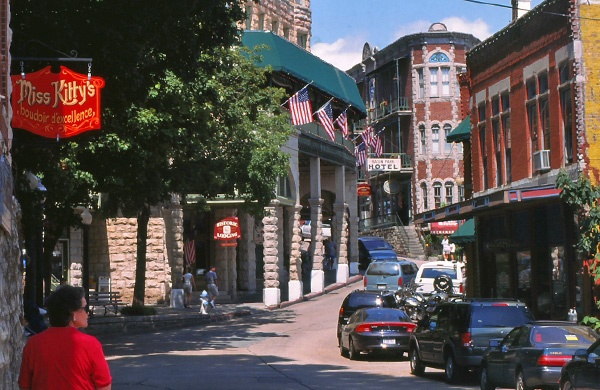 The storybook Main Street's Victorian architecture and mountain views have made it one of the country's most iconic main drags. In the evening, visitors can walk to a soundtrack of buskers plucking upright basses and trolleys jingling along the hillside.

What to buy: Antiques at Mountain Eclectic and all things chocolate at Two Dumb Dames, which makes fudge and saltwater taffy from family recipes.
Where to eat: The award-winning Local Flavor Cafe, where favorites include pear- and lemon-infused baked brie.
Don't miss: Downtown-N-Underground tour. Guides take you through a network of buildings and tunnels beneath Main and Spring Streets.

Bar Harbor, Maine | Main Street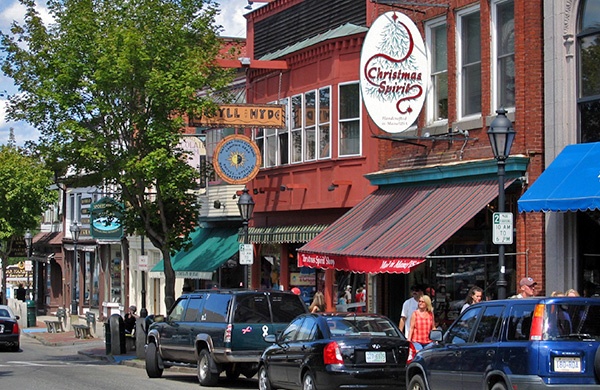 Mosey along Main Street to browse mom-and-pop shops, coffeehouses, and restaurants that serve more than 5,000,000 Maine lobsters a year. The street runs to the harbor, where you'll find sandy Atlantic beaches and boats for hire.

What to buy: Flavors ranging from toasted coconut (President Obama's choice) to the more adventurous chocolate wasabi at Mount Desert Island Ice Cream.
Where to eat: Gorge yourself on Maine lobster rolls and fried clams at Thirsty Whale Tavern.
Don't miss: Whale-watching tours. Humpback, finback, and minke whales frequent the Gulf of Maine from June to late October.
Leavenworth, Washington | Front Street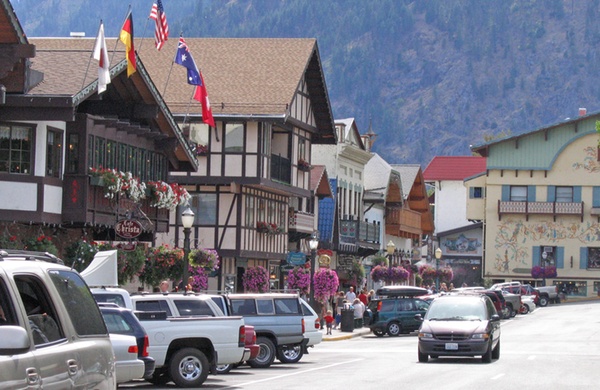 Leavenworth was transformed into a faux Bavarian village in the 1960s to attract tourists. The mountains and appreciation of German culture are real, though. Front Street features beer gardens and bakeries housed in buildings with gabled rooftops.

What to buy: Carved wood goods. This former logging town now produces knickknacks such as nutcrackers and cuckoo clocks.
Where to eat: Travel + Leisure calls Andreas Keller Restaurant a "perpetual Oktoberfest." As live accordion music plays, snack on soft pretzels with housemade mustard.
Don't miss: Front Street Park, the town's centerpiece. Teak benches and flower-filled barrels surround a central gazebo, where bands often play. In winter, it gets decked out in lights for the popular Christkindlmarkt.
Galveston, Texas | Strand Street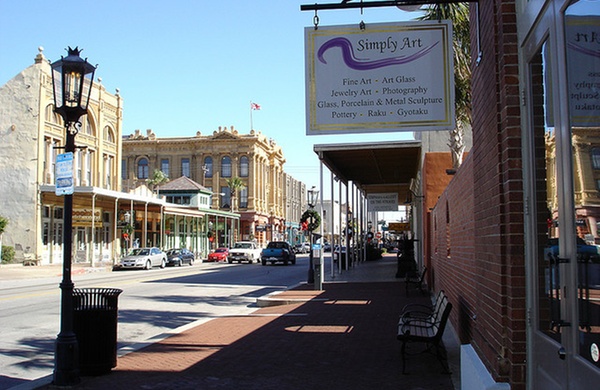 Strand Street runs through Galveston's Historic Strand District, a waterfront neighborhood known for Victorian architecture and artsy boutiques. Grab a beer (the district is open-container friendly) and hoof it between locally owned shops—or ride in a horse-drawn carriage.

What to buy: Hand-pulled saltwater taffy at La King's Confectionery. The shop's 1920s soda fountain churns out shakes, malts, and floats.
Where to eat: Black Pearl Oyster Bar. Order oysters on the half shell and po' boys stuffed with soft-shell crab or catfish. Two blocks south of Strand Street.
Don't miss: Galveston Railroad Museum has one of the country's largest restored railroad collections.
Greenville, South Carolina | Main Street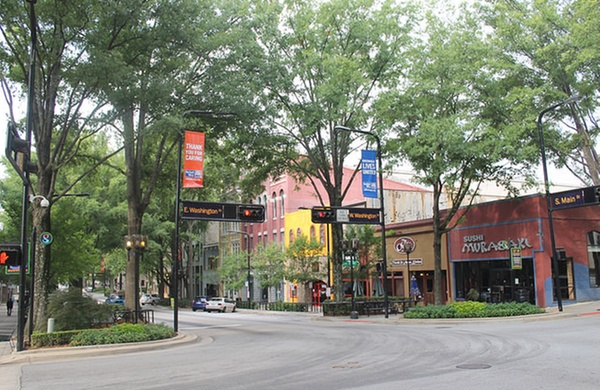 In the late '70s, Greenville cut the number of Main Street traffic lanes, installed free parking, and planted oak and maple trees. People gather for live music at Main Street Fridays, a free street festival held on Friday evenings in spring and summer.

What to buy: Books and wine at Joe's Place and gems, geodes, and jewelry at Greenville Gemstone Mine.
Where to eat: Pomegranate on Main, an aromatic Middle Eastern restaurant where customers rave about the hummus. Outdoor seating available.
Don't miss: Mast General Store, a fixture since the late 1800s, carries a cornucopia of nondigital goods: shoes, handmade soaps, and pottery, plus old-fashioned toys and more than 500 hard-to-find candies.
Jackson, Wyoming | Broadway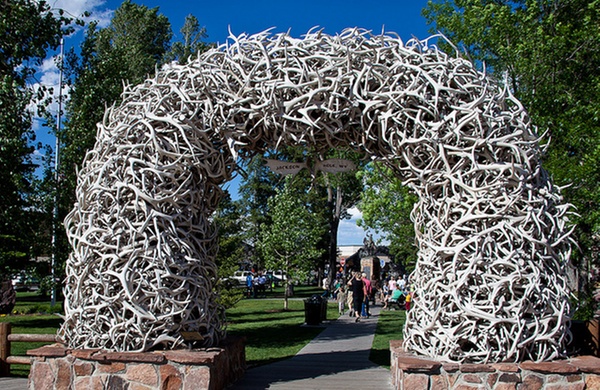 With a dramatic mountain backdrop and storefronts from the late 1800s, Jackson offers a taste of the Wild West. You might even have to dodge outlaws—there's a staged gun battle in the town square every summer evening (except Sundays).

What to buy: Dozens of art galleries on Broadway sell a wide range of media: Native American crafts, Oriental rugs, abstract wildlife sculptures, and antique spurs.
Where to eat: The iconic Million Dollar Cowboy Bar, which dates back to the 1890s. Park your tush in a saddle barstool or try line dancing.
Don't miss: A photo opportunity underneath the four elk-antler arches in the town square.

Photos: Madison 05-26-2012 012 by Richard Hurd under CC BY 2.0; Mackinac Island, Jorie Larsen, Groupon; Santa Barbara experience by La Citta Vita under CC BY-SA 2.0; Eureka Springs by rjones0856 under CC BY 2.0; bar harbor main street by kmf164 under CC BY-SA 2.0; FrontWest by Chas Redmond under CC BY 2.0; The Strand in Galveston, TX by Bill Olen under CC BY-SA 2.0; Greenville downtown. by Connie Ma under CC BY-SA 2.0; Elk Arch, Town Square, Jackson, Wyoming by alh1 under CC BY-ND 2.0