B'Gabs Goodies in Woodlawn: One of Chicago's Most Chicago Restaurants
BY: Aimee Algas Alker |
Nov 24, 2015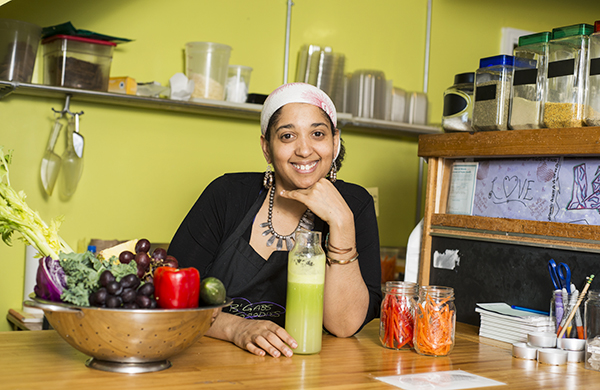 How do you find Chicago's most Chicago restaurant? You begin by taking the world's best decision-making device: the bracket. Then you combine it with Chicago's best device to represent its messy, opinionated landscape: the ward map. Some have called this pursuit "patently absurd." We humbly disagree. By taking our logic above (bracket + ward map) and extrapolating it into a larger, totally airtight algorithm, our computers have found a winner for the title of Chicago's most Chicago restaurant. See the finalists and read more about the search here. Below is one of the finalists.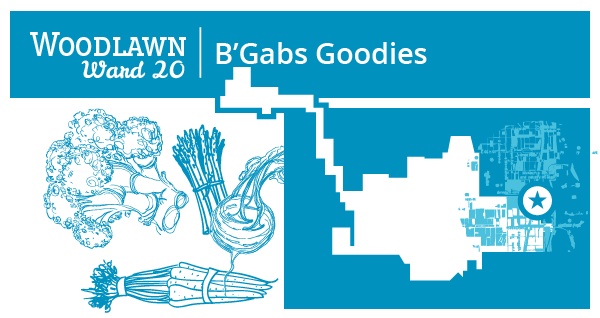 Gabrielle Darvassy was tired. Tired of the grind her 20 years in a corporate job subjected her to. Tired of the homogenous food options in her adopted neighborhood. Tired of having to make the trek to the other side of the Loop to procure any kind of quality goods and services.
Looking back, the layoff from her 9-to-5 seems to be a blessing in disguise. "People have to like what they're doing, and they have to feel fulfilled," Gabrielle is fond of saying. She began selling nutrient-packed smoothies at the 61st Street Farmers Market, and soon, together with her husband, she opened up B'Gabs Goodies (6100 S. Blackstone Ave.), a raw vegan eatery, on a quiet stretch on the border of Hyde Park and Woodlawn. Not the first place someone would think to serve food that's been made with absolutely no animal products (not even butter!) nor heated to above 104 degrees.
Doing this helped put Gabrielle's beliefs about food to the test. When she talks about food, she uses the word love, a lot. Food, she says, gives the body energy, but the people who make it also imbue it with energy.
"If the people who make it and bring it to you aren't in love with it, it's not going to be good for you."
To that end, she procures all her produce from one vendor, who she knows loves what they do. "So everything we make from beginning to end is lovely. I'm not about to put in that type of work [without love]. I did that for 20 years."

A commitment to the neighborhood
Gabrielle and her husband live in Hyde Park, where he grew up. Their home is close to the border of Woodlawn, which is known as one of the city's "food deserts," meaning it's a trek to a good grocery store or any other source of unprocessed whole foods. And though Hyde Park, as the home of the prestigious University of Chicago (and our current president), holds considerably more options than Woodlawn, they're not necessarily healthful ones. At least, not by her standards, which—besides vegan fare—include foods made without soy or gluten.
Noting how reluctant business owners were to invest in her neighborhood, Gabrielle decided to keep her endeavor close to home. Though she knew she would be more profitable north of the Loop, it was important to her to show faith in her community, knowing that, just as she has to make the drive up north for certain things, Northsiders would make the drive south, if what she was doing was viable.
"If you want your community to be better, you have to do the work in your community," she says.
A community that keeps coming back
On our visit, we almost drove right past B'Gabs Goodies' door. It shares the block with what looks like a warehouse on one side of the street and an empty industrial lot on the other. The address on its Facebook page adds the parenthetical "(green door)" after the address, the tiniest clue to locating it.
"People find us by word of mouth," Gabrielle tells me, once I've found my way in. "They feel like it's a vegan speakeasy."
In fact, the only publicity they've ever done since they opened in 2011 has been running a Groupon and doing stories with any interested publications.
And yet, they have a loyal following, which Gabrielle calls "small but mighty" and is growing exponentially. Two U of C students chatted at a table next to us, recognizing a former professor who walked through the doors. Four women came in and out for a to-go order. A father and son shared a meal as we left. "I love this place!" the boy proclaimed—to everyone. And all the while, the staff hustled to get a catering order prepped for a community photography show next door.
Perhaps one of the best examples of the love they've engendered in the community is the gleaming—and pricey—Norwalk juicer a customer gifted to them. "It's magic," Gabrielle says.

Vegan delicious
B'Gabs Goodies' prep "kitchen" is an approximately 3-foot-long stainless-steel counter in a nook behind the cash register. They prepare food without heat, which is believed to break down the nutrients and good energy in food. It's basically cooking without cooking.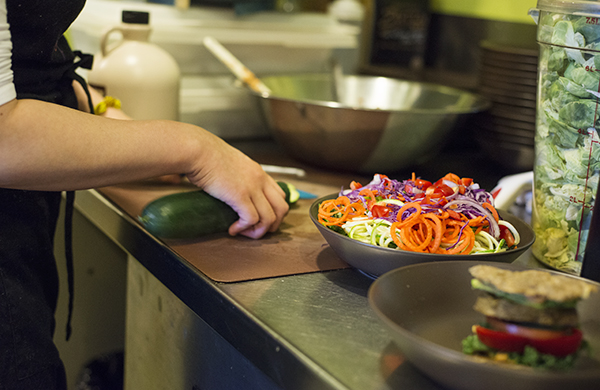 I must admit, learning this gave me some trepidation. My previous experience with raw vegan food was similar to that of any lifetime carnivore: my meal was so bland I barely remember it. The menu at B'Gabs left me stumped: tacos made with seeded nacho "meat," pad thai salad with zucchini and carrot "noodles," jicama "fries." As someone who's averse to many processed foods, I'm naturally suspicious of any food whose name is in quotation marks.
So I approached this from a culinary standpoint, sampling the cuisine the way I would any that I hadn't much experience with.
I opted for the classic burger.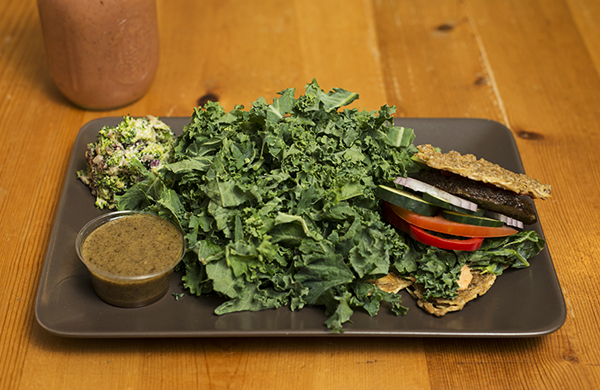 Gabrielle shuns all soy products, as well as fake meats such as seitan, because she, and many of her customers, are suspicious of GMOs. While I was expecting a one-note dish, this burger turned out to be a medley of flavors. The crisp onion "bread" was balanced by a savory seed patty and brightly flavored housemade ketchup. A pile of kale filled the rest of the plate, its bitterness ameliorated by the sweet tang of the accompanying dressing. To wash it all down, I chose the Fiji Hammer Time smoothie: peaches, strawberries, and bananas, boosted with maca root and yohimbe bark.
I'd walked into B'Gabs feeling a little run down, tired or perhaps coming down with a cold. I left, literally, with a skip in my step, so energized that I almost forgot to pay for my meal. A slight buzz rang through my body—was it the seeds? The yohimbe? The Norwalk juicer's magic?
No matter; it was the richest vegan meal I have ever tasted.
Teaching someone to fish
Gabrielle's mission is not only to provide healthy food for people in her community, but also to create lasting changes in the way they eat. "The only way to do that—regardless of economics—is to teach them how," she says. To that end, she and her staff teach "uncooking" classes and workshops, helping people incorporate raw foods in their diets.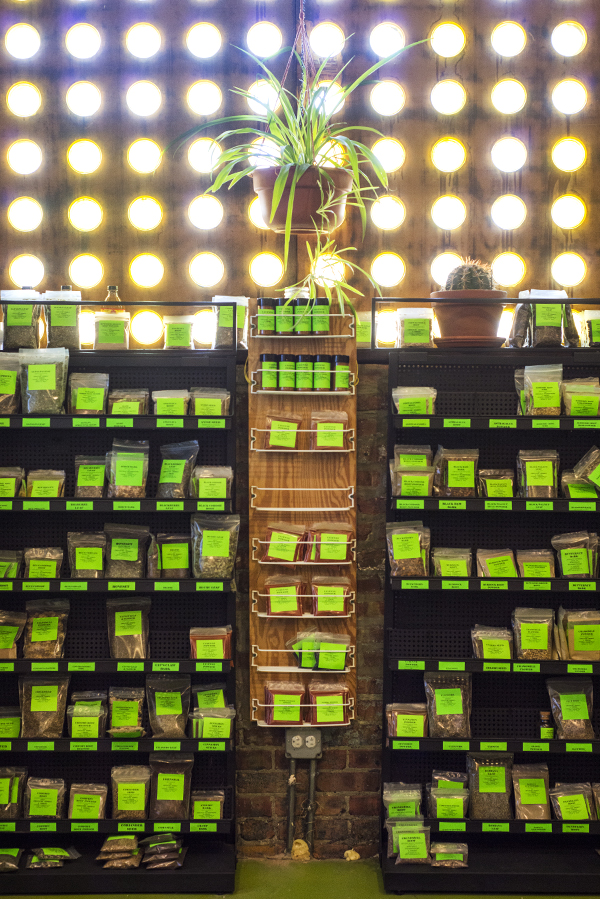 They also dedicate half the space to a herb and spice shop, with more than 300 varieties of plants, all lovingly sourced. They all have healing properties, if that's your thing, which Gabrielle believes doubles down on the nourishment her food provides. Most of the herbs and spices are packaged, if not harvested, by staff, and all were selected because, not only do they make food taste better, but they're also known to have some kind of effect on health. The yohimbe bark in my smoothie is believed to ease depression—and improve the libido (rawr)!
"A lot of people come to me when they're sick and have exhausted all options," Gabrielle says.
Or, as the restaurant's motto states: "It's not the food in your life, it's the life in your food."
Photos by Timothy Burkhart, Groupon