Biang! Brings Shanxi Cuisine to Edmonds
BY: Naomi Bishop |
Apr 14, 2014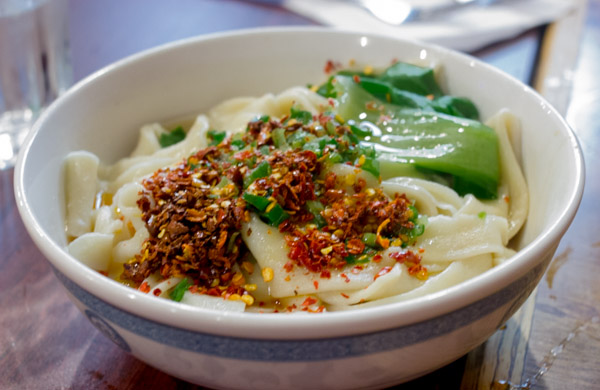 A series of posters serves as wall decoration at Biang! in Edmonds. "The Eight Weirdies in Shanxi Province," the title reads. The first poster, and perhaps most pertinent here in a Shanxi noodle shop, is captioned "noodle is in the shape of a waist belt." Those are the biang biang noodles for which the restaurant is named, and they are the source of the background noise there, too: thump, thump, thump, as the onomatopoeic noodles biang, biang, biang against the countertop, stretching longer and wider each time they make contact with the surface. In China, the Shanxi province has earned a reputation for being a little strange, and these posters are a tongue in cheek allusion to that quirkiness--their version of "Keep Austin Weird."
"Hot pepper is a delicacy," is one of the 'weirdies' posted on the wall. Traditionally it is about a dish entirely made up of fried peppers, but its influence is seen in the hot-oil-seared version of the biang biang noodles that is the specialty of the house. If these two-inch wide noodles drizzled in fragrant chili oil and sprinkled with yet another dose of chili pepper flakes are two weirdies in one, than maybe it's time to get four times as weird, with one order for now and one for tomorrow's lunch, when they're just as good—if not better.
Given that it was the first restaurant in the area serving Shanxi specialties, Biang! faced a tough road to recruit customers used to the Cantonese seafood houses and occasional Sichuan restaurants, whose dishes make up most of Seattle's Chinese food lexicon. The job was made easier by the fact that Biang! itself is not very weird. Just a small, clean, and simply-but-pleasantly decorated restaurant situated in a strip mall on the side of Highway 99, a tad north of the Edmonds/Shoreline border.
Aside from the noodles, the menu features other specialties of the province, including a lamb soup into which bread is torn up and soaked, called yang rou pao mo. The traditional sandwiches—spiced pork or beef—are served on soft bread that is somewhere in-between an English muffin and a pita bread, and Biang!'s menu smartly omits the true translation of the springy, spicy liang pi cold rice noodle appetizer: "cold skin noodles." The new cuisine and occasional odd name shouldn't frighten away squeamish eaters, though, as dumplings, broccoli, and simple tomato-and-egg versions of the noodles round out the menu. Despite the cuisine's affinity for peppers, there are many mild options on the menu, and the servers are unflappingly friendly and helpful.
BY: Naomi Bishop
In need of an outlet for her effervescent enthusiasm for all things edible, Naomi Bishop started sharing her thoughts on food at her blog, TheGastroGnome, in 2006. Her lack of fear—she'll eat anything and go anywhere—lead her to discover restaurants hidden in plain sight or find the most delicious needle in the haystack of a menu. Her writing appears on Serious Eats, Eat Your World, and in the Seattle Weekly. Download her app, Unique Eats of the Northwest to find the best restaurants you've never tried.