Blood-Free Halloween Makeup: A Grunge-Inspired Cat
BY: Ashley Hamer |
Oct 18, 2013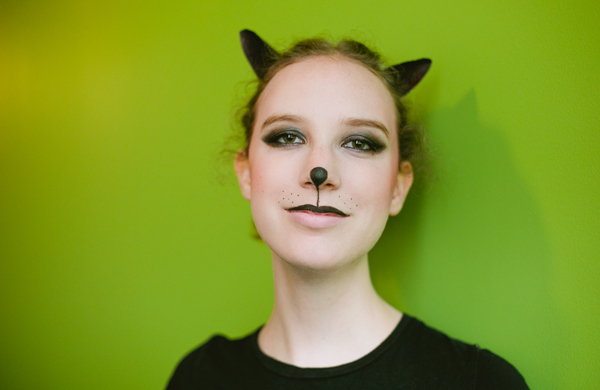 Sometimes you need a Halloween costume that won't traumatize trick-or-treaters. In the spirit of that goal, Chicago makeup artist Alex Saldivar showed us three Halloween looks that require everyday cosmetics and varying degrees of makeup skill.
In our first installment
, he showed us how to create an impeccable, yet impossibly simple Frida Kahlo. In the second installment, he demonstrates how to turn a ho-hum house cat into a grunge-inspired glamour puss, simply by adding a smoky cat eye and a bit of 1950s flair. This look requires intermediate makeup skills, but is more than doable if you've got a steady hand—er, paw.
Step 1: The Smoky Cat Eye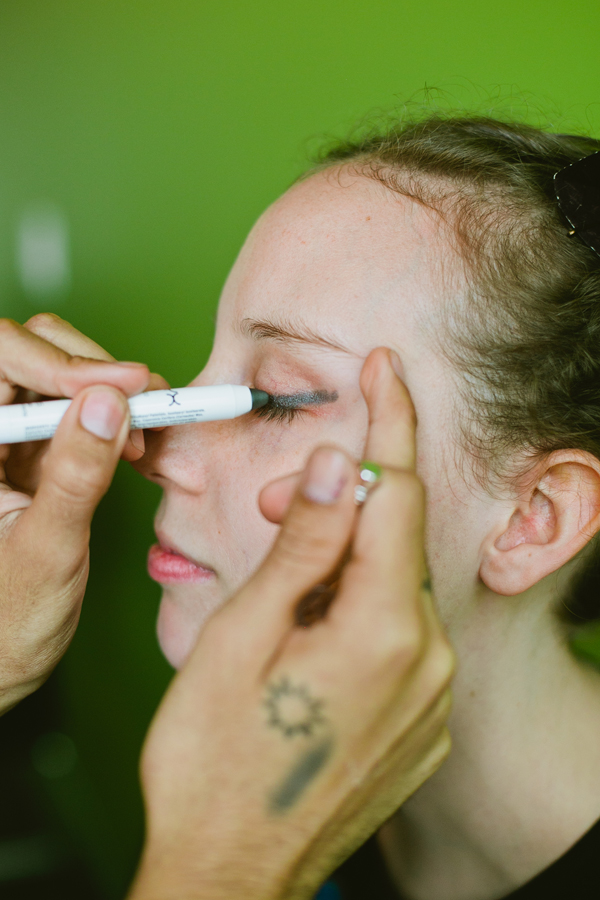 Cat costumes are a perennial favorite at Halloween, but Alex wanted to update the quintessential whiskers and nose with a smoky cat eye. "It'll have a bit of grunge in it," he explained. "We want a little bit of an undone look...too much polish and it starts to look gimmicky; this is just a nice, modern way to incorporate the look." Alex had a few tips for pulling off a smoky eye—for one, don't go overboard. "It's always about layering. You never want to go full black; that's when you start looking like a panda." He started by blocking a smoky gray hue all over Mel's eyelids using a jumbo eye pencil, then blending it with an eyeshadow brush. Next, he swept a deep black shadow from the outer edge of the eye along the lash line. He lined the inner corners of her eyes with a black gel liner, and later affixed false accent lashes to the outer corners of her eyelids. To avoid the inevitable smears and smudges that can occur while applying such dark eye makeup, Alex simply waited to apply foundation until the end. That made it easy to clean up any imperfections.
Step 2: The Un-Furry Face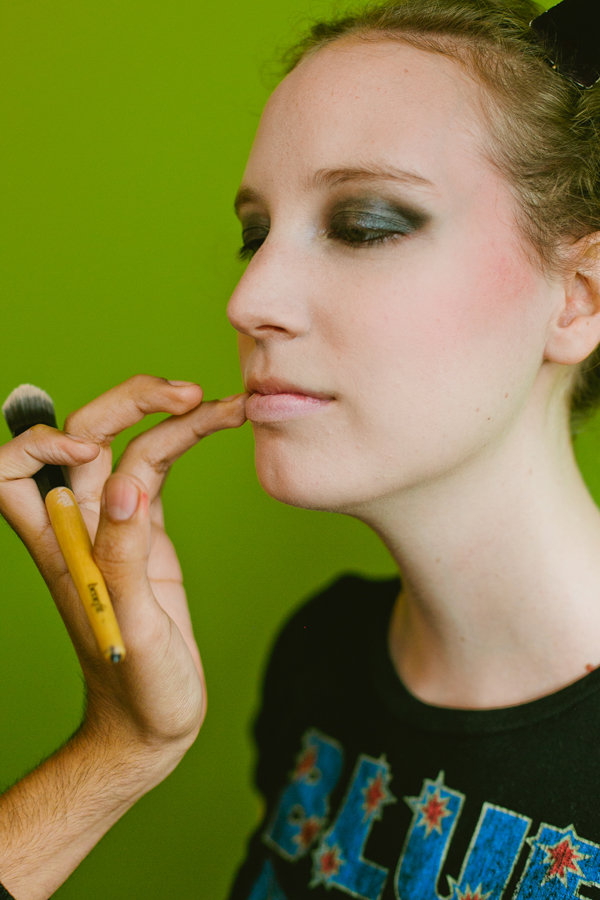 Because the eye makeup is so severe, Alex left the brows mostly natural—he went over Mel's with taupe powder and a little bit of brow gel. Next came the foundation, which he applied with a brush for better precision. Alex chose a cherry-red blush to infuse the look with a dose of 1950s glamour, sweeping it from just above the cheekbone all the way up to the temples.
Step 3: The Nose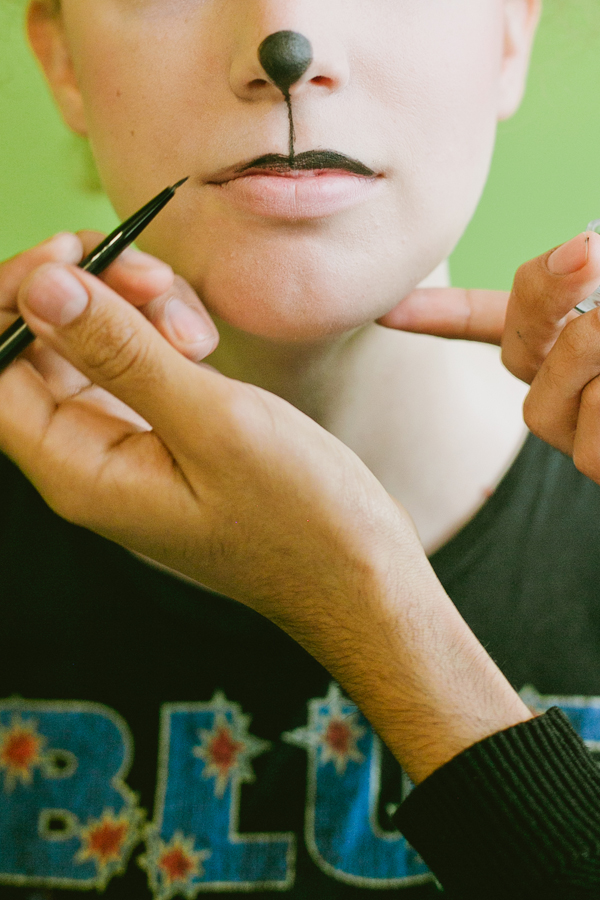 Of course, no cat costume would be complete without a nose. For this finishing touch, Alex used the same black gel liner, though he noted that an eyeliner pencil would also work. He began by drawing a guitar-pick shape on the tip of Mel's nose (though he is equally fond of the heart-shaped cat nose), and then filled it in. Next, he connected the cat's nose to the cupid's bow of Mel's top lip with a straight line. After filling in her upper lip with the black liner, he finished the transformation with a few whisker dots on either side.
Next week, Alex gets even more advanced with a look that's even less human—a ventriloquist doll.
Photo: © Stephanie Bassos, Groupon
Shop Goods for all your spooky needs:

We at the The Guide are big fans of Halloween:
| | |
| --- | --- |
| | |
| The Worst Halloween Candy | Blood-Free Halloween Makeup: Ventriloquist's Dummy |
BY: Ashley Hamer
Guide Staff Writer
Ashley Hamer is a musician, marathon runner, and science lover. She writes about science for Mad Art Lab.