Blood-Free Halloween Makeup: Ventriloquist's Dummy
BY: Ashley Hamer |
Oct 25, 2013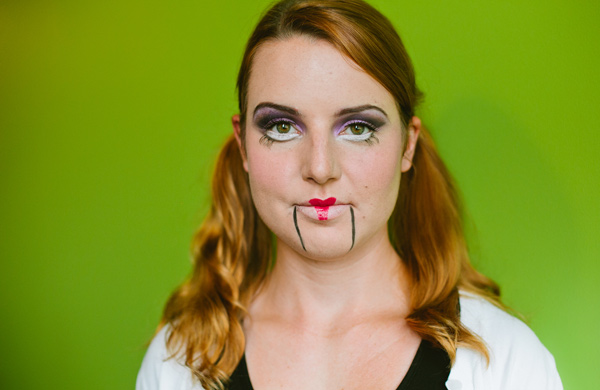 Because a gory Halloween costume isn't appropriate for every occasion, Chicago makeup artist Alex Saldivar showed us how to create professional makeup looks—in varying degrees of difficulty—for three fun costumes that focus on glamour over gore. In previous installments he demonstrated the steps to becoming
Frida Kahlo
and putting a grunge spin on your classic
cat costume
. In our third and final installment, he showed us how to create the wide-eyed, plastic look of a ventriloquist dummy. This look requires the most advanced makeup skills of the three but is still attainable with just a bit of concentration.
Step 1: The Plasticizing Primer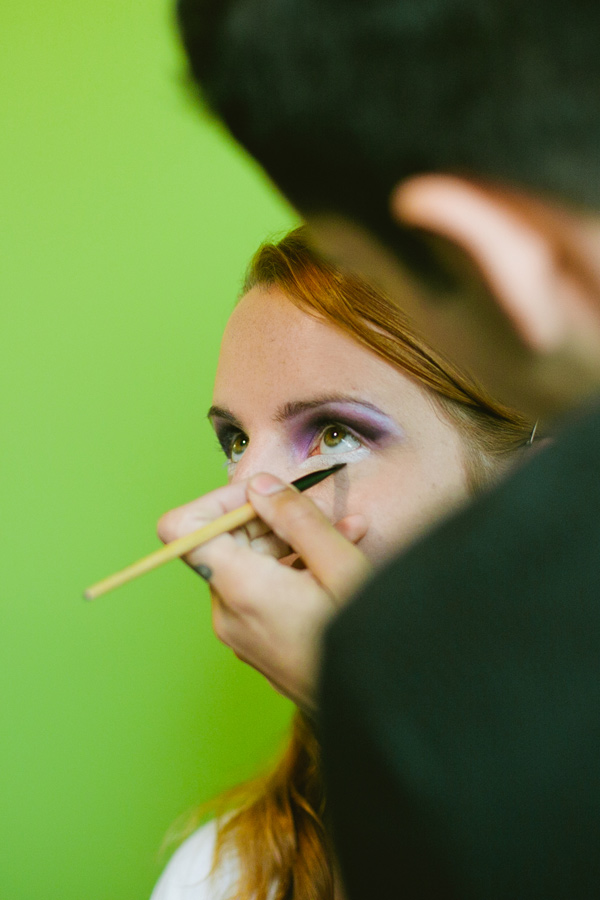 Throw out everything you know about natural-looking makeup—to look like a doll, you need to look as fake as plastic. "You don't have to go natural with this look," Alex said. "That's why it's fun." He started off by applying primer all over my face (yes,
my
face; I wasn't about to let anyone else model this delightfully creepy look) to minimize pores and any other texture issues. He waited until later to apply foundation—just like with the cat-eye look, the amount of color he was going to apply to the eyes meant he'd need it at the end to erase any excess shadow that had fallen to my cheeks.
Step 2: The Wide-Eyed Look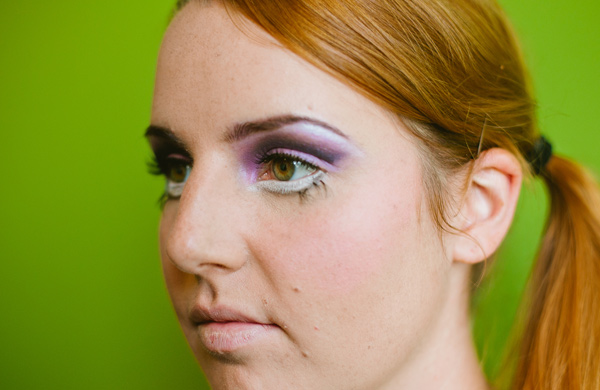 For the eyes, Alex began by applying concealer a few shades lighter than my natural skin tone all over my eyelids. He explained that this would "make any color that I put on top of it that much more intense." He then applied a wash of purple eye shadow from the lash line all the way up to the brow. To give the appearance of wide doll eyes, he applied a matte brown shadow slightly above my eyelid's natural crease, then created a gradient by blending a black shadow directly on the natural crease and a matte white shadow directly beneath my brows. To really drive the wide-eyed appearance home, he extended the bottom half of my eyes with white—using a white eyeliner pencil, he lined both above and below my lower lashes, then applied a wash of white eye shadow beneath my eyes. Next, he used a dark brown liner to "extend" the lower rims of my eyes beneath that white shadow.
Step 3: The Doll-Like Complexion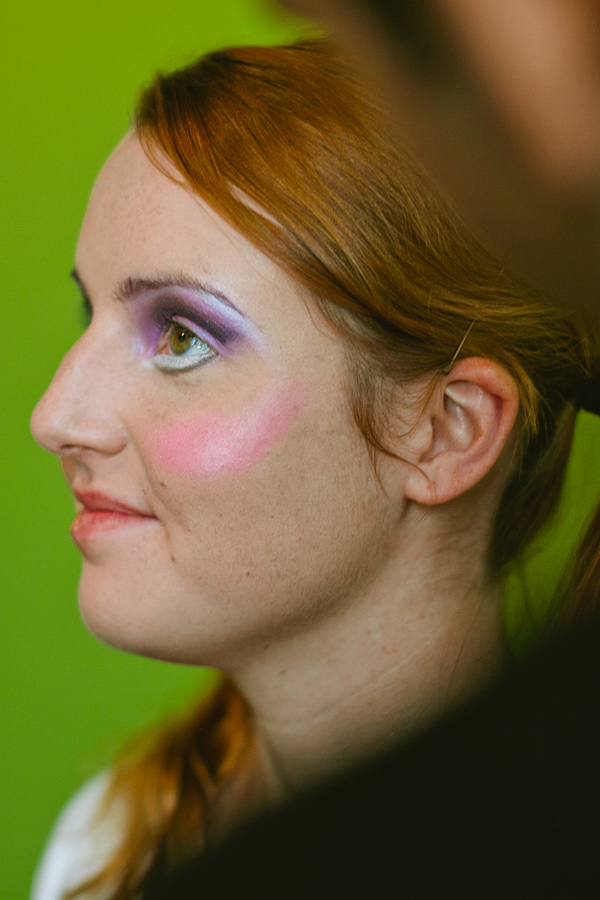 After filling in my eyebrows with a bold brown liner, it was time for foundation. "No BB cream, no tinted moisturizer—you need a foundation," Alex declared. "A shade either on point or lighter, because you want to give it that brightening effect." He followed the foundation with light daubs of green corrector cream to offset any areas of redness—or was it semblance of humanity?—in my complexion. After setting it all with powder, he painted a highly pigmented cream blush on the apples of my cheeks. Cream blush is waterproof and won't fade like powder, so this should stay on through an entire Halloween party.
Step 4: The Hinged Jaw and False Lashes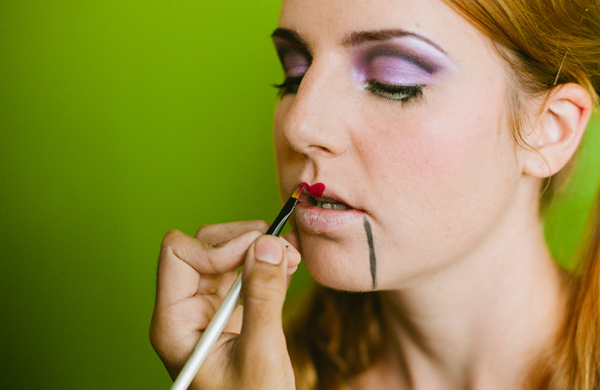 Once the eye makeup and foundation had time to set, Alex came back to my eyes with some false lashes in hand. He put a full strip on my upper eyelids, then—to really boost the realism—he carefully affixed individual lashes to the line he had drawn to extend my eye area. Next, he applied concealer on my lips to wash out their natural color. He created the doll's hinged jaw with a black gel liner, which he dragged from the corners of my lips down below my chin, using a concealer brush afterward to sharpen each line's edges and erase any accidental smudges. Finally, he used a raspberry-hued lipstick to draw a heart-shaped doll pout.
Photo: © Stephanie Bassos, Groupon
Shop Goods for all your spooky needs:

We at the The Guide are big fans of Halloween:
| | |
| --- | --- |
| | |
| The Worst Halloween Candy | Blood-Free Halloween Makeup: A Grunge-Inspired Cat |
BY: Ashley Hamer
Guide Staff Writer
Ashley Hamer is a musician, marathon runner, and science lover. She writes about science for Mad Art Lab.