But the Skin Is the Best Part
BY: Aimee Algas Alker |
Feb 27, 2014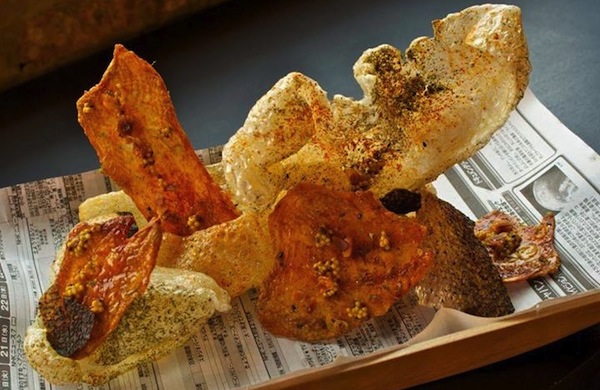 Ah, chicken skin. Broiled to a golden brown with the seasonings darkened to a nice char. Fried to a savory crisp, the breaded crust peppered with seasoning. Whenever I get a piece of chicken like this, I peel off the skin, then measure it out slowly so I can have some of that crispness and flavor with every bite of meat. Wrapping it around a morsel of rice, dousing it in ketchup, eating it like potato chips. Oh, how I love chicken skin. I've often looked at a pile of glistening chicken and thought to myself, would I be crazy to peel each leg and thigh and just eat the skin? Chefs in Chicago are saying no—and making it much easier to skip straight to the skin.
Yusho
(2853 N. Kedzie Ave.) fries it up crisp to serve with a dipping sauce of Japanese mustard. At
Lillie's Q
(1856 W. North Ave.), they sub the skin for bacon in a BLT. Learning these facts triggered what I could only call a Pavlovian response. So I called up a few Chicago food experts to get the skinny on the chicken-less chicken breast trend.
In demand
"A year ago, no one was even asking for [chicken skins]," said Jamie Staton of
Gunthorp Farms
in Lagrange, Indiana, which supplies restaurants in Chicago, Detroit, and Indianapolis with wholesale meats. "Now there are weeks where we don't even have enough to meet the demand." Jamie's not shy about the fact that he, too, thinks the skin is the best part. Presented with fried chicken, "I just pull the skin off and eat it."
Why the skin?
Anyone who has peeled the skin from a just-roasted chicken knows how that skin soaks up all the seasonings like a sponge. And once the fat renders, you're left with a light, crisp delicacy that melts deliciously in your mouth.
Is it really that bad for you?
In a word, no. Chicken skin carries a negligible amount of fat if you eat it in moderation, which you should … not. Because it's so good.
Is this a new thing?
Although foodies are just now singing the praises of chicken skin, they're not the first to note its tastiness.
Gribenes
, or chicken cracklings, have long been a staple of traditional Jewish cuisine, even earning the nickname "Jewish bacon." Chicken skin is also a common street food in a number of Asian countries, including China and the Philippines, where they're often served with a vinegar-based dipping sauce.
Hong Ning Restaurant
in Glendale Heights (2204 Bloomingdale Rd.) prepares the skins using a simple and classic technique: salt and pepper them, then freeze them. The freezing makes them crisp up better when they're fried in superhot oil. It's a simple technique that's easy to replicate in a home kitchen.
Where to get it:
Classic street-food style:
Hong Ning Restaurant
(Glendale Heights | 2204 Bloomingdale Rd.)
Uni-Mart
(Uptown | 5845 N. Clark St.), available on a tray from its catering department
Modern takes:
Yusho
(Logan Square | 2853 N. Kedzie Ave.)
Lillie's Q
(Wicker Park | 1856 W. North Ave.)
Wasabi
(Bucktown | 2115 N. Milwaukee Ave.)
Photo courtesy of Yusho
BY: Aimee Algas Alker
Guide Staff Writer
Though Aimee stays up to date on the latest food trends for the Guide, most of her meals are served cold and cut into tiny, toddler-sized bites.