Best Cheap Vegas Shows Under $50 in 2018
BY: Groupon Editors |
Dec 19, 2017
When most people think of Las Vegas, they think of gambling. But the town's identity is just as tied up with live entertainment as it is with lady luck. Today Las Vegas shows give audiences access to high-budget theater, world-class musicians, clever magicians, and goofy comedians.
You can spend a week in Vegas and not see a quarter of it, so which productions are most worth your time? Below, we've highlighted our picks for the best shows in Vegas for 2018—and provided handy links to Groupon deals so you can score some tickets to cheap Vegas shows.
Vegas! The Show at Saxe Theater
Close your eyes and think of an enormous Vegas production: what you're imagining is probably not unlike Vegas! The Show, a glitzy, flashy musical packed with references to Sin City lore. High-stepping dancers, Broadway musical numbers, Vaudeville-style bits, and tributes to the Rat Pack, Elvis, and Tom Jones make up the program, encapsulating every legend about Las Vegas shows into one theater.
Zombie Burlesque at V Theater
Some might describe a burlesque show as a "lively" affair, but this particular burlesque show isn't quite that. At Zombie Burlesque, you'll watch the undead sing and dance as they decompose, prompted to move to the tunes of a live big band. The performance takes place in the "atomic era" of 1958, so there's a certain vintage flair to the show, which is more comedic than it is raunchy.
Purple Reign at Tropicana Las Vegas
This act doesn't mean to cause you any sorrow or cause you any pain—in fact, you should find it very enjoyable! The Prince tribute act Purple Reign made history by becoming the first cover band to play The Late Show with David Letterman. In addition to Prince standards "Purple Rain," "When Doves Cry," and "Little Red Corvette," you might even get to see a tribute version of Morris Day & the Time perform their hit "Jungle Love." One of the best Vegas shows to catch serious musicians at a reasonable price.
Popovich Comedy Pet Theater at V Theater
Gregory Popovich has appeared on The Tonight Show and The Late Show, and he shows off a menagerie of cats, dogs, and other cute critters trained to jump through hoops, walk tightropes, and push each other around in strollers while dressed in goofy costumes. This is one of the best cheap Vegas shows for young kids, who will eat it up. Impressively, all the animals in the show are rescues. No tickets are required for young ones who sit in a parent's lap.
V: The Ultimate Variety Show at V Theater
You never know quite what you're going to see during this show, whose rotating cast includes comedians, magicians, acrobats, the contortionist dancer Turf, and other quirky acts (fans of balancing things on your hands, get excited!). It's a little like watching America's Got Talent, if all the acts actually had talent.
Nathan Burton Comedy Magic at Saxe Theater
Nathan Burton may work magic, but he doesn't work blue. His brand of humorous illusions, which he's performed on such shows as NBC's The World's Greatest Magic and America's Got Talent—is decidedly family-friendly, so don't hesitate to bring the kids to this fast-paced showcase of teleportation, transformation, and visual gags.
Hitzville: The Show at V Theater
Jin-Jin Reeves grew up in Detroit while Motown was at the peak of its creative powers, so she has an innate feel for how the studio's songs should be performed. In this Motown revue, she belts out hits by Diana Ross and Gladys Knight, then turns the stage over to her castmates for numbers by The Four Tops, Marvin Gaye, The Temptations, and more.
Sinatra Up Close and Personal at Majestik Theatre
If you're a fan of Ol' Blue Eyes, you can't miss Sinatra Up Close and Personal, featuring David DeCosta and he explores the former Rat Packer's five-decade career. Expect to hear "Fly Me to the Moon," "New York, New York," and "My Way" as DeCosta recreates Sinatra's famous swagger.
Circus Circus at Circus Circus Hotel & Casino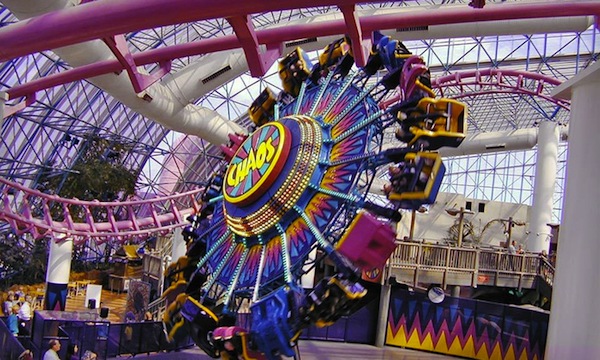 Do you like free stuff? So do we. The show at Circus Circus is not on the same scale as Cirque du Soleil, and it's located further north of the Strip. But it is the world's largest permanent circus show with your classic jugglers, acrobats, and trapeze artists—and it's totally free, making it one of the top Vegas shows for kids. The big top is right near the resort's Carnival Midway, and there are also thrill rides and arcade games (though these are not free).
The Mentalist Live! at V Theatre
Named one of the top 10 shows you have to seen in Las Vegas by Las Vegas Weekly, The Mentalist Live! features magician and weirdly accurate mind-reader Gerry McCambridge, star of NBC's Phenomenon. The show (recommended for audiences over the age of 16) includes mental investigations, comedic gags, downright confounding magic tricks.