Chicago Agenda: Wednesday, February 19
BY: Tyler Clark |
Feb 18, 2014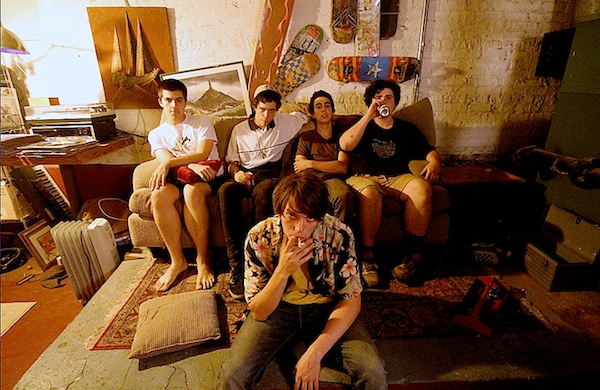 On today's agenda: slacker pop with Twin Peaks, stories of worn-out love from Vocalo, and a hot-chocolate crawl.
Twin Peaks
Local slacker-pop standard-bearers rock out between tours during an all-ages set at Schubas
Discovering Potbelly's secret menu. Falling in love with girls on the bus. Celebrating their homies on Valentine's Day. If their
Twitter account
is to be believed, the lads of
Twin Peaks
lead some laid-back lives. A quick look at their tour schedule reveals a hustlin' side, though; in addition to scoring an official release for their debut album (the exquisite slacker-pop collection
Sunken
), they spent most of 2013 rambling around the country and into the headphones of anyone hip enough to listen. Their next tour is still on the horizon, but that means more love for Chicago. Tonight, the band will play an all-ages set before a hometown crowd at
Schubas (3159 N. Southport Ave.)
. MC
Joey Purp
and summery lo-fi act The Lemons open. Check out our
reflections on Twin Peaks' past performances
.
(7:30 p.m. $11; buy tickets here)
Vocalo Presents: Music & Stories...Live!
Storytellers Rob Ruiz and Dana Norris join open-mic participants for tales on the theme of "Love Hangover"
With Valentine's Day in the books, Chicago seems primed to spend the rest of February as an unloving slush-filled hellscape. Maybe that's what the organizers at Vocalo had in mind when they made "Love Hangover" the theme of this month's
Music & Stories…Live!
During tonight's show at the
Chicago Urban Art Society (600 W. Cermak Rd.)
, featured storytellers including
Rob Ruiz
and Story Club's
Dana Norris
will share stories of love's less magical side. Audience members can get in on the act, as well—the only requirements for grabbing one of the six-minute open-mic slots are a true story and a little bravery. Vocalo's own
Ayana Contreras
supplies the music portion of the show, which will be taped for potential broadcast on Vocalo and WBEZ.
(7 to 9 p.m. Admission is free.)
Hot Chocolate Crawl
Keep winter's chill at bay with a trolley tour of four downtown hot-chocolate spots
Although it's warmed up a little this week, winter isn't likely to give up its grip on the city that easily. Tonight, build up a reserve of warmth with CitySwarm's latest
Hot Chocolate Crawl
, which takes participants to four of the city's best cocoa spots. The tasty voyage begins with a cup of mexican hot chocolate and a churro at
XOCO (449 N. Clark St.)
, and includes stops at
Katherine Anne Confections
,
Forever Yogurt's Froth
, and a final cup at the
Palmer House
's
Potter's Lounge
. In addition to drinks, the tour also grants participants a behind-the-scenes look at each location's chocolate-wrangling secrets. Though this is called a crawl, no actual crawling is required; organizers ferry participants to each location in one of
Chicago Trolley
's festive (and BYO) trolleys.
(6:30 to 9:30 p.m. $49; buy tickets here)
Image provided by Twin Peaks
BY: Tyler Clark
Tyler is a writer, storyteller, and musician from Chicago. His stories have appeared on stage at shows including Mortified, Story Club, and Lethal Poetry.