Chicago Bear Jordan Mills on How to (Not) Eat Crawfish
BY: Aimee Algas Alker |
Nov 6, 2013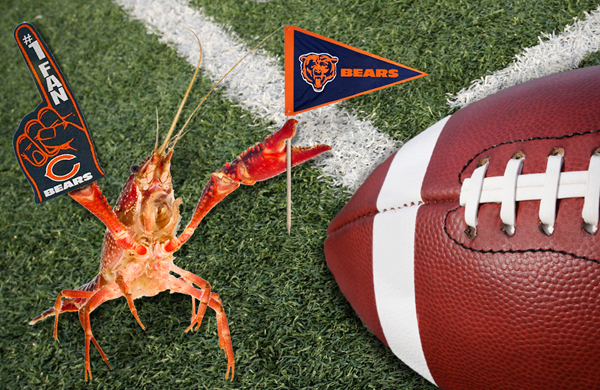 Jordan Mills
is a long way from home. He spent most of his life in Louisiana, growing up in the tiny town of Napoleonville before moving on to the less-tiny town of Ruston to play football for Louisiana Tech. He was the Bears' fifth-round draft pick, and as a rookie he's starting at right offensive tackle. With a Chicago winter looming and Louisiana kitchens few and far between, we asked Jordan about his favorite foods from home and what squirrel really tastes like.
GROUPON: What one dish do you miss from home?
JORDAN MILLS: I think that Louisiana might be the only state that has this. It's a sausage and we call it boudin, and it is just one of the things I miss the most. You go to any corner store and they sell boudin. It's a sausage but it's kind of white, like cream-colored-looking, but it's very, very good. We're also known for hot sausage sandwiches, with like a big, long bun and a big,
hot
sausage link. That with cheese and jalapeño peppers and everything like that. (BIG SIGH) Those are probably like the two things I miss most.
G: Have you gotten the chance to find anything like it here?
JM: Actually when my mom and dad came down here for one of the games, I was actually down here at the facility, and they had called me and wound up with no car. I think they used the shuttle at the hotel to go to
Portillo's
(several locations). I went to meet them over there and I just fell in love with their hot dogs. They put cheese and chili on it or whatever, and spices and any of the little extra stuff on it, and I just fell in love with it after that.
G: Have you been back to Portillo's since then?
JM: Actually I've been back once. I haven't had time to go out there, but maybe before we leave for the bye week. Hopefully Coach Clark [Mike Clark, the Bears' strength and conditioning coordinator] doesn't read this cause he'd go crazy (laughs). Probably before we go home for the bye week, I'll grab one or two hot dogs. But that would satisfy my Louisiana food craving for the time being. It's close but not that close.
G: What was the last Louisiana meal you had before you left for training camp?
JM: The last good meal I had … My mom made me some chicken and sausage gumbo as the last thing I had before I left, and dang it, I miss it right now talking about it. That's the last thing I had, and I think I had it for lunch. And she made some Louisiana-style red beans and rice—and she made fried chicken, but I didn't want to eat that because nowadays I gotta watch what I eat, but I did eat that red beans and rice. That chicken and sausage gumbo and that red beans and rice are two of the things I miss. Hopefully I'll get a little taste of it when I get home. I can't eat too much of it, though.
G: They got you on a strict diet, huh?
JM: No, it's nothing like that, but you've got to watch what you eat. You can't eat stuff with high fat and too many calories. You put good stuff in your body, and your body's going to produce good things for you.
G: Was it hard making the transition from rich Louisiana food to eating more healthy?
JM: It was kind of hard but, you know, you've got to adapt. If there's one thing that coaches and veterans preach, you've got to eat good and get a lot of rest so your body can perform well. I have to do that so my body can be at its top shape. I've got to do that even though I miss [Louisiana food] oh so much.
G: So what did you have for breakfast today, and what would you have had if you were at home?
JM: I had some wheat pancakes. If I wasn't playing and I was back in Louisiana, I'd probably be at McDonald's getting a bacon-cheese McGriddle or going to Chick-fil-A and getting me a chicken biscuit sandwich, definitely with the honey.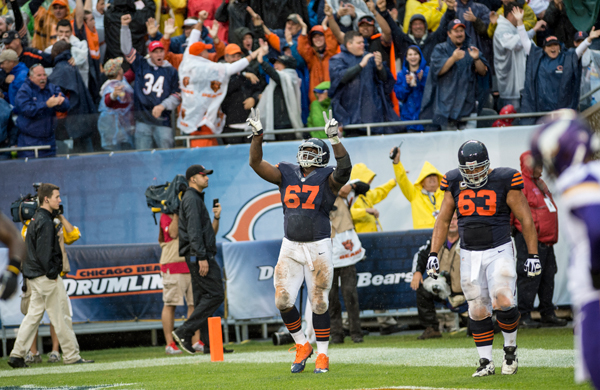 G: In line with tradition, has Jay Cutler taken the O-line out to dinner?
JM: He has. When we went out for our O-line dinner, he actually picked up the check. Even though everyone was like
we're good
, he did it. He's a great teammate and great leader. I think we went to
Japonais
(600 W. Chicago Ave.). He and Josh McCown came out another time when we went to
Twin Peaks
(Wheeling, 781 N. Milwaukee) and just chilled and watched Monday Night Football.
G: Even though you won't eat seafood, what's your thoughts on a seafood boil?
JM: It's great, and I'm going to say why it's great. Not only do they boil crawfish, but they put corn and potatoes and sausages in there while they boil it, too, so the good creole Louisiana taste is in the sausage, potatoes, and corn.
G: So do you cover the table in newspaper and dump it all on top?
JM: I'm going to use the phrase [offensive coordinator] Aaron Kromer likes to use: "That's tradish right there." When it's boiling season, which is typically in April going into the summer, everyone tries to do it as much as they can. Also while we're boiling seafood my father would probably be trying to barbecue at the same time.
G: Do you eat crawfish?
JM: People will say that I'm not from with Louisiana with what I'm about to say, but I do not eat crawfish. (FULL STOP) Or any kind of seafood. If my dad fries fish—without the bones in it, you know—if he fries catfish, I'll eat his catfish, but other than that I do
not
eat any seafood. When I was young, I didn't really have a taste for crawfish. Just seeing when they used to purge and clean it before they boiled it—I didn't particularly like that seeing all the slime and all that. I'm like,
No, I'm good, I'll just stick to the red beans and rice
.
G: What's one thing you've eaten that would freak out your northern teammates?
JM: Ooh. Well, I don't really eat it, but I remember one time I was at one of my cousins' house, and they had raccoon. I know that would freak some of my teammates out. They'd be like, "You ate a raccoon?" I didn't know what it was at first. They said, "It tastes like chicken, eat it." And I was like, "Oh, this is good," and they were like, "You know what that is?" "Chicken?" "No, that's raccoon." And I was like, "Oh. My. God." That was one time I tried it, and I'm not going to try it ever again.
G: What about alligator?
JM: I will eat alligator. My dad has friends that—people would say, his real country friends—who get alligator meat, cook it. They fry it or do an alligator stew or barbecue. I really like it when they barbecue it.
G: Have you ever had snake?
JM: No, I am not going to eat something that will kill me. (Laughs) Actually an alligator can kill me. I just won't eat snake. Every time somebody tries to get me to eat something exotic, they say it tastes like chicken, and I'm like, "Everything cannot taste like chicken. I'm not trying snake, I don't care what you say."
G: Have you ever had squirrel?
JM: I have had squirrel once. It had its own unique taste. It tasted like chicken a little bit. (Laughs)
Photo Illustration: © Timothy Burkhart, Groupon; Mills Photo: Courtesy of Bill Smith/Chicago Bears