Chicago Restaurants with a Taste for the Greater Good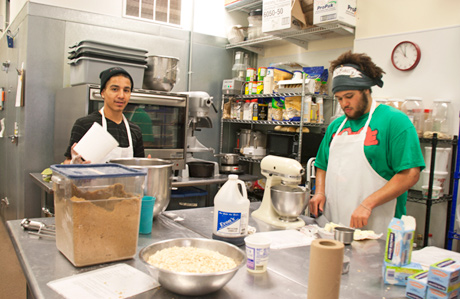 In a small kitchen in Northcenter, 18-year-old Vince measures flour for oatmeal-peanut-butter cookies. Across the workspace, Theo, who's just 16, adds softened butter and sugar to a stand mixer; he's making vanilla buttercream frosting. This scene at Blue Sky Bakery probably wouldn't make the customers sampling cupcakes at a nearby table raise an eyebrow. What they might not realize is that Vince and Theo had no culinary experience—nor any real job experience at all—before they started working here. In fact, this is the first batch of these cookies and frosting they've ever made. That's because Blue Sky is more than a bakery. It's one of a growing number of Chicago eateries that serve a side of public service with their restaurant-quality meals. Here, what's on the menu is job training for at-risk youth. Every 12 weeks, the kitchen welcomes a group of five new chefs, often referred by caseworkers or parole officers. (Vince and Theo came in via the latter route.) From the very first day, the students jump right into the mix, learning cooking and baking skills that will prove invaluable if they decide to pursue a culinary career. "They get a pretty wide range of experience," said founder and executive director Lisa Thompson.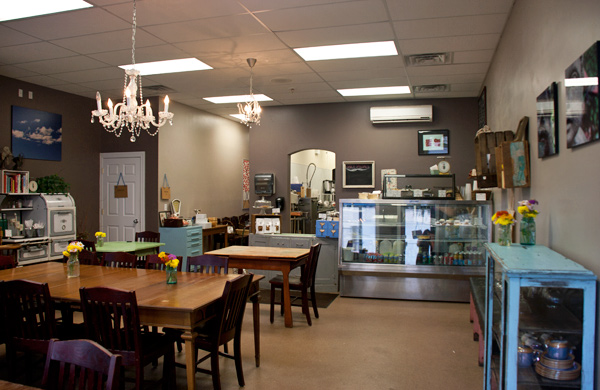 The program isn't limited to whipping up scones—it covers more general job skills, too. In addition to their 22 hours a week in the kitchen, students attend Job Club, a series of classes about time management, résumé writing, and professional communication. Over the past six years, roughly 100 men and women have completed the program; Blue Sky's job-placement assistance has helped them land gigs at such eateries as Bang Bang Pie Shop and City Tavern. Though Thompson understands that some youths need more help than just job training can provide, she believes that Blue Sky can make a huge difference "for the youth that are in the right place in their lives, where getting a little work experience is really what they truly need and will help them get another job." This kind of experience also provides direction: both Vince and Theo now see a future for themselves in professional kitchens, and Vince wants to continue on to culinary school after the program ends. Blue Sky—and his Job Club mentor—have helped Vince realize that "you learn something each day, no matter how old you are."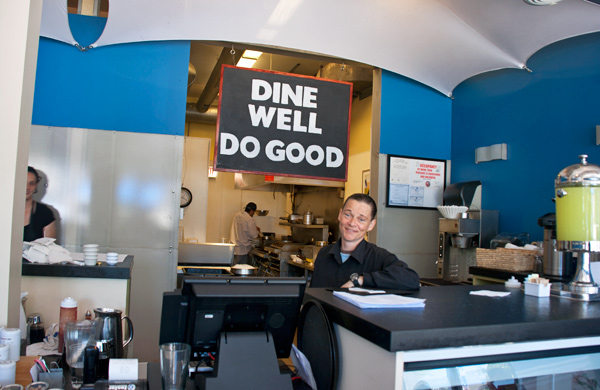 Blue Sky empowers people to take control of their lives through cooking—and it's not alone in that mission.
Inspiration Kitchens
has been "serving people on both sides of the counter," as its menu says, since 2001. Whereas Blue Sky's program is limited to people younger than 25, Inspiration Kitchens trains men and women of all ages and backgrounds. At cafés in Uptown and Garfield Park, students translate what they've learned in the program into on-the-job skills, preparing and serving the dishes they make. These range from from elegant takes on brunch classics to prix fixe dinners that might include crispy pork belly, strawberry and spinach salad, and pan-seared trout. Community service can take on many forms, and at Lakeview's
Next Door
café, it's the customers, not the employees, who benefit from it. A pilot program sponsored by State Farm—yes, the insurance company—Next Door offers free one-on-one financial planning alongside its baked goods and cups of locally roasted coffee. The goal of the program, said program director Brett Myers, is ultimately "to empower you to manage your finances and manage
your
life rather than relying on someone else's knowledge."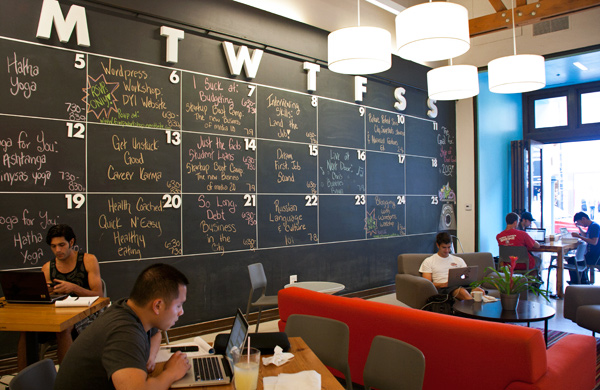 A roster of classes—also free—covers topics that range from GMAT prep and launching a startup to photography and yoga. According to Myers, the lineup constantly changes based on customers' interests. "What's cool about Next Door is that it's kind of whatever you want to make it," he said. "When you come, you're going to shape what it's going to be next month." Conference rooms and mini pods with curtains can be rented at no charge, though these are in such high demand that Next Door's staff holds its own meetings in the kitchen. More than anything, Next Door sees itself as a community space where people with common interests can come together. Said Myers, "We get to give people a platform to do what they were already trying to do."
Photo: © Melanie Bartelme, Groupon