Chicago's Flowery Patios for Dining and Daydreaming
BY: Aimee Algas Alker |
Jun 6, 2013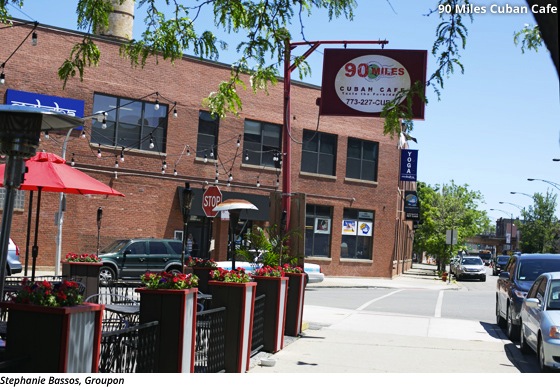 Eight months cooped up indoors inevitably include hours of reading and watching television and movies. Now that the warm weather has hit, bring fiction to life on these restaurant patios where the foliage recalls scenes from fiction.
When you want to reenact the moment when Princess Buttercup realizes the Dread Pirate Roberts is her true love, Westley, visit these spots that recall the European countryside:
Chief O'Neill's | Irving Park
Evoking the spirit of a quiet country cottage, this backyard is peppered with shady trees, a grass lawn, and huge blossoms.
Bistro Campagne | Lincoln Square
Ferns sway softly in the wind as diners sit at bistro tables under trees and twinkling holiday lights.
If you've imagined yourself as a character on Lost or wished you could be the seventh Brady sibling when they took that trip to Hawaii, smear yourself with sunscreen on these patios: 
Las Palmas | Bucktown
Low-hanging trees tangle with potted palms and ferns as diners enjoy upscale Mexican food highlighted by the kitchen's special-recipe guacamole.
90 Miles Cuban Cafe | Logan Square
Palm trees border the expansive patio of this Cuban eatery, perfect for brushing your face after a hearty meal.
The Orbit Room | Avondale
Palm trees and a bamboo fence bring the tiki-bar ambiance outdoors, so guests can imagine they are on an island vacation without the eight-hour plane ride or sneaky tarantulas.
In case you get stranded by a sudden flash flood, these patios are surrounded by edible foliage—making it a bit easier for some Swiss Family Robinson role-play:
Gene's Sausage Shop & Delicatessen | Lincoln Square
The staff plants grapes, tomatoes, and herbs on this rooftop patio, so diners have the difficult decision whether to order one of the handmade grilled sausages or make a salad from the garden's offerings.
Piccolo Sogno | River West
Fig and lemon trees blossom on the patio of this regional Italian restaurant, so as they wait for their meals, diners can try to figure out what else they can do when life gives them lemons.
If you want to try hitch a ride on a tree like the Hobbits did, try chatting up the arbor at these places:
Justin's | Lakeview
A big oak sprouts in the midst of the beer garden, where sports fans have been able to cheer on their teams since 1984.
Moody's Pub | Rogers Park
A few steps below grade take diners into the grotto-like beer garden, where several huge trees provide both shelter from the sun and a leafy guard against would-be burger thieves.
Bang Bang Pie Shop | Logan Square
Pie eaters take both sweet and savory slices to the side yard and share hugs with the immense tree as thanks for providing shade.
If you need to have a conversation with these flowers, make sure it's friendlier than the one Alice had in Wonderland:
m. henry | Edgewater
Inventive fare made with local products pairs well with a patio framed with wild, frothy plants and brightly colored flowers.
O'Donovan's | North Center
Rows of pansies frame both patios here. One of them is bound to talk back.
If you need to make a quick escape like James Bond, dive into one of these on-the-shore restaurants:
North Pond Restaurant | Lincoln Park
Complementing the arts and crafts–style architecture, doors open out onto a patio bordering one of the Lincoln Park lagoons, rife with long grasses and lilting flora.
The Waterfront Cafe | Edgewater
Robust trees and green grass frame the outdoor area of this coach house-turned-restaurant, but it's the eatery's closeness to the lakefront that makes it a great draw in the summertime—and the perfect spot to stash a getaway boat.
BY: Aimee Algas Alker
Guide Staff Writer
Though Aimee stays up to date on the latest food trends for the Guide, most of her meals are served cold and cut into tiny, toddler-sized bites.