A Drag Queen's Guide to Cocktails
When it comes to cocktails, seek no greater experts than the queens of nightlife. We asked 10 drag performers—some bona fide stars already, others on the rise—about spirits, cocktails, and their other indulgences. Some drinks can make for an especially glamorous evening, other spirits they avoid at all costs, and New York's Ariel Italic pinpointed perhaps the finest drink of them all: "Anything you got for free," she said. "If someone bought you a drink, that's glamorous right there. You basically have a tiara on."
Want a chance to try some of the queens' favorite drinks? Check out these deals for bars and nightlife in your city.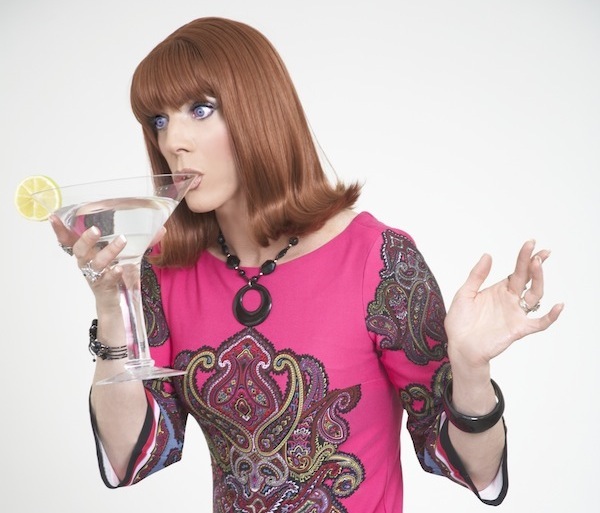 Whiskey and Bourbon
"I love a bit of B&B—bourbon and Bénédictine—in a shot glass. It is warm and sugary and coats my throat just right." – Hedda Lettuce, a New York queen and comedienne
"I'm a Chicago girl, so you can't tear me away from my whiskey. When out with friends, I'm not on the clock, so I either enjoy Jameson [with] ginger [ale] or a Maker's and ginger, if I'm feeling fancy." – Chicago's Shea Couleé
"I love a nice manhattan or a whiskey and ginger. I'm a whiskey girl. It just does down the throat so smoothly." – New York's Sutton Lee Seymour
"It's like you put a whole entire f***ing pack of Big Red [gum] in your mouth and started chewing it all at once. It's awful. I can smell it on people's breath. I say, 'You just did a shot of Fireball, didn't you? You smell like Big Red and shame.'" – Los Angeles's Cake Moss on the merits, or lack thereof, of Fireball Cinnamon Whiskey
"Whiskey's fine, but I always feel like an old lady when I drink [it]. I get a whiskey and ginger, and it feels like something my grandpa would have ordered." – Ariel Italic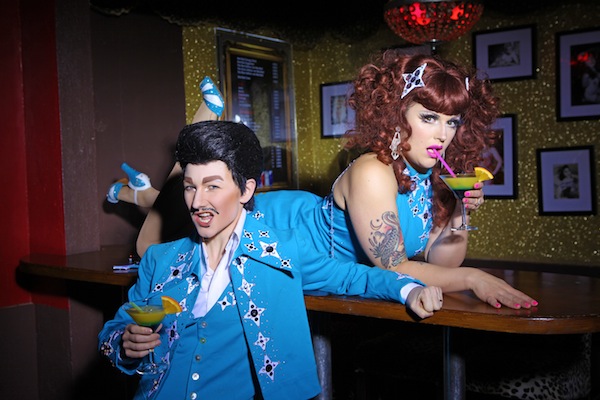 Tequila
"[My] favorite drink for a big night out is inspired by one of [my] heroes, Pee-wee Herman: tequila! You can't go wrong with a good margarita." – Kitten LaRue of Kitten and Lou, a duo (and real-life married couple) made up of a burlesque starlet and a drag king
"I love a tequila sunrise. I love the way that it tastes. I used to try lots of cocktails, and I thought they all sucked, but then I had a tequila sunrise and thought, 'That's my drink!' [And it has] orange juice, so there's some vitamin C in there." – Cake Moss
"Tequila is my go-to in the summer because it mixes great with citrus and floral flavors. I'm always rolling dice with tequila because I'll either be the life of the party or the bitch in the corner trying to rip your hair out. But the latter always makes for a better story anyway." – Shea Couleé
"When I'm in drag, my focus is on fluid volume—lots of layers between me and the bathroom—so I take shots [of tequila]. But when I'm not performing, I love a paloma. Know your spirit—mine is tequila. [It] has a bad rap, but it's energizing!" – Ariel Italic

Vodka
"Booze and ice cream: a match made in heaven! [Mudslides project an] air of youthful yet debonair innocence, and nothing says macho like a big straw!" – Lou Henry Hoover, the drag-king half of duo Kitten and Lou
"My go-to cocktail is what I call a Vodka Delicious. It's a vodka [and] Red Bull [with a] splash of cranberry juice. It's light and gives you energy, and the splash of cran gives a fruity taste that keeps me wanting more. [But] consuming a lot of [Red Bull] on a night out can turn your stomach a bit. So I rotate between a Vodka Delicious and a flavored vodka press. It is very light. You can drink a million of them." – Los Angeles queen Rhea Litré
"The most glamorous drink [is] vodka on the rocks in a gorgeous rocks glass, accented by a stunning cocktail ring." – Hedda Lettuce
"I'm not a vodka girl. If you're going to do drag, if you're going to perform, know your body. I know my body, and vodka doesn't mix well with [it]. When you do [the famous Elaine Stritch standard] 'The Ladies Who Lunch,' you have to drink, but I use whiskey instead of the vodka stinger. I wish she'd said a manhattan instead. I feel like I'm cheating. I'd rather be a Method dragtress." – Sutton Lee Seymour
"It is so over to order a cosmo. It just shows that you … watched your Sex and the City box set a hundred times and you think that's what everyone drinks. And no one drinks a f***ing cosmo! If I see you with that [martini] glass and it's that horrible pink shade, then I will judge you. I'm sorry." – Ariel Italic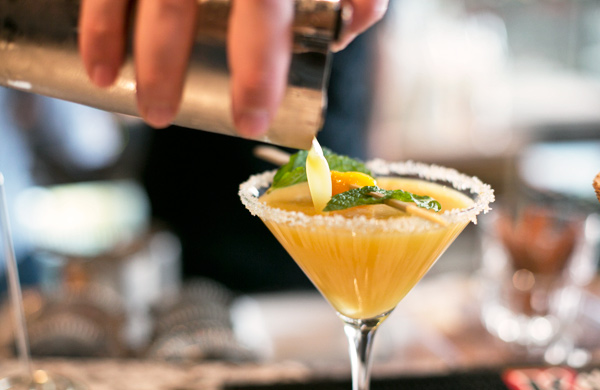 Gin
"Simplicity is key. I love a dirty gin martini. Stirred, not shaken. Shaking bruises the gin. What that means, I don't know, but I learned it from watching Rosalind Russell in Auntie Mame." – Shea Couleé
"I love a dirty martini. Having the word dirty in a drink just turns me on. [It's] a potent salty sensation with enough kick to make a girl's wig spin." – Hedda Lettuce
"Gin is really bad for me in general. It's sort of a downer drink. It makes you sad. No one wants a sad drag queen! It's refreshing, but it makes me so morose." – Ariel Italic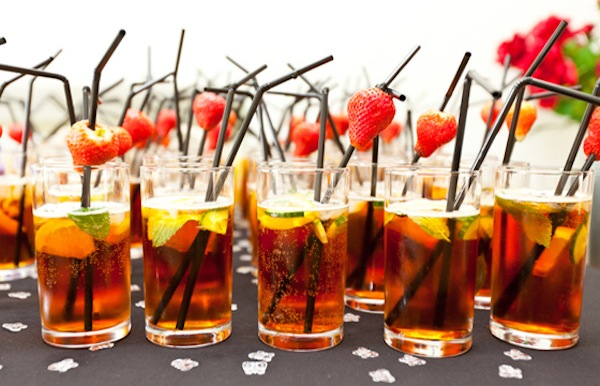 Rum, Brandy, and Other Spirits
"One can never go wrong with the classic glamour of the original cocktail, the sazerac." – Kitten LaRue
"As a Chicagoan, I will run in the other direction [when I see] Malört. I've been inducted into the tribe, and I will never do it again. It's the most awful thing I have ever consumed." – Chicago's Specificity Jones
"[Steer clear of] long island iced tea. It has the name Long Island in it, need I say more? – Hedda Lettuce
"I don't profess to be a glamour queen at all because everything I do is just stupid. Give me a piña colada. That's glamorous to me." – Sutton Lee Seymour
"Any drinks that are named after horrible and violent tragedies—we're looking at you, irish car bomb—are typically not going to go down well and are best avoided." – Kitten and Lou's most important rule of thumb
Wine and Beer
"Ordering champagne feels so luxurious and expensive. There's nothing like walking around sipping champagne." – Ariel Italic
"I'm a glass of wine kind of gal, and I'm not picky. Give me a strong merlot and I'm good. I like to keep it classy. [And] I love beer, but when I'm in drag, it just makes me gassy and it's not cute. I don't want to be a belching bitch!" – Sutton Lee Seymour
"Espresso before the show and a hefty glass of malbec after keep the doctor away. Or something like that." – Kitten and Lou
"You can't be all cinched in your corset and filled with gassy beer." – Specificity Jones
Nonalcoholic Drinks (and the Occasional Pill)
"I'm a huge fan of iced tea. I prefer to make my own. I have a lemon tree [in my yard]. I grow mint. I love it. When I first moved to Los Angeles, [I found that] you pay for your first iced tea and they just keep refilling your glass. To this day, after 14 years of living here, that still excites me. The never-ending iced tea. I once went back to New York to do a show and ordered an iced tea. It came in a very small glass, clearly not an iced-tea glass, so I just kept ordering refills. I got a $30 bill for iced tea." – Los Angeles's Coco Peru
"[Before a show] I drink sugar-free Red Bull. You've got to have that water, got to stay hydrated. And every once in awhile, pop a Xanax. You've got to get rid of that stage fright!" – Specificity Jones
"I hate that I do this, but before a show, I'll have a sugar-free Red Bull or two. It's so terrible for you, but it just gives me that extra oomph. And I love my health. My insides are killing me about that Red Bull." – Sutton Lee Seymour
"I avoid anything with Red Bull in it. Very bridge and tunnel." – Hedda Lettuce
"Whatever. Someone hand me an Adderall!" – Rhea Litré
Pizza, Burgers, and Other Indulgences You Can't Drink
"I love sashimi. I just tried oysters for the first time; it made me feel very sexy. But I've watched queens choke down chili dogs before a performance. I just can't wrap my head around that." – Specificity Jones
"After a show, I'll go to a McDonald's with makeup all over my face and order whatever combo meal sounds the worst for me right then." – Ariel Italic
"Taco Bell forever." – Cake Moss
"A weakness of mine is New York–style pizza. My family … we're pizza snobs. And to this day, my mother—she's 88—she'll try a slice, and if it doesn't taste like a New York pizza—[you wouldn't believe] the look on her face. [But] on the side, I'll have a small salad. She has to fit in those dresses, you know what I'm saying?" – Coco Peru
Thanks to the drag queens, "bio-queen," and drag king who participated in this piece: Chicago's Shea Couleé and Specificity Jones; New York's Hedda Lettuce, Sutton Lee Seymour, and Ariel Italic; LA's Coco Peru, Rhea Litré, and Cake Moss; and from Seattle, New York, and burlesque halls the world over, Kitten LaRue and Lou Henry Hoover.
Photo of Coco Peru: Palladino Den Photography. Photo of Kitten and Lou: Carlos Kella. For more photos of the stunning performers featured in this story, view the writer's Instagram account.
Can't get enough of drag queens or cocktails? Read more about both subjects below: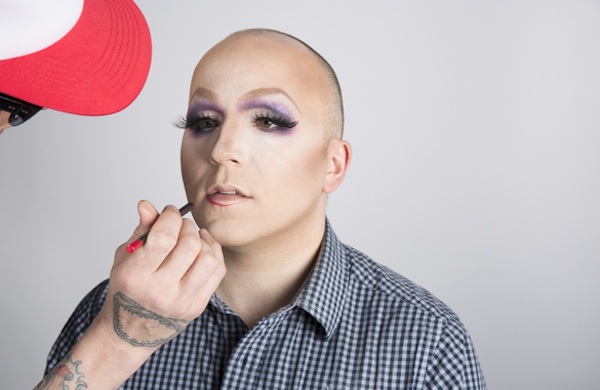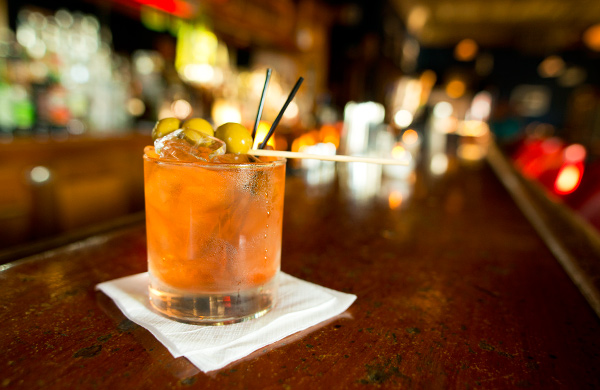 Cocktail Corner
Our favorite cocktail coverage of drinks shaken, stirred, and even dumped into a wooden treasure chest with some dry ice.