Cool Off! Cold Meals for Hot Weather
BY: Naomi Bishop |
Aug 7, 2013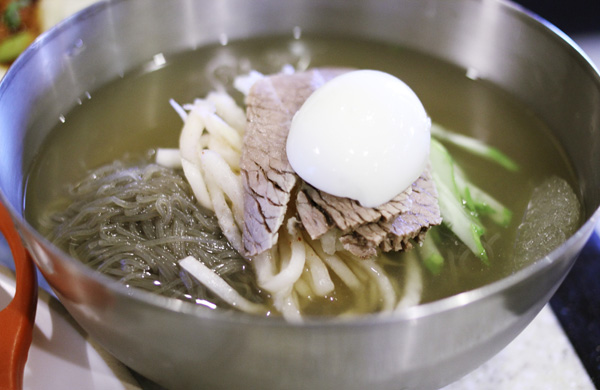 With a citywide lack of air-conditioning, it is imperative in Seattle to find a way to not just beat the heat, but to embrace and enjoy it. The key to doing this is to find that holy grail of hot-day meals: one that actually sounds better than just having ice cream for dinner for a third straight night (not that there's anything wrong with that, right?). For those not looking to go on the all-gelato diet quite yet, these are some tempting Seattle dishes that will bring down the body temperature without dulling the taste buds.
Demi-poulet Froid Mayonnaise at Café Presse
The French-style service of this impeccably authentic French café on Capitol Hill gives eaters plenty of time to leisurely strip off bites one-by-one from the roasted and cooled half-chicken and swipe them slowly through the mayonnaise. Luxuriating at tables for hours on end is a French tradition, and the cold chicken, with its need to be picked apart and dipped, forces the eater to slow down, order a glass of Lillet on the rocks, and really enjoy the meal.
Mezze at Cafe Munir
Whatever appetite the heat might sap, Cafe Munir will replace with one view of it's  rainbow of dips, vegetables, and salads, each in its own small white bowl. The north Ballard restaurant's white walls and intricate lighting fixtures lend an old-world feel, which combined with summer heat feels transportive, taking the diner on an evening journey to Lebanon itself. Familiar Middle-Eastern small plates like hummus and tabbouleh mingle with less familiar dishes, such as lebneh—a yogurt strained until as thick as cheese, served cold with your choice of toppings: olives, roasted tomatoes, or pickled vegetables.
Naeng Myun at Hae Nam Kalbi and Calamari
Being served  a large chunk of ice, floating about in beef broth like an ice ring in a punch bowl, bodes well for the cooling properties of this cold noodle dish. Also in the large silver bowl is a tangle of chewy buckwheat noodles (employing the accompanying scissors to navigate the mass is highly recommended), slices of beef, an egg, and slivers of Asian pear and cucumber. The spicy mustard sauce served on the side can spice up the frigid soup if needed, but the sweet crunch of the pear provides plenty of contrast for the richness of the cold beef broth.
Cleaned and Cracked Chilled Dungeness Crab at Taylor Shellfish in Melrose Market
Taylor's "shellfish deli" in Melrose Market offers the opportunity to not worry about getting shell fragments in your carpet as you get elbow deep in crabmeat. Dungeness, the gentle giant of the crab world, is the Northwest's regional forte, and need little more than a quick squeeze of lemon to be the sweetest treat. At Taylor, where shellfish specialization is an art, they've got the crab cooked and cracked so that diners have to nothing to do but enjoy the process of digging in.
BY: Naomi Bishop
In need of an outlet for her effervescent enthusiasm for all things edible, Naomi Bishop started sharing her thoughts on food at her blog, TheGastroGnome, in 2006. Her lack of fear—she'll eat anything and go anywhere—lead her to discover restaurants hidden in plain sight or find the most delicious needle in the haystack of a menu. Her writing appears on Serious Eats, Eat Your World, and in the Seattle Weekly. Download her app, Unique Eats of the Northwest to find the best restaurants you've never tried.