Dish of the Week: Shrimp and Grits at Wishbone Restaurant in Lakeview
BY: Adam Bass |
May 8, 2013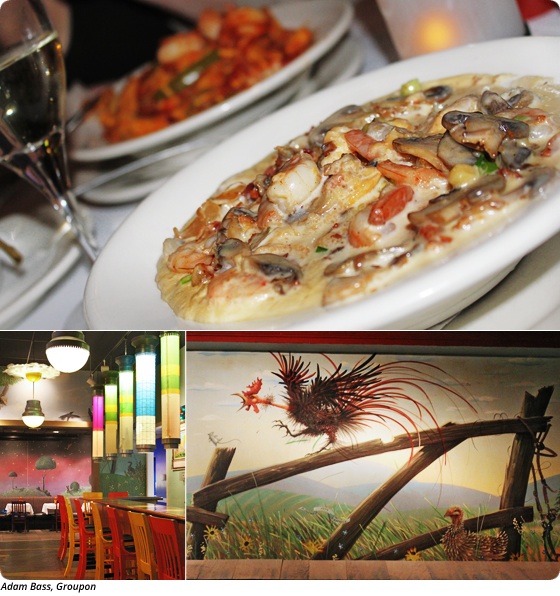 At
Wishbone
, shrimp and grits is gospel. "Toss mushrooms, bacon, shrimp into a pan, add heavy cream and reduce the hell out of it," preaches Michael, the night manager. "Each one's made on the spot. Sometimes we'll have 10 skillets going at once. It's a thing of beauty." Call me convinced. The grits are so supple they're almost risotto—but not mushy, thanks to fresh shrimp and crisp chunks of bacon.
As a greater Cincinnati native, my adolescence straddled two worlds. There was the city, with Reds stadium and three-ways drowned in Skyline chili. Then there was Kentucky. Driving a few miles south, my blue Chevy was a time machine, trading concrete and steel for 30-buck motels and a water tower that reads "Florence Y'all" ( I also recommend a stop in Rabbit Hash, where they've elected a dog for mayor—twice). More than anything, I loved the hickory-smoked barbecue joints, where guitar frames sat like curvy ladies on the wall and photos showed Mississippi John Hurt clawing at a six string. Tables had six types of hot sauce, and menus often hung overhead like commandments in a church. Don't get me wrong—I love Chicago. But I miss the rural personality of these types of eateries, which are hard to come by in Illinois. Wishbone is an exception.
I'm at Wishbone on a Friday night. One moment I hear the thrum of the nearby Brown Line train, and the next, I'm nose-to-beak with a rooster statue. The restaurant has dozens, against a backdrop of wraparound windows and colorful vegetable paintings, apparently all placed by Head Chef Joel Nickson. He's a native Carolinian who swings a "Southern reconstruction" style of cooking. This isn't Kentucky, but it's definitely a cousin. I plop down in a side room in full view of a mural—a darkening purple dusk peppered with stars and raccoons ambling through tall grass. A little smartphone sleuthing reveals that it and most of the restaurant's artwork is by Joel's mother. The bar's hanging lights, which are in the exact likeness of sunny-side-up eggs, were crafted by Joel's brother. Their style is a pleasing hybrid between Dali and Orville Redenbacher.
My server Megan stops by. The blooming flower tattoo across her arm is right at eye-level. Only a few words, and it's clear—she chats like a Southerner. On her suggestion I have the sweet potatoes, which are thick with hints of brown sugar and vanilla; they feel like a throwback to my own mother's decadent mashed potatoes, so rife with butter they bore a yellow shade. While I stuff my face, she chews my ear. "Some of the nicest people I've met in Chicago," she says of the clientele. "[They're] without pretension. Which I love."
Her dining advice is to stop in for brunch—when they're super busy—but I prefer things like this. The velvet croon of Madeleine Peyroux, Louis Armstrong, and Billie Holiday can be easily heard. Flickering candles and string lights give softness to the murals, rounding out their rural authenticity. I'm also ecstatic to see that on every white tablecloth is a bottle of hot sauce. Shrimp and grits wouldn't be the same without it.
BY: Adam Bass
Guide Staff Writer
Adam is a Kentucky-bred pun enthusiast, writer, physics lover, and improv comedian.