What Laser Hair Removal Really Feels Like
BY: FAVIN THE MAVEN | 7.29.2014 |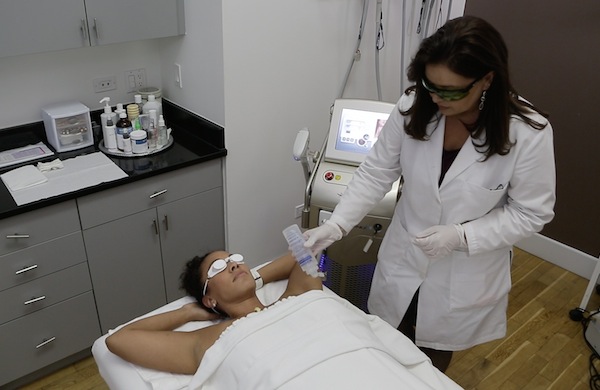 When I was gearing myself up to get laser hair removal, none of my friends were being very helpful. My boyfriend reminded me that he tried to start a round of treatments on his neck, had one session, and never went back because it hurt so much. My coworker said that she did actually complete treatment on her bikini line, but it hurt more than anything ever and she wouldn't wish that pain upon her worst enemy.
In the name of beauty blogging, though, I decided to ignore them and get laser hair removal on my underarms. On camera. Here's what I felt during my appointment at BEaUtify at AMS (830 N. Ashland Ave.)—including the pinprick-like sensation of the actual treatment.
Feeling #1: Jittery
As I sat in the waiting room, I kept myself from getting too nervous by asking everyone on staff how the treatment would feel. I was hoping to hear "like puppy snuggles," but here's what they really had to say:
Jeannie Caltagirone, aesthetician and my laser technician for the day: "If you had one of those old-timey perfumes with the rollerball, and you started rolling it around a lot. At first it feels cool, and then it gets warmer and warmer and then all you feel is the heat and the movement."
Edith Bayran, owner: "I always say it feels like the hairs are pulling. A little bit of a pulling sensation, and then heat building up."
Audrey, receptionist: "It feels like putting a hot towel against your skin."
Dr. Neema Bayran, medical director: "[The laser] heats up the hair follicle and the surrounding tissue. The temperature it creates is about 45 degrees Celsius [113 degrees Fahrenheit], so imagine holding something that warm up against your skin."
Overall, nothing too awful sounding. After polling them all, I felt a little calmer.
Feeling #2: Chilly
To prepare me for my treatment, Jeannie shaved my underarms, then pulled a bottle of ultrasound gel out of a mini fridge. The gel, she explained, would help the laser's handpiece roll over my skin more easily. Which was true, but there was still the issue of the gel being ice cold.
Now, factor in that AMS's laser, the Alma Soprano ICE, has a cooling mechanism built into the handpiece so the laser doesn't overheat the skin. Between that, the gel, and the wrap that left my arms and shoulders exposed, I stopped even thinking about potential pain. I was thinking about cardigans. Sweet, sweet cardigans.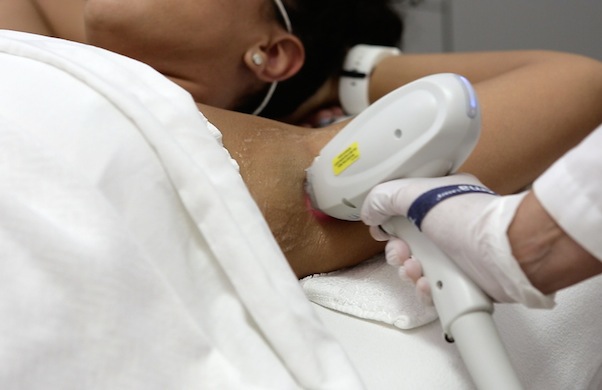 Feeling #3: Faint Pinpricks
To feel the laser at all, I had to focus, and even when I did, all I could sense were some faint pinpricks. They were so faint that if the treatment had lasted a bit longer, I could have probably fallen asleep—especially because the laser's beeps sounded like crickets, and I had to wear completely opaque goggles to protect my eyes from the laser.
Feeling #4: Amazement
Jeannie spent 140 seconds on each underarm, and by the end, I was amazed at how much it hadn't hurt. (In case you're wondering, I have a pretty low pain tolerance.) I'm sure the experience varies by person and body part, but personally, I felt the most sensitivity after the treatment. I was worried that the laser had lasered all my deodorant off, and when I reapplied, my skin felt a bit raw.
Bottom line though, it really wasn't that bad. (I'd say Jeannie's description proved to be the most on point.) I'd be down to get the remaining five sessions Jeannie recommended, and curious to try out other areas of the body. But for now, I'm just going to brag to my coworker and my boyfriend about how tough I am!
Video: Groupon
BY: Favin the Maven
Favin the Maven
Beauty blogger working at Groupon. For me, both beauty and fashion need to be accessible and not intimidating. I love a great deal and a good DIY beauty treatment. I pride myself on trying new trends, being open minded and getting a great treatment without breaking the bank. In the name of beauty I will try anything once.