GROUPON GUIDE TO NEW YORK
Drawn to Nature: Bronx Public Garden Celebrates Arbor Week and the Earth's Influence on Art
BY: Courtney Ryan |
Apr 15, 2013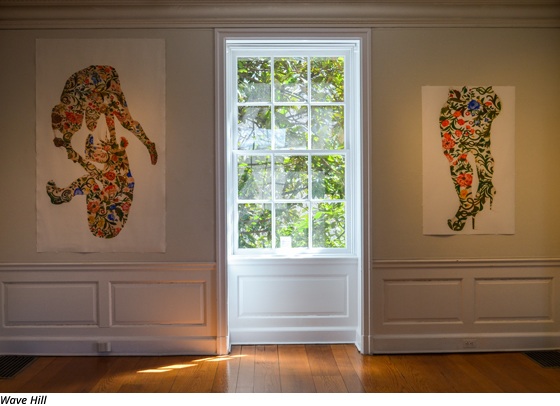 Wave Hill's 15 distinct gardens are open to the public year-round; they surround a historic estate that today serves as an art gallery and cultural center. The estate's spring programming turns a spotlight on Arbor Week and visual art that explores our complex relationship with nature.
The 28 acres of colorful flowers, abundant conifers, and gentle ponds at Wave Hill don't just represent the lush wildlife flourishing along the Hudson River; they are the walls of an art gallery. The private estate turned public garden and cultural center houses Glyndor Gallery, an indoor art space that examines humans' relationship with nature. From April 2 through June 16,
Drawn to Nature
peers at the natural world through the eyes of seven artists whose illustrations, sculptures, and watercolors evoke the sometimes calm and sometimes catastrophic melding of Earth and its people. Occasionally dense and contemplative, at other times energetic and meandering, the images come to life on handmade paper through the use of natural elements such as palm fronds or—in the case of
Firelei Baez
's vibrant portraits and landscapes­­—via inspiration from Wave Hill's own gardens and outdoor workspaces. Outside the gallery, oaks, beeches, and dogwoods help make up a legion of trees that becomes the center of attention during
Arbor Week
, April 20­–28. Wave Hill staff will be on hand April 28 to dispense free small flowering trees, fruit trees, and shade trees to families, individuals, and community organizations from all five boroughs, along with planting and care instructions. Other activities throughout the week include a lecture and book signing with
New York City of Trees
author
Benjamin Swett
(Saturday, April 20), a
bike tour of Riverdale's notable trees
(Saturday, April 27), and a
family art class
in which children and adults can learn to sculpt a dove using natural materials and paper (Saturday, April 27).
BY: Courtney Ryan
Guide Staff Writer
Courtney Ryan is a Chicago-based writer and Derrick Rose fan. She spends almost 100% of her time making or eating popcorn.