Eight Classic and Inventive Sausages That Are Re-encasing Chicago's Meat History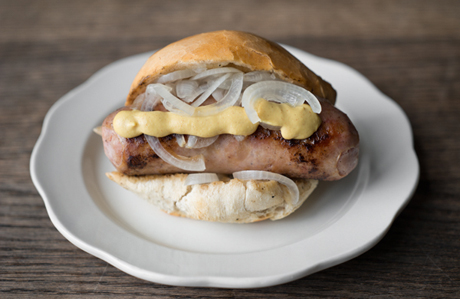 There is something so Chicago about a sausage. It's a stick-to-your-bones food that can get you through a long winter. It's a food with a history that harks back to our city's reputation as Hog Butcher for the World, and it's a food used in expressions ("how the sausage gets made") that reflect our city's political climate, politely suggesting you ignore this great big mess of meat over here and just move along and mind your own business. But for all this tradition and legacy, Chicago restaurants and butchers are doing more with sausage than ever before. We found some classics, as well as some surprises.
– John Flaherty 
Sausage Collaboration from Table, Donkey and Stick (2728 W. Armitage Ave.) and D.A.S. Radler (2375 N. Milwaukee Ave.) at Chicago Food Social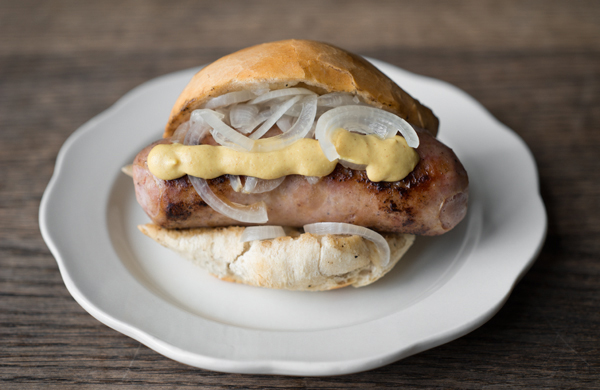 This sausage was actually crafted by the soon-to-open D.A.S. Radler's chef Nathan Sears, who was helping out behind the griddles that day. (He and Table, Donkey and Stick's chef know each other from when they both worked at Vie.) The tender meat had a mild flavor, with occasional bursts of licorice-y spice. What I really liked the most, though, was the sweet, dry bun. Co-owner Matt Sussman—who, full disclosure, is an old friend of mine from college—told me it's the roughly the same one TDS uses on the single-patty burgers it serves at Monday burger nights. 
– Nathalie Lagerfeld
Bratwurst, Knockwurst, and Smoked Thuringer at The Berghoff (The Loop | 17 W. Adams St.)
I appreciate a good drunken crowd as much as the next guy. I also enjoy my food, though, so I was not excited about waiting in line at The Berghoff's Oktoberfest at Daley Plaza, only to then scarf down a sausage while standing near a porta potty. The festival was full of Lynyrd Skynyrd and whatever things people in the Loop talk about. The actual Berghoff restaurant next door, though, was surprisingly quiet. Acres of gleaming dark wood and stained glass, which might easily be from The Berghoff's early days in the 1890s, soaked up the sound. The crowd back in the 19th century was probably very German, but now you're lucky to catch an occasional "
prost
." The waiters' accents could be from Wisconsin, but probably not Bavaria. Sitting down for the food was an important decision. I definitely needed some repose after a few liters of the respectable house hefeweizen and a trio of sausages (bratwurst, knockwurst, and smoked thuringer). The knockwurst casing snapped pleasantly under a knife, and all three were draped in large spoonfuls of sauerkraut. I'm willing to believe that there's better German food in the city, but the room and company were wonderful and, inside the old, beautiful restaurant, there was not a porta potty in sight.
– Cody Braun
Belly Dog at Belly Shack (Logan Square | 1912 N. Western Ave.)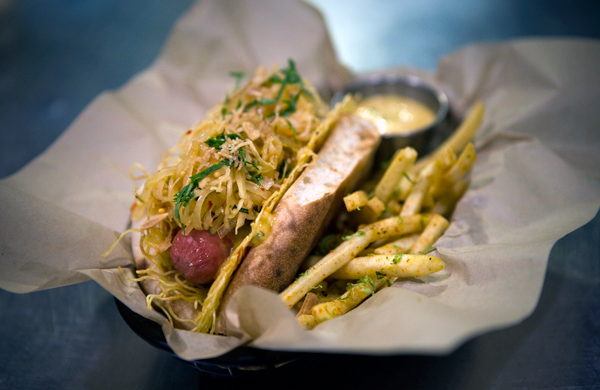 Like most everything on the brief menu at Belly Shack, the description of the Belly Dog does not do the dish justice. Listed unassumingly as "#4 - Belly Dog topped with egg noodles, pickled green papaya, and togarashi-spiced fries," it deserves a bio more along the lines of "plump frank nestled in a mound of crispy and soft egg noodles and tangy green papaya relish, served on an overstuffed flatbread." This makes for a messy and delicious mouthful, with whatever secret sauce is spread under the dog running down to your elbows. Unlike the refined
Chicago magazine
reviewer, I skipped the cutlery.
– Anna Skorczeski 
Shrimp and Grits with Andouille Sausage at Dixie Kitchen ( Evanston | 825 Church St.) 
The twang of country music fills the speakers and a rusty hanging tricycle lets me know that this is as close to the South as I can get in Chicago. Dixie Kitchen's shrimp and grits comes homestyle and creamy—just the way my South Carolinian grandmother makes it. On top, they heap a portion of Cajun shrimp, grilled onion, and spicy andouille sausage. When my waiter, Chris, set down my plate, he let me know this was one of his favorite dishes, too, because of the great combination of flavors that are "a little bit of spicy, a little bit of salty, and a little bit of sweet." Although he couldn't tell me what made it sweet, he did let me know that the slices of andouille sausage came from the local Sam's Meat Company (1041 W. Carroll Ave.). And Dixie Kitchen does them right—with each bite, spice floods my mouth in one of those burns that starts from the bottom of the throat and tickles all the way to the tip of the tongue. –
Stephanie McDaniel
Hungarian Pork Sausage at Gene's Sausage Shop & Delicatessen (Lincoln Square | 4750 N. Lincoln Ave.)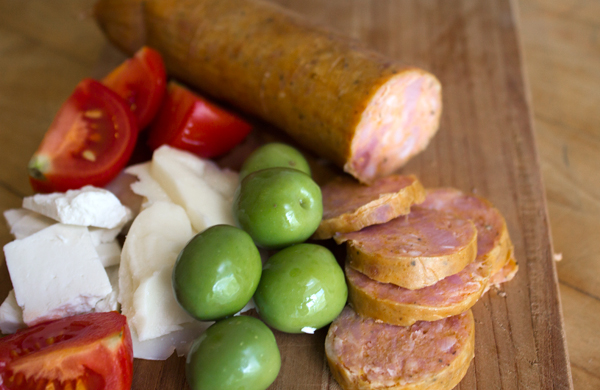 Behind Gene's Sausage Shop's enormous meat counter in its Lincoln Square storefront, professional butchers clad in square paper hats weigh and slice hulking slabs of beef and neat rows of sausage links. The Polish grocery takes a decidedly Old-World approach to its meat: sourcing products from farms in Illinois and nearby states and curing its beef and pork in house. I opted for a Hungarian pork sausage—similar to the shop's famous kielbasa but smoked twice over and infused with a peppery zest through a dose of paprika. The meat was rich but not greasy, with a somewhat loose consistency and a slight—perhaps a little too slight—kick from the spice. Eaten cold with some slices of tomato and cheese, the sausage's earthy, almost nutty flavor makes for a simple yet hearty lunch on a crisp fall day.
– Patrick Winegar 
Cheddar Bratwurst from Saturday Sausage Shop at Longman & Eagle (Logan Square | 2657 N. Kedzie Ave.)
Just around the corner from Longman & Eagle's main entrance is the restaurant's
Off Site Bar
, where every Saturday is all about the sausage. From 11 a.m. until the encased meats disappear, the small side space serves up sausage birthed from the hungriest corners of chef Matt Sliwinski's mind. This cheddar bratwurst might look unassuming hidden under its roasted onions and globs of dijon mustard, but a bite reveals gooey four-year-aged cheddar mixed in with the meat. It's a mainstay that Saturday Sausage Shop keeps on the menu almost every week, alongside three or four other sausages that also stick around or rotate. When it comes to the variety, "the sky is the limit as far as the weirdness of the sausage meats go," Matt told me. "I'm always looking for an animal meat I haven't seen before." That just might be how his ram sausages previously got on the menu.
– Sandra Kofler
Thuringer Spicy Sausage and Veal Wiener at Laschet's Inn (Northcenter | 2119 W. Irving Park Rd.)
Although orders typically come in pairs, the kitchen at this cozy German tavern was kind enough to compose a plate with single servings of the veal wiener and thuringer spicy sausage. The texture of the veal link is almost impossibly smooth, its tenderness contrasting sharply with the thuringer's rough-hewn casing. Finely ground with a delectable blend of beef and pork, the thuringer delights with just the slightest hint of spice, which pairs beautifully with thick dollops of Dusseldorf mustard. The sausage is sourced locally from
Schmeisser's Sausage
(7649 N. Milwaukee Ave., Niles), a family-run shop that prides itself on its housemade preparations. Hearty helpings of warm German potato salad and sauerkraut accompany the sausages, which, if you're lucky, you just might get to wash down with a complimentary shot of apple schnapps.
– Randall Colburn
'Nduja Pizza at Coalfire (River West | 1321 W. Grand Ave.)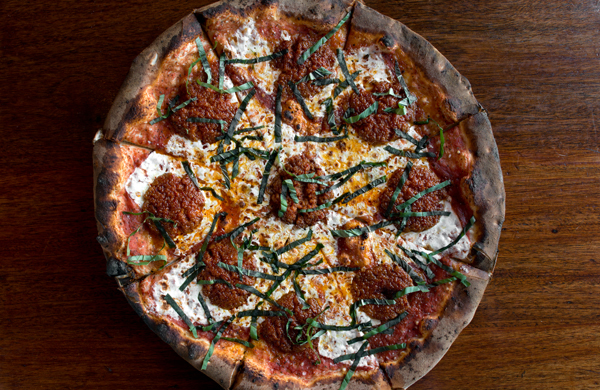 The first time I had this pizza, it was takeout. My wife had gone with a girlfriend and said she could bring me something back. I asked her to bring me something weird. The 'nduja pizza was what I got, and it didn't disappoint in being tasty weird.
Publican Quality Meats
(825 W. Fulton Market) makes Coalfire's 'nduja, a spreadable Calabrian salami of pork, pork fat, and red peppers. The blood-orange discs lent a soft texture and spicy kick to Coalfire's famously charred crust, and the pizza's fresh basil slices helped temper the sausage's heat and latent fermented flavor. When I went into Coalfire a week later, my order had already been made up in my mind, but still I panicked. I hadn't yet learned how to pronounce 'nduja. Now I know: it's en-
doo
-ya.
– John Flaherty
Photos: Sausage Collaboration and 'Nduja Pizza: © Andrew Nawrocki, Groupon; Belly Dog: Courtesy of Belly Shack; Hungarian Pork Sausage: © Patrick Winegar, Groupon