Eight Local Coffee Gifts to Add Pep to the Holidays
BY: Nathalie Lagerfeld |
Nov 27, 2013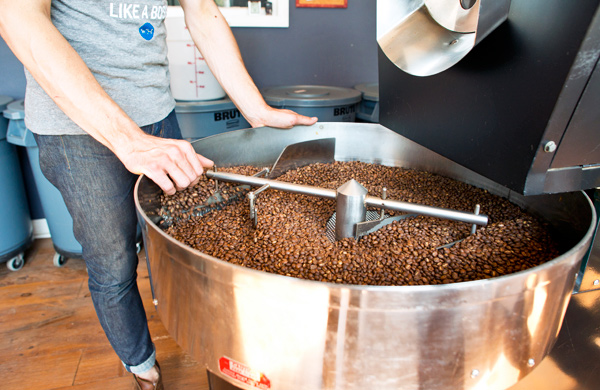 1. Hearth Holiday Blend from Bow Truss Coffee Roasters ($9.50 per 8 oz. bag; larger sizes available)
For the friend who buys everything from Urban Outfitters
Blending beans from Guatemala, Sumatra, and Ethiopia, this holiday roast chases away midwinter chills with "notes of cherry cordial, cinnamon, molasses, and fudge." More importantly, though, the label will look great next to all of the other things in your friend's house that have vaguely screenprinted-looking geometric patterns and line drawings of forest animals on them.
Get gift ideas from Bow Truss founder Phil Tadros.
2. Cascara Finca Las Lajas from HalfWit Coffee Roasters ($10 per 6 oz. bag)
For the tea drinker who resists conversion 
I've always wondered what happens to the rest of the coffee plant besides the bean. Well, apparently, some of it gets made into cascara, aka coffee cherry tea. Producers dry out the flesh of the fruit after it's been separated from the bean, then brew it into a tea that "tastes similar to dried black cherries, but with a slightly more savory quality," according to the blurb here. It can also be tossed in with some herbs to create a drink similar to cider—after which you can maybe start talking to your inveterate tea drinker about trying a roasted brew.
Available online or at The Wormhole (1462 N. Milwaukee Ave.).
Read The Guide's profile of HalfWit Coffee Roasters.
3. Celebration Blend from Intelligentsia Coffee ($18 per 12 oz. bag; larger sizes available)
For the traditionalist
Now that Intelligentsia has shifted its headquarters to Los Angeles, it's hard to really call it local anymore. Still, its Celebration blend is worth a sip, with spice and honey flavors that evoke a hot toddy.
4. Personalized Holiday Blend from Passion House Coffee Roasters ($180 for minimum order of 12 12-oz. bags)
For a large and caffeine-loving extended family
Your choice of name and holiday-themed graphic adorns the label on each of 12 or more bags perfect for mass-gifting to relatives.
Read The Guide's profile of Passion House Coffee Roasters.
5. Hullabaloo Holiday Blend from Metropolis Coffee Company ($15 per 1 lb. bag; other sizes available)
For the friend who hosts an annual holiday party 
With its "silky" texture and sweet "fruit notes," this brew could provide the mid-rager caffeine pick-me-up that any true holiday reveler needs. "Party on," the label urges—we will indeed.
6. Ten-Dollar Nickel from Gaslight Coffee Roasters ($10 each)
For the friend who still sends you handwritten letters 
You can argue that giving a gift certificate as a holiday gift is a bit impersonal, but the handmade look of these round wooden tokens might change your mind. Each one comes in a packet decorated with a loop of ribbon and a red wax seal, in keeping with Gaslight's old-timey aesthetics. Best of all, the nickels can be redeemed for anything in the café, so your giftee can nibble on a sandwich during their visit if they've already OD'ed on caffeine.
7. Handmade coffee mugs from Bridgeport Coffee Company ($16.99 each)
For the recent grad short on dinnerware 
Handmade by ceramics artist
Jay Strommen
, these jewel-toned caffeine receptacles will be the crowning glory of any 22-year-old's otherwise empty kitchen cabinet. Just remember to buy them some ramen to put in it, since they probably haven't eaten in days.
8. Old Dank Nic from Dark Matter Coffee ($15 per 12 oz. bag)
For the friend whose drug of choice isn't usually caffeine
With notes of cinnamon, cocoa, and gingersnap cookie, this brew doesn't evoke the scent of its titular substance so much as it does the snacks one might crave after indulging in it. Although the label claims that Old Dank Nic was "created to please the whole family," the smoky cover art and madcap
promotional video
seem to target a slightly more specific audience.
Also check out Purple Snow, a Dark Matter roast that honors record label The Numero Group's fiftieth release, Purple Snow: Forecasting the Minneapolis Sound.
Photo credit: Timothy Burkhart, Groupon
BY: Nathalie Lagerfeld
Guide Staff Writer
Nathalie is a writer and editor on the Guide's food team. Originally from Virginia, she now lives in Chicago, where she regularly indulges her love of tortas, bibimbap, and Cheez-Its. Follow her on Twitter @maviswillsaveus.