Empowering Improv: Second City Puts Kids on the Spot
BY: Emily Wachowiak |
Jun 19, 2013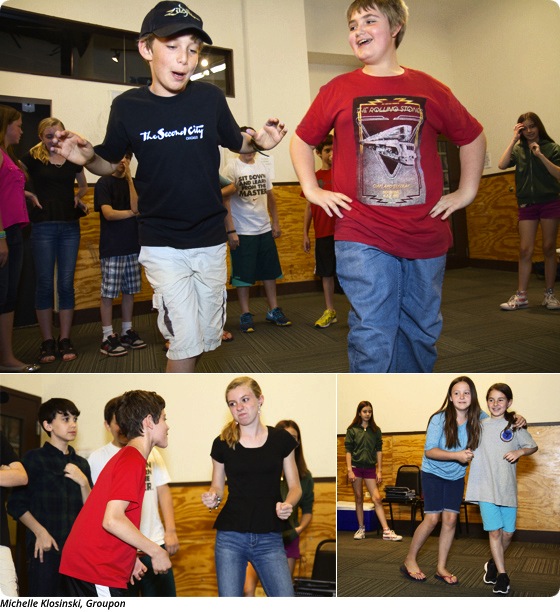 Two boys are trying to unlock a giant invisible iPad with a sweep of their arms. When that doesn't work, they try their heads. Just when they think they've got it, a pair of girls dart out in front of them and change the scene. "Where do you keep your sushi?" one asks. "We don't have sushi at Target," the other replies. "Remember, we always say yes," coaches veteran improv actress Janna Sobel from the audience. "Oh, we do have sushi," the second girl says. "It's in the cleaning aisle. I'll show you." It's only the third day of
Second City
's first
summer camp
of the year, and these 11- and 12-year-olds are just learning how to sweep and edit improv scenes, hoping to figure out what works and what doesn't before their big showcase at the end of the two-week session. Although these students lack the life experience of adult actors, Jeff Gandy, the youth and education program manager, knows that kids bring something special to the world of comedy. "Children are amazing improvisers because they have a much better sense of pretend," he says. Jeff often has to explain the concept of invisible props to adult students, whereas his 4- and 5-year-old students have no problem fetching him an imaginary hammer when he asks for it. Jeff admits that classes for students that young are more like "guided play," but those tots have been known to draw some laughs. He remembers asking a room full of 4-year-olds if they knew what acrobats were. "I do!" one girl said. "They act like bats!" It's this kind of quirky, out-of-the-box perspective that Second City tries to nurture in its students, getting them to push past their stock characters of princesses (4- and 5-year-olds), Justin Biebers (tweens), and politicians (high schoolers) to create unique comedy as a cohesive ensemble. Second City's
youth program
, which is barely a decade old, has already seen alumni join the traveling cast and teacher ranks—but the skills kids acquire their reach far beyond the stage. "You learn how to work together," Jeff says. "It's that 'yes, and' philosophy" that encourages improvisers to immediately accept one another's ideas and build on them. "That right there is how we invent stuff, by taking someone else's idea and making it better." It's a system that rewards active listening, acceptance of different viewpoints, and the ability to multitask—skills that come in handy not only in school but also in the workforce. Kerry Sheehan, president of Second City's Training Center, detailed one improv game that sounded like a nightmare job interview: kids stand in a circle and yell out questions, and the person in the middle has to answer as many of them as possible while remaining calm. "It's like whack-a-mole, but for your brain," she says. Second City kids learn fast that not every joke will be a hit. "We also embrace failure, too," Kerry says. "We get the kids to understand that it's absolutely OK, and it's actually what needs to happen on our professional stages. They're failing all the time in front of a live audience. That's how they know if something's working or not working." Because of this, improv's "yes, and" culture of acceptance takes on added importance. "Judgment is not allowed here," she says. "Your whole goal is to make others look good. There's no success here in trying to be [the center of attention]. Our teachers correct that right away." "You don't have to be funny [to come here]," Jeff says, noting that Second City's youth classes are as successful at drawing shy kids out of their shells as they are at reining in the outbursts of class clowns. A parent recently wrote a heartfelt letter of thanks to the Second City crew: "I can see my child changing before my eyes," it read.
Getting Kids Involved
The positive social skills that kids develop during comedy classes have led Kerry and Jeff to design courses that are specific to kids with special needs, particularly those with Asperger's syndrome or anxiety issues. This year, they're piloting a free three-day summer camp for kids on the autism spectrum called
From the Inside Out
. Held Monday, July 1, to Wednesday, July 3, the camp will be co-taught by an experienced instructor and a special-needs educator, who will show the students how to express their emotions through storytelling. There's still time for kids aged 11–18 to enroll in summer camps, which run in two-week sessions until the end of August. During morning and afternoon classes, they learn improv and sketch comedy alongside children from around the country and the world—Second City's camps have hosted kids from as far as Finland, Korea, and Australia. Enrollment for
fall classes
(ages 4–18) is also open.