Enjoy Your Maki Alfresco at These Five Chicago Sushi Restaurants
BY: Anna Skorczeski |
Jun 27, 2013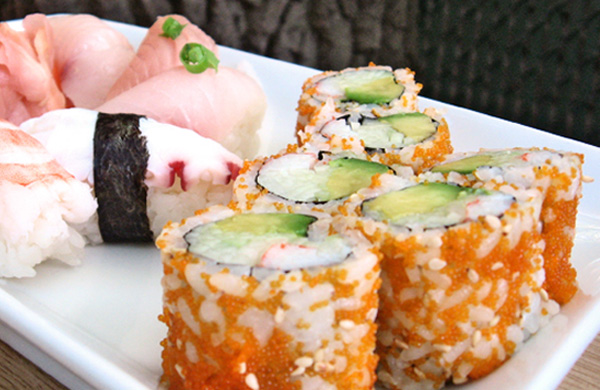 From sidewalk to riverwalk, Chicago sushi restaurants have opened up their outdoor seating for the summer.
For wallet-conscious comedy fans:
Cafe Sushi
(
1342 N. Wells | Old Town
) Before a laughter-induced ab blasting at Second City, where fancy cocktails in souvenir glasses hover around the $20 mark, enjoy your BYOB wine on the sidewalk patio at Cafe Sushi. The corner location provides a good vantage point for people—and meter-maid—watching as well.
For little English girls carrying mysterious sets of keys:
Seadog
(
1500 W. Division | Noble Square
) Flowers, hanging lanterns, and other garden-like touches frame alfresco meals at this tucked-away haven, which feels a little like someone's well-kept backyard. The patio won me over years ago when this space housed Hillary's Urban Eatery; now I come to order maki such as the Secret Garden roll ($10) paired with BYO wine.
For third-shifters who like raw fish for breakfast:
Tank Sushi
(
4514 N. Lincoln | Lincoln Square
) Happy hour happens every day at Tank Sushi, where select maki rolls are half off on weekdays starting at 11 a.m. The sidewalk seating is open May through October, weather permitting.
For sophisticates who enjoy pelting kayakers with tempura brussels sprouts:
Japonais
(
600 W. Chicago | River North
) Unless you work in Montgomery Ward's old catalog house with me, you may not know about the covered riverwalk that runs along the west edge of the building. Japonais has furnished its plot of 'walk—which overlooks the North Branch of the river—with rattan furniture, lounge-y sofas, and sheer draperies that complement the upscale vibe of the menu.
For sake-bomb newbies and pros:
Sushi Mura
(
3647 N. Southport | Lakeview
) Chef Hur San,
who's been featured on 190 North
, didn't just bring the traditional art of sushi to his Lakeview restaurant—he also brought the ancient dance of the sake bomb. Make toasts with this specialty drink on the front patio, beneath a neon sign in the window that advertises the drink by name.