How Women Over 50 Get Fit (and Kick Butt)
BY: Kate Raftery |
Sep 10, 2015
No matter what your age, getting fit can seem like a herculean task. And when you're nearing the hill—or already over it—the challenges seem to stack up. Can you really lift the same amount of weight as a college-aged kid? If you don't yet feel fit enough to run, is walking good enough? Is there any point to just now starting a fitness regimen?
The answers: yes, yes, and definitely. Exercise for women over 50 is a vital part of maintaining and possibly improving health. Hard though it may be, pretty much everyone is capable of working out.
Take Mary Murphy, a 52-year-old dental assistant from Maryland who didn't develop an regular exercise routine until later in life. "I've always enjoyed exercising but wasn't as religious about doing it," she said. "It was after I had [my third child] that I got pretty serious. I put him in the bouncy seat, and I started with doing the treadmill. First I was able to do 1 mile and I was so excited, then I was able to run 2, and then I did a 5K."
Over the course of a decade, Murphy gradually ramped up her fitness routine to where now she's doing an intense workout four days week. And it's paid off for her, just like it can benefit every other woman. Below, learn why fitness should be a vital component of middle-aged life and why forming a routine isn't the impossible task you might think it is.

Before You Get Started
1. What to watch out for

Murphy's no fitness authority—she just read a lot and sought out experts to direct her to the best exercises for her body.

"Because of my past injuries, I was told that running is not the best thing for me," she said. "It's very jarring on your body, all that pounding. That being said, I was also told that if you're literally going to run or do nothing, then you should run. But it's probably better for you to walk or ride a bike or swim."

Doctors, physical therapists, and personal trainers can advise you on working out without exacerbating existing medical conditions. For example, if you have joint problems, symptoms of osteoporosis, or any risk factors for heart disease, a physician should guide you toward exercises of lower impact or intensity.
2. What to look forward to

A consistent fitness program can lower your risk of suffering heart disease, diabetes, strokes, and osteoporosis. Some women also report that stress relief from exercise helps them manage menopause symptoms such as sleep problems and mood changes.

It can help you strengthen bones and maintain a healthy weight, too. Working out is especially good for controlling the abdominal fat that can accumulate around menopause. Murphy uses her fitness regimen in part to maintain her slim figure—"I just really liked to eat," she noted—and most recently added more weight training to help strengthen her bones.
Once You Get Moving
Any physical activity is good for you. But many health organizations recommend a three-pronged approach to exercise for women over 50: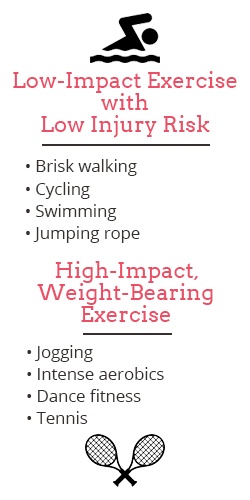 1. Aerobics
Cardio exercise is Murphy's bread and butter. "Would you be more excited to run a 5K or lift some weights? I feel like hitting a goal is very rewarding and makes you feel good about yourself and makes you keep going," she said. "It's probably harder to be like, 'Oh, I'm going to lift 10 pounds or 15.' How do you get the sense that you've reached [the goal] for satisfaction or reward?"
She usually attends two intense 45-minute spinning classes a week. That's more than what the Department of Health and Human Services expects for healthy adults: at least 150 minutes of moderate-intensity aerobic activity or 75 minutes of vigorous aerobic activity a week. But you can more easily ramp up your aerobic exercise to get to the baseline and beyond by finding an activity you enjoy.
Then, measure your level of activity with the "talk test": moderate intensity should allow you to talk but not sing, whereas vigorous intensity should allow you to speak a few words but not carry on a conversation.
2. Strength Training
Strong muscles equal stronger bones and more calories burned. Murphy added BodyPump classes to her repertoire, hoping to see noticeable results faster.
"It's 10 songs," she said. "Each song focuses on a large muscle group. It's quads, chest, biceps, triceps; there's one just for your legs and abdominals and back."
That activity lines up with HHS recommendations, which champions muscle-strengthening activities at least twice a week. For many women, a workout choreographed to music might be a good way to ease into the world of strength training. Or you can start at home, using handheld weights and body-weight exercises such as lunges, squats, and wall sits. Others might just want to venture into a gym and ask for assistance with equipment, form, repetition, and sets.
3. Stretching
Traditional stretching can help you cool down after exercise. But yoga and Pilates workouts offer additional benefits. They can improve flexibility and range of motion, build core strength (which can help relieve lower-back pain), and boost stability and balance (which can prevent falls in the future).
Above all, find what you like and stick to it.
For Murphy, it's attending weekly classes—with some workout buddies—that give her a sense of accomplishment. For you, maybe it's walking the dog for a mile every day and practicing yoga. Do some research, take some classes, and find out what works best for you.

Check out some related reads:
Aging and hormone changes can mean wrinkles and, yes, adult acne. Lessen the effects of time with these skin-care tips for women over 50.
For instance: did you know that there are bones in your butt?
BY: Kate Raftery
Kate reads just about everything she lays eyes on, especially when it regards style and beauty trends. Despite this, she is still totally inept at applying eyeliner.