Is Prada Right for You?
BY: Halley Lawrence |
Oct 21, 2014
Uma Thurman made Prada a household name on March 27, 1995. It was Oscars night, and nearly 49 million people watched as Thurman, a best supporting actress nominee for Pulp Fiction, walked the red carpet in a lavender Prada gown. Its custom beadwork glimmered on her statuesque frame.
Since then, the label has become an awards-show staple, so it's hardly surprising that, for many people, Prada is synonymous with high fashion. But it's actually more rooted in utilitarianism than glitz and glamour. In fact, when Mario Prada founded the company in 1913, gowns weren't even part of the equation.
On ideel, shop Prada accessories like bags, sunglasses, and shoes:

In the beginning, Prada sold leather goods, including luggage. His Milanese shop crafted suitcases of such legendary sturdiness that the Italian royal family granted the company use of its coat of arms. Though several other design houses also started in luggage (Louis Vuitton, Bottega Veneta), Prada certainly has its distinctions.
Here's a rundown of some of the label's defining characteristics.
Prada is still beloved for its bags.
Mario's youngest granddaughter, Miuccia, took over the design house in 1977. The eclectic Miuccia (who has earned a doctorate and trained to be a mime) was determined to usher in a new chapter for her family's history, if not the fashion industry at large. Yet she didn't want to abandon the label's roots.
Her first breakthrough design was a small black backpack, which she constructed in 1984 using a lightweight nylon her grandfather had introduced more than 30 years earlier. The backpack's only decoration was an inverted triangle etched with the Prada name. This understated bag, so contrary to the heavily branded fashions of the day, made waves. And this formula remains Prada's signature—timeless designs, most always monochromatic, just a single logo on the shell.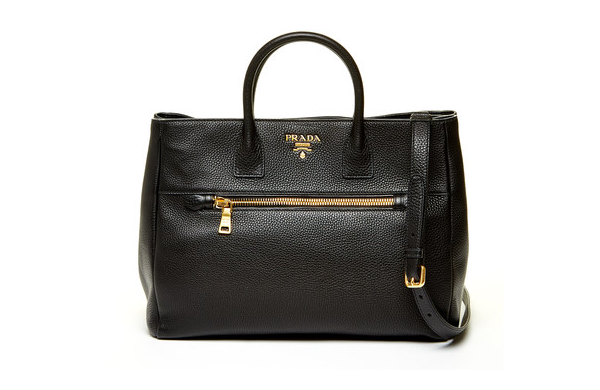 Black leather tote with side pocket ($1,849.99 on ideel)
Like its bags, Prada's fashions are functional and minimalist.
In the late 1980s, Miuccia debuted a womenswear collection that evolved her famous backpack's refined aesthetic. The collection shifted Prada's focus from the traveling man to the modern woman while retaining the sense of utilitarianism that marked the brand's original luggage. Clean lines were a key characteristic of the collection, which Prada described as "uniforms for the slightly disenfranchised."
Black was also heavily used, which was jarring to people in the midst of the '80s neon craze. But Miuccia hardly relented and to this day prizes simple color palettes—black, brown, cream, hunter green, red, navy, and, of course, Prada green, a pale, mint-like hue.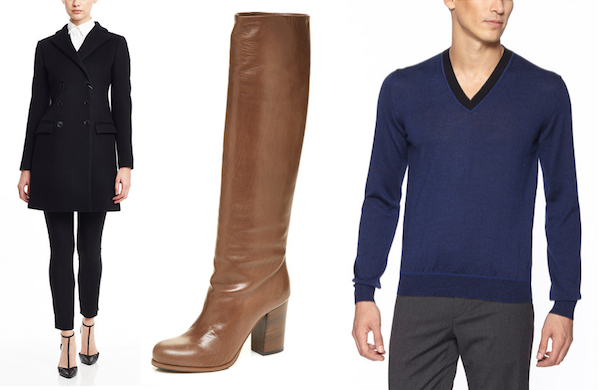 Women's black double-breasted wool coat ($969.99 on ideel); women's tall leather boot ($999.99 on ideel); men's Baltico sweater ($349.99 on ideel)
Menswear elements are detectable in many of Prada's designs.
Uma Thurman surely cemented Prada's place on the red carpet. And Miuccia does dabble in more feminine silhouettes for her ready-to-wear collections, but the brand is most often characterized for its somewhat androgynous style.
"Basically I think to people, not to gender," Miuccia once told the Telegraph about her design process.
At Milan's Men's Fashion Week in 2014, Miuccia showcased several womenswear pieces during her runway show. They fit in easily, as her women's clothing often integrates the hallmarks of men's fashion: simple silhouettes, pocketing, belts, and expert tailoring.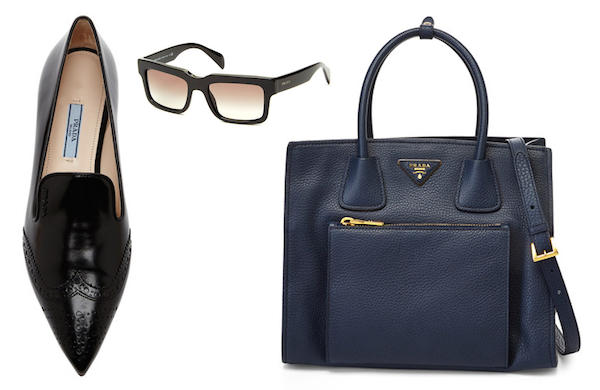 Women's classic flats ($439.99 on ideel); women's rectangle sunglasses ($209.99 on ideel); women's tote with outside zipper pocket ($1,899.99 on ideel)
Discover how Miuccia Prada isn't the only strong personality in fashion:
| | |
| --- | --- |
| | |
| Why These Handbags are Named for Famous Women | The 20th-Century Looks That Changed Fashion Forever |