Why These Handbags Are Named for Famous Women
BY: Michelle Schuman |
May 16, 2014
In 1956, the newly crowned princess Grace Kelly was photographed stepping from a car. As the paparazzi swarmed her, she deftly hid her barely pregnant belly from their lenses with a large Hermès bag. The photo made the cover of Life magazine, and the French fashion house wisely renamed the bag "The Kelly." Just like that, a legendary handbag was born.
The Kelly was arguably the first bag to be named after a celebrity, and thanks to Hermès's ingenious marketing move, we now have almost 60 years' worth of handbags inspired by female celebrities. Here are some of our favorites.
The Birkin Bag | Jane Birkin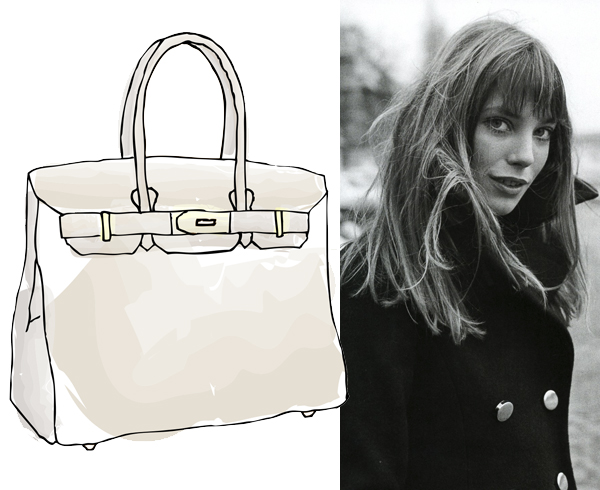 Hermès, 1984
The Birkin's fame reached a fever pitch in 1998 when, on an episode of Sex and the City, Samantha tried to get her hands on one of the coveted bags. When asked to explain her obsession, she exclaimed, "Oh honey, it's not so much the style, it's what carrying it means!" In a way, she was right: the Birkin is as much a status symbol as it is a fashionable accessory. But how did it get there?
As legend goes, back in 1981, Hermès's chief executive Jean-Louis Dumas was seated next to actress and singer Jane Birkin on a flight. After placing her straw bag in the overhead compartment, all the contents fell out. As she scrambled to gather her possessions, she complained to Dumas that there was a lack of chic yet roomy bags on the market. (Apparently, she used to carry a wicker basket instead of a purse.)
A few years later, Hermès filled this void with the Birkin. Though it has no visible logos, it's one of the most recognizable bags worldwide. Just as famous is the wait associated with ordering one—a single Birkin can take months to arrive, due to a hefty waiting list.
The Lady Dior Bag | Princess Diana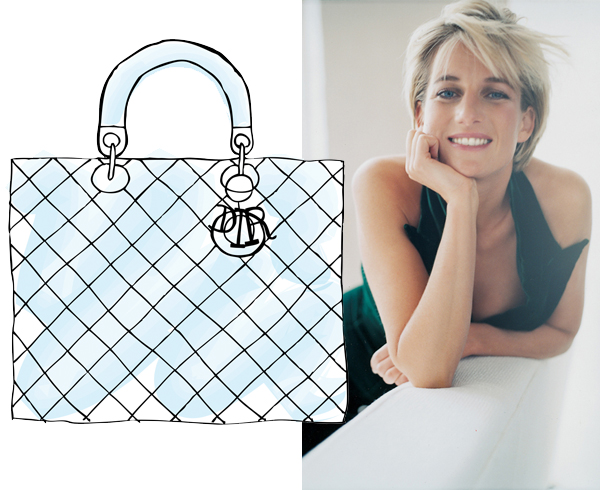 Dior, 1995
Before it was called "Lady Dior," this structured bag was gifted to Lady Diana by French First Lady Bernadette Chirac in 1995. The Parisian fashion house immediately co-opted Diana's title for the bag, and the decision proved a wise one: the Lady Dior is still a popular style today.
The Garbo Bag | Greta Garbo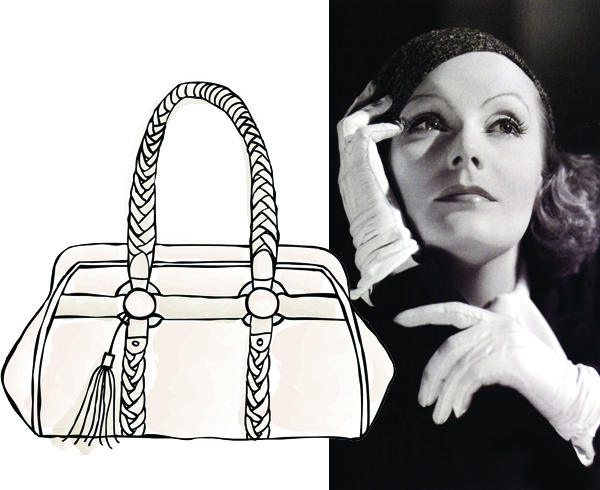 Bally, 2007
Swiss luxury accessory-maker Bally posthumously honored Swedish silent-film actress Greta Garbo with her own shoulder bag. Designed to reflect the star's elegance, the limited-edition bag was only available in a rusty brown to reflect the sepia tone of Garbo's many movies. One Fashionista blogger even suspects that the high, arching straps are a reference to the starlet's drawn-on eyebrows.
The Sophia Bag | Sophia Loren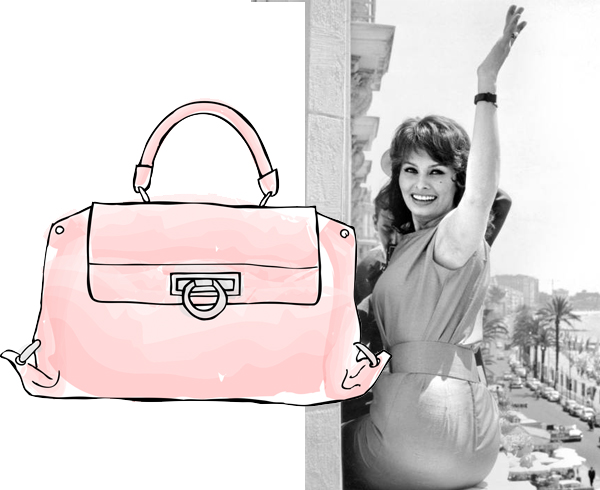 Salvatore Ferragamo, 2009
Loren is a longtime client and friend of the Italian design house Ferragamo. Its creative team rewarded her loyalty with—what else—a handbag. The craftsmanship and aesthetics were designed to transcend trend and season, perhaps in a nod to the actress's timeless beauty.
The Bardot Bag | Brigitte Bardot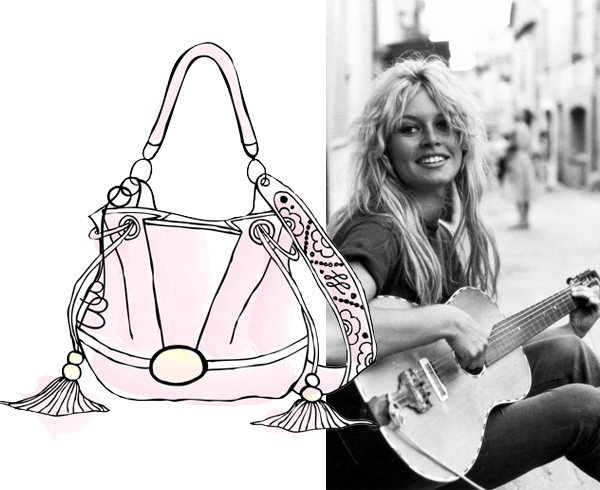 Lancel, 2010
The second handbag named after her—the first was from Gucci—this tote bag is constructed of tweed and fake suede in deference to Bardot's animal-welfare activism. The curves were meant to mimic the French actress's buxom figure, and the tassels imitate her long hair.
The Alexa Bag | Alexa Chung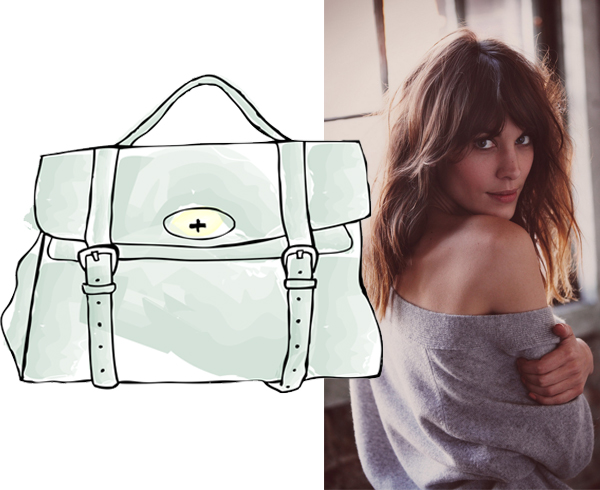 Mulberry, 2010
One day, a member of Mulberry's creative team was leafing through a magazine, where she spotted it-girl Alexa Chung carrying a classic men's briefcase from Mulberry's design house. Upon seeing the photograph, creative director Emma Hill designed a handbag that combined Chung's low-key, hip style with the briefcase's masculinity. The resulting bag has proven immensely popular—enough to be credited with saving the financially troubled company.
The Daphne Bag | Daphne Groeneveld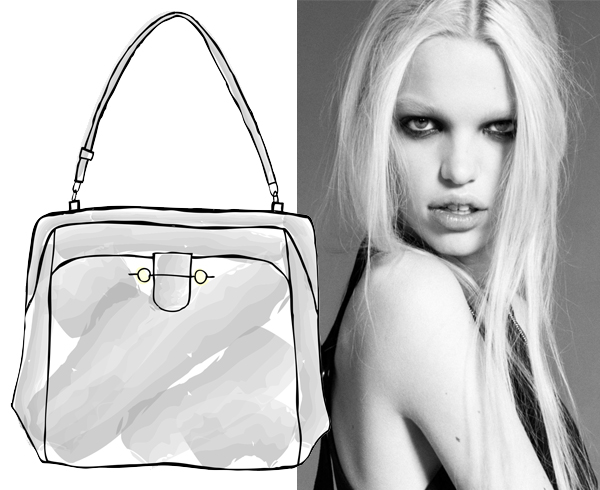 Jason Wu, 2012
Perhaps the least-known name on this list, model Daphne Groeneveld wooed Jason Wu with her classic yet distinctive brand of style. He created the Daphne in her likeness, casting a modern spin on a 1940s frame bag by lending it softer structure and a more relaxed look.
Illustrations by Jess Duff, Groupon

Expand your wardrobe with shopping tips from the The Guide: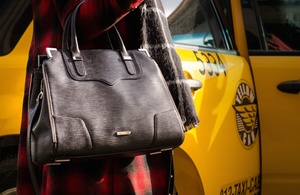 From teeny-tiny wristlets to lug-it-all hobo bags, these are the nine you need to build a complete purse collection.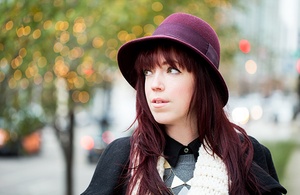 Think beyond the beanie—cowboy hats and berets keep your head warm, too.





BY: Michelle Schuman
Michelle is a freelance fashion designer and dancer from Detroit. She has traveled the US extensively (and loves it!), but her biggest goal is to travel abroad.