Five One-Pot Meals that Soothe the Harsh Chill of Winter
BY: Kevin Moore |
Jan 22, 2014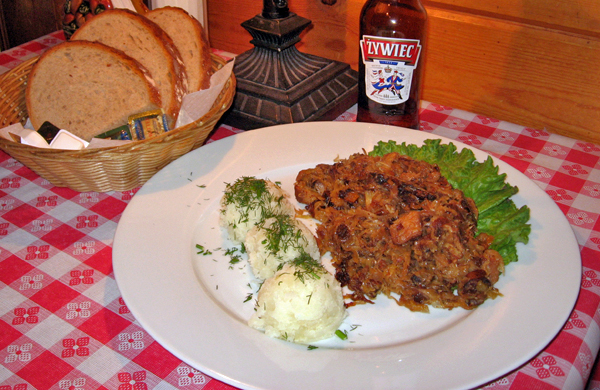 As the mercury drops into single digits again this week, it's a good time to search out comfort foods that warm the body as well as the soul. One bowl of soup, stew, or stir-fry can be worth a hundred puffy down parkas. The five dishes below take the chill out of the air with flavors from Korea, Poland, Louisiana, and beyond.
French Onion Soup at La Creperie (Lakeview | 2845 N. Clark St.)
La Creperie has been a Clark Street staple ever since Germain and Sara Roignant originally opened the bistro-style eatery in 1972. Following a brief closing in 2013, the restaurant reopened under new management and continues to serve up light, traditional French fare. Crepes may be the signature menu item, but the quintessential winter comfort food here is the french onion soup. No January chill can stand up to the warmth of its rich, molasses-brown broth, in which caramelized onions nestle beneath a layer of melted swiss cheese.
Dol-Sot Bim Bap at Ssyal Ginseng House (Albany Park | 4201 W. Lawrence Ave.)
Arriving in a sizzling stone pot, a serving of dol-sot bim bap bathes the entire table with its soothing warmth. The heated bowl continues to cook the prime steak, vegetables, rice, and sunshine-yellow egg yolk as diners eat. If that's not enough to fill you up, try one of the many other piping-hot traditional Korean dishes on this 20-year-old family restaurant's menu.
Gumbo Ya-Ya at Big Jones (Andersonville | 5347 N. Clark St.) 
Sustainably sourced ingredients and modern kitchen techniques help lend a bit of contemporary flair to many of the Southern-inspired dishes at Big Jones. However, the restaurant's gumbo seems more firmly grounded in its traditional roots. Beginning with a classic, Cajun-style roux, the chefs add andouille sausage, chicken, pork, and Arkansas rice to create a decadently rich and flavorful stew.
Hunter Stew Old Polish Style at Smak Tak (Jefferson Park | 5961 N. Elston Ave.) 
Smak Tak's wood-lined, ski chalet–like space already feels like the perfect place to take shelter from the harsh winter winds. Things only get cozier when you tuck into a hefty portion of Poland's most iconic stew: bigos. This dish appears as "hunter stew" on Smak Tak's menu and features a hearty combination of shredded cabbage, potatoes, veal, and sausage.
Click here to read our writer's experience eating bigos at Smak Tak.
Moqueca at La Sirena Clandestina (Fulton Market | 954 W. Fulton Market)
Looking beyond the churrasco-style steak houses that diners most often associate with Brazilian cuisine, La Sirena Clandestina embraces a wide range of lesser-known South American dishes. One of these is the moqueca: a seafood stew made with thick, creamy coconut broth and risotto-style rice. The
Chicago Sun-Times
hailed it as "a wonderful comforting brew."
BY: Kevin Moore
Iowa-born, Arizona-raised, and Illinois-tax-paying writer who can answer any Trivial Pursuit question about wine or snakes.