Five Things to Do This Weekend: December 6–8
BY: Tyler Clark |
Dec 6, 2013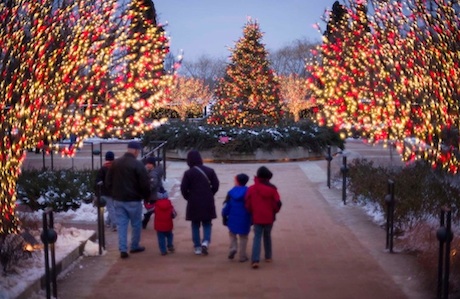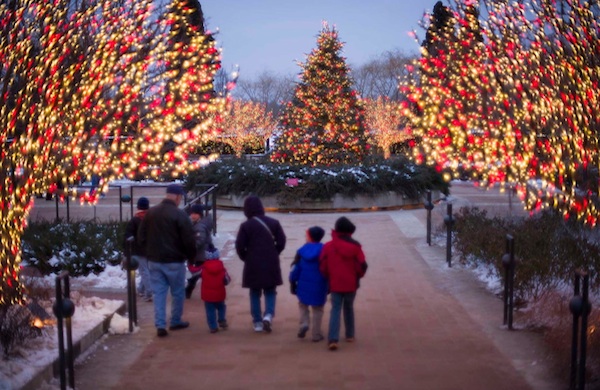 Wonderland Express
The Chicago Botanic Garden transforms its indoor gardens into a holiday landscape complete with snow
This week's warm weather made us nostalgic for the days when the grass was green and the winter coats lay, forgotten and unloved, at the back of our closets. Fortunately, no one told the folks at the
Chicago Botanic Garden (1000 Lake Cook Rd., Glencoe)
about the return of winter's chill
.
At their annual
Wonderland Express
, they've turned their indoor gardens into a twinkling (and climate-controlled) holiday landscape. After following a path lit by more than 750,000 LED lights, visitors can take in the Greenhouse Galleries' snow-denying bromeliads or the 12 model trains that snake throughout the festive foliage. The trains aren't the only breathtaking miniatures afoot—a stunning scale replica of Chicago by railroad mastermind Paul Busse recreates more than 80 of the city's most iconic landmarks. Oh, and did we mention the periodic showers of artificial snow? With all of this winter-free winter fun, it's a wonder anyone ever leaves.
($8+, children aged 2 or younger free; 10 a.m.–6 p.m. daily through Sunday, January 5)
Glunz Tavern Champagne & Caviar Tasting
Tasting experts guide tasting participants through the subtleties of more than 40 champagnes and sparkling wines
With New Year's Eve lurking at the end of the calendar, champagne season is nearly upon us. Tonight, brush up on your bubbly at the venerable
Glunz Tavern (1202 N. Wells St.)
, where tasting guides will school you on more than 40 champagnes and sparkling wines. Bottles run the gamut of affordability and complexity, from simple rosés suited to celebratory dinners to prestige cuvées reserved for only the fanciest Formula One victories. Between sips, you can also grab bites of high-end snacks including freshwater caviar from
Collins Caviar
and locally produced salumi from the charcuterie experts at
West Loop Salumi
.
(Friday, 5:30 p.m.–7:30 p.m.; $65; buy tickets here)
Renegade Craft Fair Winter Market
Make it a DIY Christmas with handmade arts and crafts from more than 150 artisans
It seems like only yesterday that, in the fading light of Labor Day weekend, we strolled through the
Renegade Craft Fair
, awash in fondness for art, artisans, and this one really cute pillow shaped like a raccoon. Though summer is long gone, the spirit of Renegade returns in all of its winter finery during the craft fair's eighth annual Winter Market. On Saturday and Sunday, more than 150 DIY makers will pack the
Pulaski Park Fieldhouse (1419 W. Blackhawk St.)
, showing off wares ranging from
Bashful Owl's earrings
to
Jillian Nickell's whimsical prints
. After shopping but before dropping, you can grab bites from local foodies, including
Black Dog Gelato
and
Dia De Los Tamales
, or chill out with tunes from
Reckless Records
and
CHIRP Radio
. Oh, and don't worry about schlepping those armloads of packages back to the train—the fair will operate a free trolley running to and from the Division and Damen Blue Line stations.
(Saturday and Sunday, 11 a.m.–6 p.m.)
TML: Best of 2013
The Neo-Futurists perform 30 of 2013's best two-minute plays during this long-running Andersonville sketch show
Since 1988, the ensemble members of the Neo-Futurists's
Too Much Light Makes the Baby Go Blind
have gone into every weekend with a daunting goal: in 60 minutes, perform 30 plays at random from an ever-changing menu of titles. Although the format ensures that no two shows are ever the same, feelings of end-of-year nostalgia run high around the company's headquarters at the
Neo-Futurarium (5153 N. Ashland Ave.)
, and not just because of
this week's 25th anniversary celebration
. During
this weekend's Best of 2013 shows
, cast members will revisit 30 of this year's best micro-plays, helping audiences catch up on vignettes they might have missed. Much like its unconventional structure, the show has some unique expectations for audience members; consult the "What to Expect" section of the website before making the trek to Andersonville.
(Friday and Saturday at 11:30 p.m., Sunday at 7 p.m.; advance tickets $19.99; buy tickets here)
Mike Ditka Look-Alike Competition
Strap on your mustache and head to Wicker Park to toast Mike Ditka, raise money for charity, and maybe even snag Bears–Cowboys tickets
Movember
may be over, but we here at the The Guide hope you saved that mustache. You'll need it on Sunday, when 
Double Door (1551 N. Damen Ave.)
plays host to a look-alike contest honoring the greatest Bears coach ever to rock the walrus look. Hosted by the football fans at
DaBearsBlog
and Art of Men, the event will raise money and awareness for Super Bowl vet Otis Wilson's
Otis Wilson Charitable Association
. Wilson himself will be on hand to judge, along with fellow Bears alum James "Big Cat" Williams and a few surprise guests. Although successfully pulling off Ditka's look is reward enough on its own, the contest promises an even greater prize: the first-place winner gets two tickets to this week's Monday Night Football matchup between the Bears and the Cowboys.
(Sunday at 8 p.m.; $10; buy tickets here)
Photo courtesy of Chicago Botanic Garden
BY: Tyler Clark
Tyler is a writer, storyteller, and musician from Chicago. His stories have appeared on stage at shows including Mortified, Story Club, and Lethal Poetry.