Five Things to Do This Weekend: November 15–17
BY: Tyler Clark |
Nov 15, 2013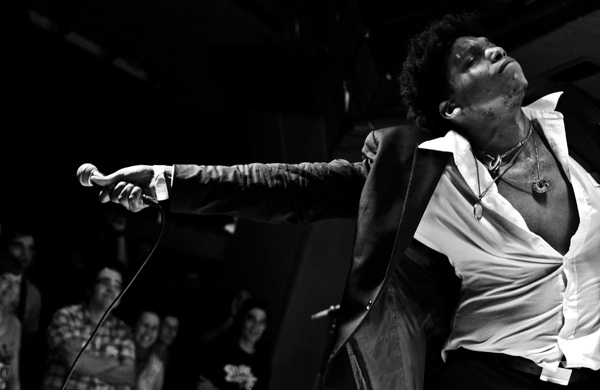 McCormick Tribune Ice Rink
Where:
Millennium Park | 201 E. Randolph St.
When:
Friday through March 9;
see the full schedule
How Much:
Free (skate rental $10; skate sharpening $1)
Although it's warmed up since then, Monday's surprise snowfall sent a clear message: winter's almost here. Fortunately, welcoming the world of frost doesn't have to be a bummer. Beginning its 13th season as a destination for skaters in search of a view, Millennium Park's McCormick Tribune Ice Rink hosts figure eights in the middle of Michigan Avenue's trademark winter bustle. Skaters of all skill levels are invited, but don't worry if you can't tell a salchow from an actual cow; on Fridays and Saturdays, instructors offer free lessons during the hour before the rink opens to the public.
The Revenge of Radio Goggles
Where:
Oracle Theatre | 3809 N. Broadway Ave.
When:
Friday and Saturday at 8 p.m.
How Much:
Free;
register for tickets here
For 30 years in the middle part of the 20th century, the radio drama was king. Although it was soon usurped by television, this beloved format—with its nuanced readings and signature live sound effects—still inspires devotees today. Take the performers of the Oracle Theatre. During the latest installment of their popular Radio Goggles series, they resurrect three broadcasts from radio's golden age, pantomiming the recorded action during live, full-stage performances. They bring to life some of the biggest names of the 1940s: Orson Welles delivers booming lines in
The Plot to Overthrow Christmas,
and the titular detective of
The Adventures of Philip Marlowe
speaks the hard-boiled prose of Chicago's own Raymond Chandler.
In the Hood: Portraits of African American Professionals Wearing a Hoodie
Where:
Zhou B Art Center, 33 Contemporary | 1029 W. 35th St.
When:
Friday through December 14 (opening reception Friday from  7 p.m. to 10 p.m.)
How Much:
Free To some people, a hooded sweatshirt is simply a comfortable article of clothing. To Filipino American artist
Cesar Conde
, it's a catalyst for discussing issues that continue to divide America. With
In the Hood: Portraits of African American Professionals Wearing a Hoodie
, Conde dresses men and women of all ages in Trayvon Martin's now-iconic sweatshirt. These powerful images are amplified by Conde's use of
technique mixte
, a Renaissance painting style revived in the 1960s by Trinidadian painter Patrick Betaudier. Gazing out from their canvases, the faces of Conde's subjects seem to glow with vitality, inviting viewers to consider them as living, breathing entities instead of simple pictures.
JC Brooks and the Uptown Sound with Escort
Where:
Metro | 3730 N. Clark St.
When:
Saturday at 9 p.m. (doors open at 8 p.m.)
How Much:
$19–$21;
buy tickets here
We're
already on the record
with our love for local soul troubadour JC Brooks, but this weekend, our enthusiasm is even greater than usual. That's because this Saturday, he co-headlines XRT's Holiday Concert for the Kids, the annual benefit show that raises funds for childhood cancer research charity
Alex's Lemonade Stand
. Brooks is joined by Escort, the 14-piece disco-revivalist group known for shaking Brooklyn with slinky grooves that blend Me Decade–excess with 21st-century production values. Oh, they're also responsible for
one of the greatest music videos of the last decade
. Concertgoers can boost the charitable spirit even higher by bringing a new toy or book for the patients at Chicagoland children's hospitals. Although the show benefits kids, minors looking to sneak a peek are out of luck—this concert is 18+.
Pie-Town 2013
Where:
Loyola University Chicago, Kasbeer Hall | 25 E. Pearson St.
When:
Sunday from
9 a.m. to 4 p.m.
How Much:
$5–$20;
click here for the full pricing breakdown
As ovens around the city fire up in anticipation of Thanksgiving, perhaps it's time to reflect on the true meaning of the holiday: eating your weight in pumpkin pie. At least, that's what the folks from the American Pie Council might say. During the pie contest at their second-annual Pie-Town festival, they'll fill the air of Loyola's Kasbeer Hall with pies from around the region, selecting the baker that best exemplifies the theme of "Your Favorite Holiday Pie" for a trip to this spring's National Pie Championships in Orlando. There's still time to
enter a pie of your own
(hurry, though—sign-up ends today), but the festival offers plenty of enticement for non-bakers, too. During demonstrations and lectures, celebrated pie experts will share their tips for keeping crusts flaky and fillings blackbird-free. Then, of course, there's the pie buffet: for a mere $5 (or $10 for a family of four), guests can scarf their fill of slices from the dessert experts at
Bakers Square
.
Photo: © Jamie Massieu
BY: Tyler Clark
Tyler is a writer, storyteller, and musician from Chicago. His stories have appeared on stage at shows including Mortified, Story Club, and Lethal Poetry.